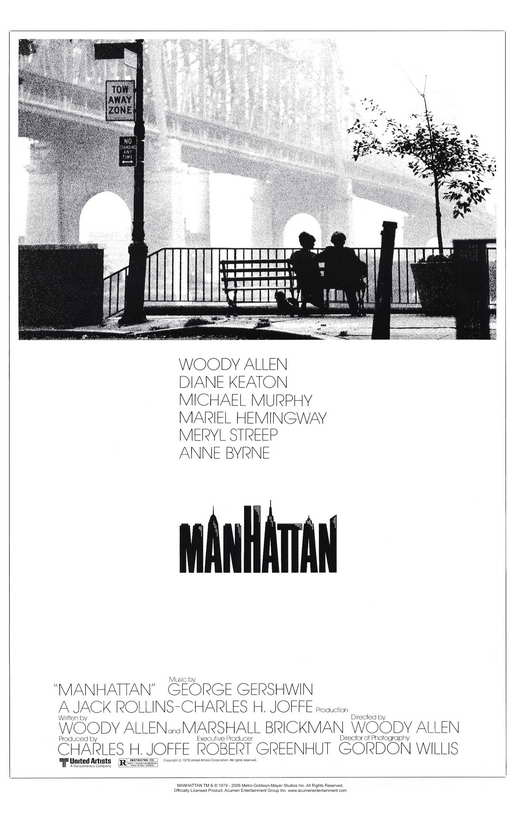 This weekend, Woody Allen released his 41st full-length feature in select Los Angeles and New York theaters.  Sadly, the anticipation that greets his releases is not the same as it was fifteen or twenty years ago.  From 1977 to roughly 1994, he was one of cinema's most important auteurs, and one of the America's greatest writers in any medium.  Most moviegoers think of him and automatically think of Annie Hall, which is a perfectly fair association, but how many of you have seen his follow-up?  If Allen's Oscar-winning romantic comedy was his artistic evolution, then his tale of infidelity and human flaws set in a romantic New York City signaled that a great filmmaker had truly arrived and was here to stay.
Manhattan boasts perhaps the most perfect opening of any Allen film.  A beautifully constructed montage of the city itself, shot with The Godfather-lenser Gordon Willis' 70 mm Panavision black-and-white cinematography and accompanied by George Gershwin's masterpiece "Rhapsody in Blue."  The effect is sublime, with image and sound working perfectly to capture the look and feel of the Big Apple like no other film I've seen.  There are just too many indelible moments in those first minutes alone to single out, though seeing the night fireworks seemingly explode to the rhythm of the music comes close to being my favorite.  During all of this, the neurotic writer Isaac Davis (played by Allen, of course) is wracking his brain for even a decent opening to his book.  "Chapter One: He adored New York City. He idolized it all out of proportion. Eh uh, no, make that he, he romanticized it all out of proportion. Better. To him, no matter what the season was, this was still a town that existed in black and white and pulsated to the great tunes of George Gershwin. Uh, no, let me start this over…"  Sure enough he starts over, with an opening that he finds too corny, then too preachy, and then too angry, before hilariously settling on comparing the city to himself as "the coiled sexual power of a jungle cat."  After that intro, you don't just feel you're in New York City; you live and breathe it for the next 90 minutes.
The story itself would eventually become a standard for several of his other works: four people face betrayal and complications in their love lives.  Specifically, two best friends – Davis and Yale Pollack (Michael Murphy) – deal with their bizarre relationships.  You see, Isaac, recently divorced, is dating a young girl named Tracy (Oscar-nominated Mariel Hemingway)…as in, 17 years young.  Yale is in a loveless marriage and starts an affair with the beautiful intellectual Mary Wilkie (Diane Keaton).
Isaac has hit a rough spot in his life.  His ex-wife Jill (Meryl Streep) has come out of the closet and has just published a tell-all book about their failed marriage, painting him in a very negative light.  Feeling unfulfilled as a writer for a hack comedy show, he quits on the spot and finds himself without a job.  Amidst all of this, he's in a relationship with a girl he knows is just too young for him.

His life changes when he meets his friend's mistress for the first time, though he doesn't quite know it yet.  In fact, he's put off by her snobbery and contrarianism.  We've all felt it before; that sting of resentment towards someone who cut down your favorite people in culture.  Hell, I'm sure I've angered a few readers here with my own negative tirades on popular directors and films.  Yet Mary really takes it to the extreme, even going so far as rejecting Ingmar Bergman's "fashionable pessimism" and putting the likes of Scott Fitzgerald, Lenny Bruce and Walt Whitman in the "Academy of the Overrated."  The whole conversation is an indictment of the intellectual class and their habit of putting down others to elevate their own stock.  After all, if you think Gustav Mahler is overrated, then you must have HIGHLY distinguished taste in music!  Not that one anyone should be above criticism, but sometimes dismissing the most influential thinkers, directors, and composers of all time can reach absurd levels.  "What about Mozart?  You guys don't want to leave out Mozart, I mean, while you're trashing people."
Despite this, Isaac finds himself attracted to Mary, and when Yale breaks up with her to save his marriage, Isaac breaks it off with Tracy and gives a go at a normal relationship.  But of course the relationship is not normal, or healthy.  Despite being cultured and intelligent people, for whatever reason the characters of Manhattan are complete idiots about people's feelings.  It's a dichotomy that Allen himself ponders throughout the entire film.  Is it because they're too wound up in Kierkegaard to develop emotional maturity?  Is it ego?  Or, as Isaac posits to Yale after confronting him about his dishonesty, is it simply that such intelligence allows some people to believe that their actions are above reproach?


And yet, despite all of this infidelity and betrayal, this film also has the gift of Tracy, played in a breakout performance by Mariel Hemingway that netted her a deserved Best Supporting Actress nomination.  Her own optimistic views on life and love, delivered in that adorably mousy voice, are frequently dismissed by Isaac as simply a young girl's naiveté.  But she reveals herself at the end to be the most mature character of the film in the last scene.  I must admit, I was worried that Allen would cop out and go for the Hollywood bullshit ending, but he wisely opts for something more realistic, and yet also more romantic: "You have to have a little faith in people."  To close out a dramedy about human vanity and foolishness on such a note shows the true beauty of Manhattan.  Despite all of our messy relationships and hang-ups, some people still keep trying, and sometimes, thankfully, that persistence of being a good person pays off.
The film itself was a sleeper hit in its day and beloved by critics, but the Academy unfortunately turned a relatively blind eye to it.  Sure, they nominated Hemmingway and the screenplay, but they ignored Willis' amazing cinematography, or the editing (the opening montage alone should have put it among the nominees), or for Best Picture and Director.  Even more bizarre, Allen reportedly disliked Manhattan and has never explained why.  Then again, he also called Match Point one of his best works, so perhaps artists really aren't the best judges of their own work.  Time has honored it, though, even being inducted into the National Film Registry.  As for myself, I saw Manhattan at a very interesting time in my life, and elements of it spoke to me on a very personal level.  I quoted several lines from the film in this review verbatim, but Allen and Brickman's screenplay is so sharp, their dialogue so indelible, that I knew simply paraphrasing them would be woefully inadequate.  It's one of my top five favorite Woody Allen films, and a fantastic snapshot of a specific time and place that can still, against all odds, be of value to a 21st Century kid like myself.