Normally, every week I go into each dance and who danced the best, but we're talking about the finale right now and all we care is about is who won. So, let's get to it.
After weeks of watching these stars dances, you, America have chosen you're Dancing with the Stars Champion. Monday night the stars danced the infamous freestyle dance. And as many of you know, who ever danced the best freestyle walks away with the mirror ball trophy. Chelsea and Hines both walked away with 30 points while Kirstie yet again scored 27 points.
Before the stars danced there freestyle they had to dance the judges choice dance. That means, each judge chooses a dance the stars have previously performed and they have to perform them again, but with improvement. They were scored and Hines and Chelsea tied with 29 points while Kirstie scored 27 points. So, at this rate it would only make sense for the two stars left standing to be Chelsea and Hines. Well, keep reading.
At the end of Monday night, Chelsea and Hines were tied for first while Kirstie was just hanging out at the bottom. Tuesday night the stars picked a dance they have previously performed and danced again for scores. Each couple chose a dance they really enjoyed and each star was given a perfect 30 points. Before the stars lined up to be given the news of the winner, we were told that Hines and Chelsea were tied for first with 89 out of 90 points while Kirstie had 84 points.
Coming into the competition millions new Hines Ward and Kirstie Alley, but not many were familiar with Chelsea Kane. Will popularity be a factor in this competition?
Yea, duh, of course it is.


The stars lined up to find out who landed in 3rd place. With the combined viewers votes and judges scores it only made sense that Kirstie Alley would find her spot in 3rd place. Well, the viewer's votes pulled her through and Chelsea Kane was the star that came in 3rd place.

It all comes down to Hines Ward and Kirstie Alley. I was rooting for Kirstie Alley to win but in the end the judge's scores will be a factor in who wins. We've been saying it for weeks and it happened, Hines Ward and his partner Kym Johnson are the winners of Dancing with the Stars!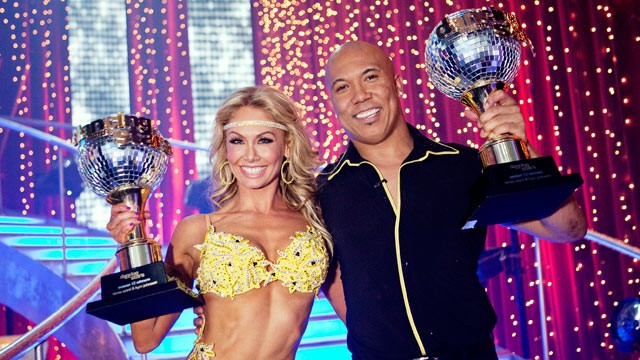 So, my predictions for the final 3 may have been off but that doesn't matter because they person who I predicated to win, won. Go me!
What did you think of this elimination and win?
Keep your eyes open for the announcement of the next stars that will be strutting there stuff on Dancing with the Stars. John Travolta? Kevin Bacon? A girl can dream. But I assure you, when we find out, you will too!