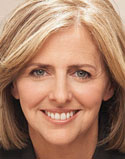 Each year numerous romantic comedies are released. Some are good, some are bad and some become movies we talk about for years. Aside from Woody Allen, women write some of the best romance movies. Women love watching them and men hate to admit they love them. I can tell you that I sure do. A lot of common romance movies concentrate on younger actors falling in love but Nancy Meyers brings the love of the typical average woman to the screen.
Nancy Meyers was born December 8th, 1949. She earned her Journalism Degree from American University in 1971. In 1972 she relocated to Los Angeles to work as a story editor for Rastar Productions. After being in the industry she lent her words to such sitcoms as The Odd Couple and All in the Family.
Meyers focus changed from TV to movies and began writing screenplays. Her first screenplay, Private Benjamin in 1980, starred Goldie Hawn and landed her an Academy Award nomination for Best Original Screenplay. Unfortunately she and her co-writers lost but they were honored with Best Comedy Written for the Screen at the Writers Guild of America.
After the success of Private Benjamin, Meyers and husband and writing partner at the time, Charles Shyler, were on a roll writing film after film that became even more popular than the last. Meyers and Shyler collaborated and wrote Irreconcilable Differences (1984), Baby Boom (1987) as well as the remake of The Father of the Bride movies in the early 90's. After these movies were released, Meyers and Shyler divorced and cut their ties as writing partners.
In 1998, Meyers made her directorial debut in the remake of the 1961 Disney classic, The Parent Trap, starring newcomer Lindsay Lohan. I remember seeing The Parent Trap when I was 8 years old and I fell in love with it, so much that when I see it on TV nowadays, I always watch it. The movie was a huge success for her as a director and drove her to specifically direct movies she writes. She is one of the few writers who will only direct what she has written. I found this quote that sums up why she directs only her written work pretty well.
"Directing is really a way of protecting the writing." It sure is.
Meyers followed up The Parent Trap with her second directorial effort with the romantic comedy starring Mel Gibson and Helen Hunt, What Women Want. The movie, raking in $183 million at the U.S. box office, made Meyers one of the few female directors to crack the $100 million mark. Worldwide sales hit $375 million.
In the meantime, Meyers began writing her first solo script, which became 2003's Something's Gotta Give. During the time she was writing the screenplay, many doubted the ability for this type of film, focusing on a middle aged romance, to draw in viewers. Lucky for them they were wrong. The movie surpassed the $100 million mark and scored star, Diane Keaton a Best Actress Academy Award Nomination. Meyers wanted to write a movie based on how hard it is for middle aged divorced women to find romance in a society where older males want younger women. In my opinion, this is one of the best movies she's ever written, and should have been acknowledged by the Academy for Best Original Screenplay.
After the success of Something's Gotta Give, Meyers followed with 2006's The Holiday and 2009's It's Complicated. After Something's Gotta Give was released, Nancy Meyers' fans, including me, were excited for her next films to be released. Though both movies got mixed reviews, Meyers proved that she is the box office queen of mature chick flicks.
Meyers is a keen observer of the human condition and shows it in every screenplay she writes. She can write about how a woman feels, just as good as she can write about how a man feels. I think her best depiction of that was in The Father of the Bride. Whenever I watch that movie, I see the bond between me and my father, and it brings a tear to my eye every time. She knows how to write about human emotion and she does it so well, with such humor. And if you don't believe me on that, go out and watch Something's Gotta Give or Father of the Bride, some of the best movies she's written.
Meyers is one of those women screenwriters who should have a list of Academy Award Nominations under her belt, but in a way doesn't need it to be considered a wonderful writer. Her movies are geared towards women, but attract a male audience as well. She has a way of writing that begs you for more and I absolutely love Nancy Meyers.
When times are rough I wish she could write the next episode in my life, but watching her movies is enough to put a smile on my face and keep me happy for days.