Prepare to feel The Heat around the corner as Bridesmaids director Paul Feig concocts crazy antics for comediennes Melissa McCarthy and Sandra Bullock.  Meanwhile, Channing Tatum and Jamie Foxx tackle the heat in their best Air Force One imitation when the White House comes under attack (for the second time this year) in White House Down.  Speaking of going down, Pedro Almodóvar makes light of a potentially doomed flight in his new, raunchy comedy, I'm So Excited.
The Heat
Language: English
Rating: R
Genre: Action/Comedy/Crime
Director: Paul Feig
Starring: Sandra Bullock, Melissa McCarthy, Demián Bichir
Uptight FBI special agent Sarah Ashburn is paired with testy Boston cop Shannon Mullins in order to take down a ruthless drug lord. The hitch: neither woman has ever had a partner — or a friend for that matter.
White House Down

Language: English
Rating: PG-13
Genre: Action/Drama/Thriller
Director: Roland Emmerich
Starring: Channing Tatum, Jamie Foxx, Maggie Gyllenhaal
While on a tour of the White House with his young daughter, a Capitol policeman springs into action to save his child and protect the president from a heavily armed group of paramilitary invaders.  Review found here.
I'm So Excited
Language: Spanish
Rating: R
Genre: Comedy
Director: Pedro Almodóvar
Starring: Javier Cámara, Pepa Charro, Lola Dueñas
When it appears as though the end is in sight, the pilots, flight crew, and passengers of a plane heading to Mexico City look to forget the anguish of the moment and face the greatest danger, which we carry within ourselves.  Check out Tiff and Joey's very different takes on the film.
A Band Called Death
Language: English
Rating: NR
Genre: Documentary
Director: Mark Christopher Covino, Jeff Howlett
Starring: Alice Cooper, Bobby Hackney, Dannis Hackney
A documentary on the 1970s punk trio Death, and their new-found popularity decades after they disbanded.
Laurence Anyways

Language:English
Rating: NR
Genre: Drama/Romance
Director: Xavier Dolan
Starring: Melvil Poupaud, Suzanne Clément, Nathalie Baye
A drama that charts ten years in the relationship of a male-to-female transsexual's relationship with her lover.  Check out Joseph's review from last fall's AFI screening.
Some Girl(s)
Language: English
Rating: NR
Genre: Comedy/Drama
Director: Daisy von Scherler Mayer
Starring: Adam Brody, Kristen Bell, Zoe Kazan
On the eve of his wedding, a successful writer travels across the country to meet up with ex-lovers in an attempt to make amends for past relationship transgressions.  Make sure to check out Joey's review.
Byzantium

Language: English
Rating: R
Genre: Drama/Fantasy/Thriller
Director: Neil Jordan
Starring: Saoirse Ronan, Gemma Arterton, Caleb Landry Jones
Residents of a coastal town learn, with deathly consequences, the secret shared by the two mysterious women who have sought shelter at a local resort.
Redemption

Language: English
Rating: R
Genre: Action/Thriller
Director: Steven Knight
Starring: Jason Statham, Senem Temiz, Vicky McClure
Homeless and on the run from a military court martial, a damaged ex-special forces soldier navigating London's criminal underworld seizes an opportunity to assume another man's identity — transforming into an avenging angel in the process.
How to Make Money Selling Drugs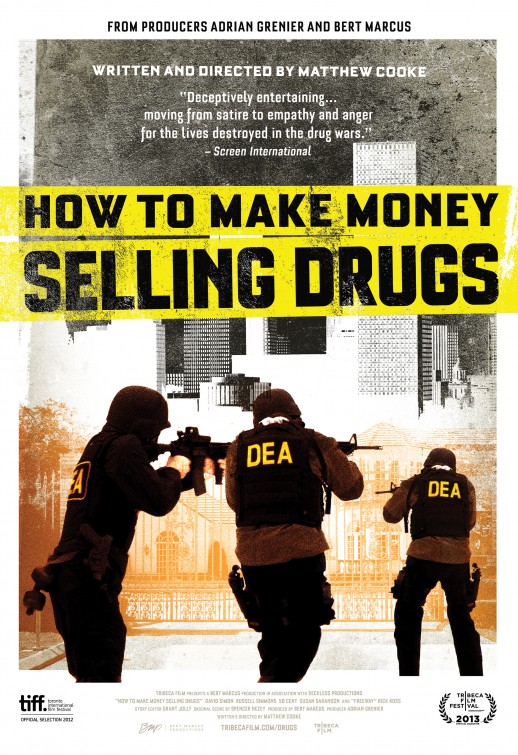 Language: English
Rating: NR
Genre: Documentary
Director: Matthew Cooke
Starring: Susan Sarandon, 50 Cent, David Simon
Ten easy steps show you how to make money from drugs, featuring a series of interviews with drug dealers, prison employees, and lobbyists arguing for tougher drug laws.
What will you see this weekend?