Ari Aster's previous film, "Hereditary" became an instant horror classic. His next film, "Midsommar," looks to be no different.
Plot details are understandably kept to a minimum, however the film follows a couple traveling to Sweden for a mid-summer festival. What starts as an idyllic retreat quickly devolves into an increasingly violent and bizarre competition at the hands of a pagan cult.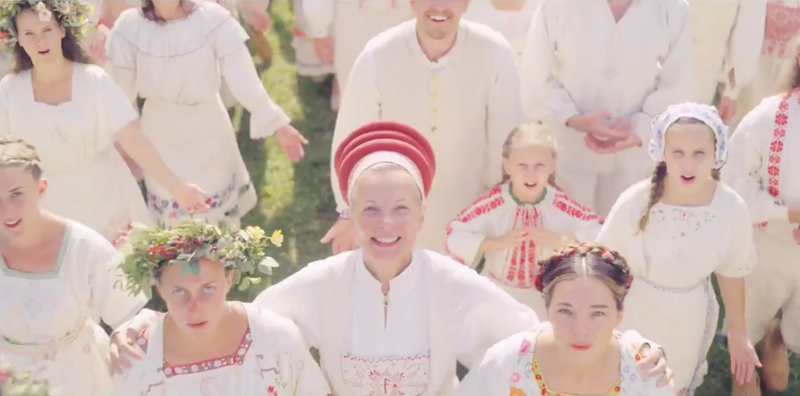 The cast includes Jack Reynor, Florence Pugh, and Will Poulter who just came hot off the heels of his interactive "Black Mirror" episode on Netflix.
Pugh is also receiving praise for her lead role in "Fighting With My Family," which is currently in theaters. She will also star later this year in Greta Gerwig's "Little Women."
At first glance, the trailer gives off a moody and atmospheric vibe. For instance, the music is haunting yet also light and innocent. And then it builds up to a higher level of intensity. One frightening image includes a large animal dissected for unknown purposes.
The story is hard to decipher, however the images and music are engaging. These visuals are strange to describe, but seem to fit together perfectly when accompanied by music.
Aster graduated from the AFI Conservatory, a film school ranked as one of the best in the world. His first horror film, "Hereditary," premiered at the 2017 Sundance Film Festival to critical acclaim, leading to its release in June with more positive reviews.
In addition to the glowing reviews, the film grossed an impressive $79.4 million, putting it just above "Lady Bird" for A24's highest grossing release worldwide. The budget was only $9 million.
Aster has stated this is going to be his last horror film for now, as he wants to explore other genres. If that is indeed the case, moviegoers have a lot to look forward to.
A24 will release "Midsommar" in theaters on August 9.
What did you think of the trailer for "Midsommar?" Comment below and share your thoughts!
CHECK OUT ALL THE YEAR-IN-ADVANCE PREDICTIONS ON THE CIRCUIT HUB AND MAKE YOUR OWN!