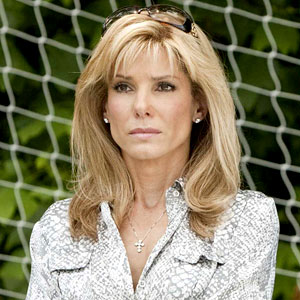 It's that time of the month, so it's time to talk about the "Oscarettes". If you missed last month's edition, here is a little recap of what this segment is all about.
At the start of each month, we will travel back a year at a time and discuss the Best Actress and Best Supporting Actresses of that year. I will recognize who was nominated and who won, and I will share my opinions about them, but I want yours. I want to know who you thought deserved to win and be nominated those particular years.
Last month we discussed the 83rd Academy Awards, this month we will look back on the 82nd Oscars. So, here we go:
82nd Academy Awards (2010)
Best Actress:
Sandra Bullock- The Blind Side*
Helen Mirren- The Last Station
Carey Mulligan- An Education
Gabourey Sidibe- Precious: Based on the Novel 'Push' by Sapphire
Meryl Streep- Julie & Julia
Whenever we see Meryl Streep's name on the list of Oscar Nominees, we right away assume she will win. Don't deny it, we all do. And while she does give the best performance of the bunch even if it's such a light role, she still manages to lose. We all remember this year, not because it's recent but how the awards changed so drastically in Sandra Bullock's favor. When people saw Bullocks name on the nomination list, most thought it was a nice nomination for her to get; but I for one sure did not expect it to get taken all the way to the Oscars. When Streep and Bullock tied for Best Actress at the Critics Choice Awards, the game changed. I honestly thought it was Meryl's
year to win, so when Bullocks name was shockingly announced at the Critics Choice Awards, everything changed. America's sweetheart finally had a winning year.
Sandra Bullock was the win that blindsided everybody. The Blind Side was loved by many and hated by few, but it was the feel good movie of the year and it starred the women America loves. Her performance was enjoyable to watch but it was a big departure from anything we've ever seen her do. Over the past few years we've seen Bullock make a subtle transition into more serious films (we'll just forget about All About Steve) while staying true to herself. But in this film she showed a whole new side to her and it was fun to watch. While I don't exactly agree with her winning, I was happy to see Bullock win and for a role that seemed like it was made for her.
Helen Mirren was the nomination that was going to stay a nomination. I didn't see The Last Station so I will make no remark on the film or performance but since she had previously won for The Queen, it wasn't her time to win again.
I don't understand the big deal people were making out of Carey Mulligan's performance. Her performance was fresh and entertaining but to me, not Oscar worthy. She managed to pull off playing a 16 year old girl who is charming and smart but very naïve. Mulligan plays the character with such self confidence that at 16 most girls don't have. If the character had been a few years older, the whole performance would have made more sense but in the end it felt unrealistic. In every movie I have see in her in, her acting is the same and An Education was no different. The movie wasn't so great either except for Peter Sarsgaard playing a great creeper.
It amazes me when I hear stories about these girls who had nothing better to do than go out on an acting audition, land the role and then get there first Oscar nomination. I wish I could be like that. But Gabourey Sidibe is clearly a lot cooler than me. I loved how emotionally intense Precious is; it is one of those movies you see once but you leave appreciating the acting more than the movie itself. And I give so much credit to Sidibe for doing so well especially with a killer cast but also for conveying these crazy emotional events that would not normally happen in day to day life, especially in her own. And for that, her performance was incredible. I would have loved to see her win, and out of all of the actresses nominated she probably deserved it the most but in the end Mo'Nique's performance was the stand out of the film.
I have said this since the movie came out; it would have been such a better film if it was just a biopic about Julia Child's life. While watching the film you don't even see Meryl Streep, all you see is Julia Child. But that is what makes Meryl Streep so incredibly brilliant, she becomes that character. Streep always deserves to win and her performance is always the best of the bunch but for whatever reason, the Academy has failed to Award her for a third time. Maybe it's because she makes acting look effortless, who knows, but soon
she'll get awarded again.
Who I wanted to win: Meryl Streep
Who I feel deserved to win: Meryl Streep or Gaborey Sidibe
Snubs: Emily Blunt: Young Victoria, Abbie Cornish: Bright Star, Marion Cotillard: Nine, Zooey Deschanel: (500) Days of Summer, Michelle Pfeiffer: Cheri, Saoirse Ronan: The Lovely Bones, Audrey Tautou: Coco Before Chanel
Best Supporting Actress:
Penelope Cruz- Nine
Vera Farmiga- Up in the Air
Maggie Gyllenhaal- Crazy Heart
Anna Kendrick- Up in the Air
Mo'Niqure- Precious: Base on the Novel 'Push' by Sapphire*
Before any of these movies were released in 2009, Mo'Nique was the early frontrunner that stayed the frontrunner all the way to the Oscars. None of these women stood a chance. This was Mo'Nique's year.
I wasn't a big fan of the movie, Nine. I thought it was messy and boring, but amazingly enough some of the acting was pretty good, by the women of course. The only woman in that whole movie to get a nomination was Penelope Cruz. I believe she only got a nomination because she was fresh off her win from the previous year when she won for Vicky Christina Barcelona. Cruz showed more of a range in her talent by singing and dancing. I didn't see the need for this nomination but the fact of the matter is, she is a wonderful actress that did an alright job in a crappy film and got a nomination for being that wonderful actress.
In my opinion, Vera Farmiga was the best performance in Up in the Air. She plays Alex, a beautiful but dark woman, who like George Clooney's character enjoys the road and some sex on the side. Her performance is so naturally seductive that you find yourself admiring her, thinking you know her whole character only to find out you don't know her at all. It was an incredible performance that if it hadn't been for Mo'Niqure, she could have had it.
I never got to watch Crazy Heart, but from what I know about Gyllenhaal's performance and career, the nomination is well deserved. She has been previously snubbed and now she can take this nomination and better her career. But her nomination was the surprise nod Oscar morning and that's all it was.
Before watching this film, the only movie I'd known Anna Kendrick for was Twilight. I was beyond impressed with her performance and how good of an actress she is. Her character Natalie begins the film with absolutely no emotion towards those who will be fired from their jobs but naively nags George Clooney's character about love and happiness. We are shown a character that seems to have no heart or sympathy towards others, only to have her character slowly transition when she is shown the dark side of the job and a life she thinks she knows everything about. I believe that Clooney's character wouldn't have shined the way it did without Kendrick playing Natalie so well. I think it would have been awesome for her to win, only to shove the Oscar in Kristen Stewart's face. (I pick Stewart because she is a great actress wasting her potential in bad movies) Like I said, I was very pleased with Kendrick's performance and looking forward to where she will take her career.
I believe this performance was the best of the year, hands down, but I feel if Mo'Nique had been a serious actress this performance wouldn't have been so shocking. This is a comedian who we've see host talk shows and co-star in crap comedies such as Beerfest and Soul Plane, make a huge 180 and star in a film where there is nothing even close to comedy. She was so angry and heartless throughout the whole film that during the scene at the end of the movie when her character opens up, we start to see a different but still cruel and empty side to this woman. Mo'Nique disappeared into the role of Mary, and became a horrible monster. She won because of her performance but I think the shock value of a comedian taking on such a dark role and beautifully pulling it off, was the right push to
get her the Oscar.
Who I wanted to win: Mo'Nique
What I feel deserved to win: Mo'Nique
Snubs: Mariah Carey: Precious, Marion Cotillard: Nine, Marion Cotillard: Public Enemies, Diane Kruger: Inglourious Basterds, Melanie Laurent: Inglourious Basterds, Julianne Moore: A Single Man, Samantha Morton: The Messenger, Rosamund Pike: An Education, Natalie Portman: Brothers, Emma Thompson: An Education
Well there you have it folks. Some of you may disagree with my opinions, but tell me how you feel about these women who were nominated, who got left out and who won. The first week of July we will look back at the 81st Academy Awards, so be prepared to hit me with your opinions. Hope you enjoyed this edition of Oscarettes!!