Being that this weekend kicks off with "a date which will live in infamy," it's fitting that FDR makes a big-screen appearance in Hyde Park on the Hudson.  Toss in some romantic comedies, some foreign features, and some drama and you've got some options to hold you till "the big one" next week (The Hobbit, of course).
Hyde Park on the Hudson
Language: English
Rating: R
Genre: Biography/Comedy/Drama
Director: Roger Michell
Starring: Bill Murray, Laura Linney, Olivia Williams
Bill Murray exudes charisma in his portrayal of FDR in this light-hearted, charming story of the late president's love affair with his distant cousin, Margaret Stuckley.  The narrative is set within the historical context of the English King and Queen's visit to upstate New York in 1939.
Playing for Keeps
Language: English
Rating: PG-13
Genre: Comedy/Romance
Director: Gabriele Muccino
Starring: Gerard Butler, Jessica Biel, Catherine Zeta-Jones
From the director of The Pursuit of Happyness  (2006),comes another feel-good tale of a father owning up to his responsibilities after having evaded them while building a successful career as a pro-soccer player.
Lay the Favorite 

Language: English
Rating: R
Genre: Comedy
Director: Stephen Frears
Starring: Bruce Willis, Rebecca Hall, Catherine Zeta-Jones
It's a bit of an odd endeavor from Oscar-nominated director, Stephen Frears (The Queen), but at least Bruce Willis isn't miscast by any means as the cool sports gambler who falls for a Las Vegas cocktail waitress (Hall),who's a gambling prodigy herself,  much to the dismay of his wife (Jones).
Cheerful Weather for the Wedding
Language: English
Rating: NR
Genre: Drama/Comedy
Director: Donald Rice
Starring: Felicity Jones, Luke Treadaway, Elizabeth McGovern
A young woman steals away upstairs in her parents' country home on the day of her wedding, anxious over whether she's marrying the right man, while her fiancé and former lover grow uneasy downstairs.
Heleno

Language: Portuguese
Rating: R
Genre: Biography/Drama
Director: José Henrique Fonseca
Starring: Rodrigo Santoro, Angie Cepeda, Aline Moraes
A story of the tragic life of one of Brazil's greatest soccer players, Heleno de Freitas (pre-Pelé).
A Werefwolf Boy
Language: Korean
Rating: NR
Genre: Fantasy, Romance
Director: Sung-Hee Jo
Starring: Joong-ki Song, Bo-yeong Park, Young-nam Jang
A elderly woman reminisces of the little orphan boy she knew 60 years ago when she pays an unexpected visit to the country cottage she grew up in.
Deadfall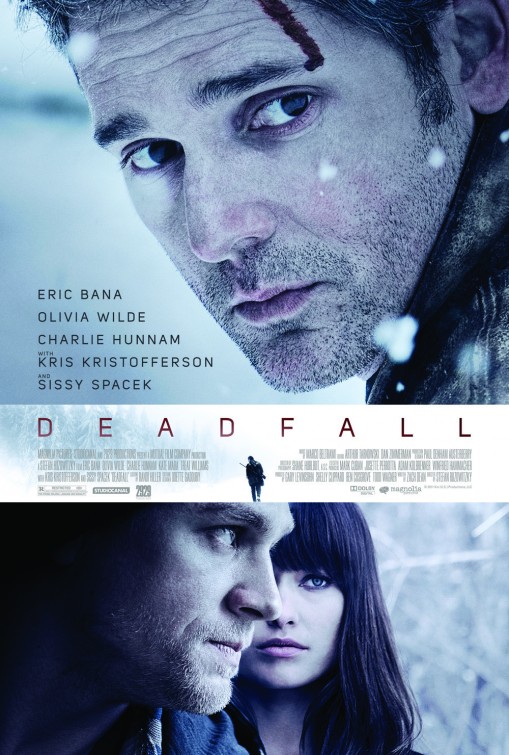 Language: English
Rating: R
Genre: Crime/Drama/Thriller
Director: Stefan Ruzowitzky
Starring: Eric Bana, Olivia Wilde, Charlie Hunnam
Two siblings flee and decide to fend for themselves after a botched casino heist only to be unexpectedly reunited at another family's holiday celebrations.
The Fitzgerald Family Christmas 
Language: English
Rating: NR
Genre: Drama, Comedy
Director: Edward Burns
Starring: Kerry Bishé, Connie Britton, Edward Burns
Edward Burns directs and stars in this strong tale of family as the Fitzgerald siblings prepare to receive their estranged father for Christmas after he left the family 20 years ago.  See Joey's review.
What will you be seeing this weekend?