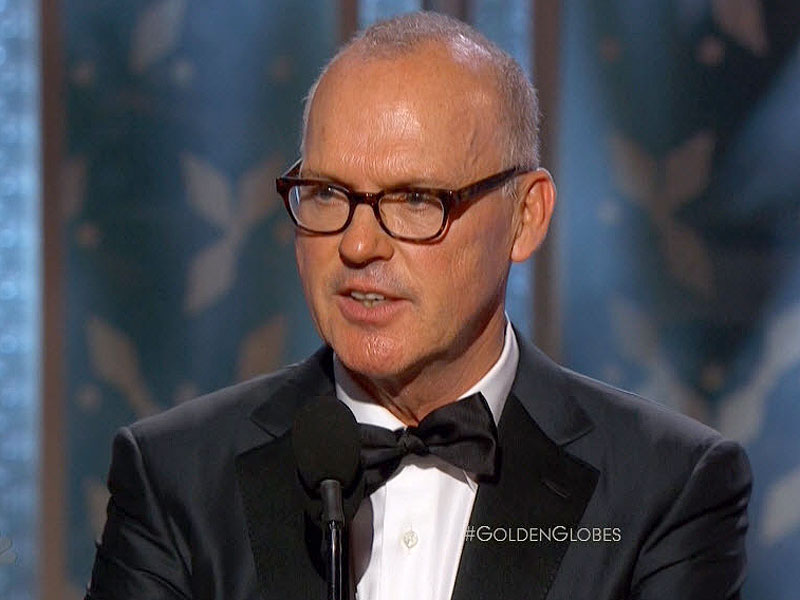 Sunday night had the Hollywood Foreign Press Association spread the wealth among many of the year's best films.  Richard Linklater's "Boyhood" emerged with three awards for Best Picture (Drama), Best Director, and Best Supporting Actress for Patricia Arquette, further pushing them ahead of the pack in their respective categories.  Alejandro Gonzalez Inarritu's "Birdman" walked away with a pair of trophies for Michael Keaton in Best Actor (Musical or Comedy) and Best Screenplay.  Keaton's speech was probably the best and most humble speech of the evening.  Surprisingly, "Birdman" lost out in the Best Picture (Musical or Comedy) to its fellow Fox Searchlight Pictures counterpart "The Grand Budapest Hotel," the film's only award of the evening.
Other non-surprising winners of the evening included J.K. Simmons winning Supporting Actor for "Whiplash" and Julianne Moore winning Best Actress (Drama) for "Still Alice," both Sony Pictures Classics vehicles.  
"How to Train Your Dragon 2" beat out some big competition to win Best Animated Feature Film, edging out "The LEGO Movie" and "Big Hero 6."  The film is still very much in the mix for Animated Feature, a category that isn't necessarily a foregone conclusion for "LEGO."
Eddie Redmayne picked up Best Actor (Drama) for his work as Stephen Hawking in "The Theory of Everything," which also won Best Original Score for composer Jóhann Jóhannsson.  Redmayne solidified himself as a spoiler to the Keaton train if it ends up derailing mid-season.  
Ava DuVernay's "Selma" has been missing quite a bit of precursors as of late, and the HFPA bestowed a Best Original Song award for "Glory."  Paramount Pictures was hoping for more love for their main pony and it was rumored that the HFPA really loved "Selma."  With the film out of the SAG race, it will operate on fumes leading to the February ceremony if and when its nominated on Thursday morning.
Some other sad moments included Amy Adams winning her second consecutive Best Actress (Musical or Comedy) award over Emily Blunt from "Into the Woods" and Julianne Moore for "Map to the Stars," both superior works.  Harvey Weinstein must have been happy since his main awards pony "The Imitation Game" went home empty handed.  
From an Oscar predicting perspective, AMPAS ballots are already turned in so this is all counterintuitive.  In the Oscar race, all the major frontrunners for Picture, Director, Actor, Actress, Supporting Actor, Supporting Actress, and Screenplay won.  Unless something shifts, this could get a little boring unless you believe that there's room for movement in any of those categories.  I think there could be too.
Nominations will be announced on Thursday morning, with the Awards Circuit staff watching with you all via Google Hangout so make sure to come join us.
Final Oscar Predictions will be revealed on Tuesday night/early Wednesday morning.
What did the awards do to the Oscar race?  Talk about it in the comment section.
OSCAR PREDICTIONS AS OF 1/9/14:
PICTURE | DIRECTOR | LEAD ACTOR | LEAD ACTRESS | SUPPORTING ACTOR | SUPPORTING ACTRESS |ORIGINAL SCREENPLAY | ADAPTED SCREENPLAY | ANIMATED FEATURE | PRODUCTION DESIGN |CINEMATOGRAPHY | COSTUME DESIGN | FILM EDITING | MAKEUP & HAIRSTYLING | SOUND MIXING | SOUND EDITING | VISUAL EFFECTS | ORIGINAL SCORE | ORIGINAL SONG | DOCUMENTARY FEATURE | FOREIGN LANGUAGE | LIVE ACTION SHORT | ANIMATED SHORT | DOCUMENTARY SHORT