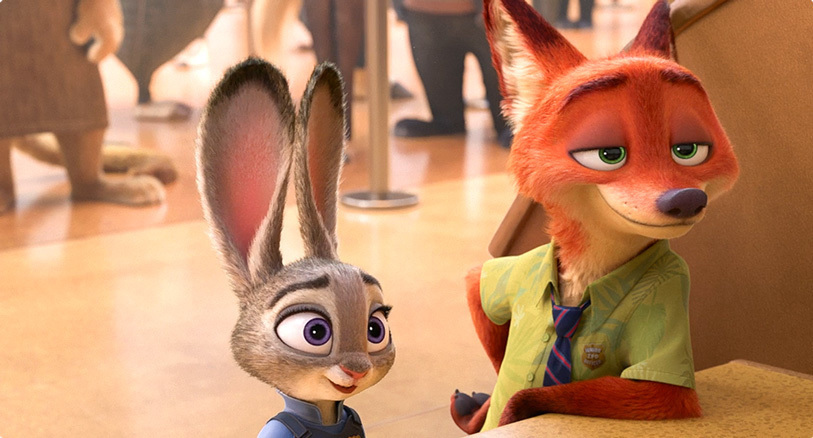 (MARCH 4 – MARCH 6, 2016 estimates)
Last Weekend
Zootopia (Opening) – $73,700,000
London Has Fallen (Opening) – $21,714,000
Deadpool (Week 4) – $16,400,000
Whiskey Tango Foxtrot (Opening) – $7,600,000
Gods of Egypt (Week 2) – $5,000,000
Risen (Week 3) – $3,885,000
Kung Fu Panda 3 (Week 6) – $3,525,000
The Revenant (Week 11) – $3,325,000
Eddie the Eagle (Week 2) – $3,100,000
The Witch (Week 3) – $2,509,543
——————————————
Zootopia may be far from Deadpool's $132M opening but that $73M makes it the highest opening weekend for a Disney film ever (unadjusted), $6M ahead of Frozen's first wide weekend. This bodes well for its future, likely to hit $300M and far outpacing Big Hero 6's $222M though meeting Frozen's $400M is a wild longshot. It makes the top 10 highest animated openings ever and only the second original film besides last year's Inside Out (if we exclude The Simpsons Movie as a spin off). It's been out for 3 weeks in some territories and has grossed $232M worldwide already.
London Has Fallen cost $10M less than its Olympic predecessor, which was likely a good choice to underestimate it since it made $10M less than Olympus Has Fallen on the opening weekend. Olympus got near $100M on a $70M budget in the U.S and $162M worldwide. It'll be interesting to see how the film does in its home ground in the U.K.
Deadpool drops 47.3% and hangs onto an 8-figure number. It's made $311M in the U.S. so far which puts it in the top 50 all-time domestic grossers. Who would have predicted that? It's made $673M worldwide.
Unaided by Star Wars and Amy Poehler, Tina Fey's Whiskey Tango Foxtrot's $7M isn't a scratch on Sisters' near $14M opening, which, by the way, crossed $100M worldwide. W.T.F. probably won't hit that mark and more likely just meet its $35M budget.
With poor reviews, it's difficult for Gods of Egypt – Gerard Butler's second film you can see in theaters at the moment – to have any hold as it drops 64.6%. It's made $22M on a $140M budget but foreign markets have been kinder, for some reason, bringing its worldwide total to $72M.
Risen, however, dropped just 43% on its third weekend and has made $28M on a $20M budget. Forgettable or not, should probably keep these religious action movies to this modest scale.
Naturally, Kung Fu Panda 3 is edged out a lot by Zootopia, and begins its absence from theaters. It dropped 60.4% and 4 spots in the top 10. It's made $133M so far and $323M worldwide. What happened to the international appeal of these films? The second one made $165M in the U.S. but $665M worldwide. Maybe it still has a few more territories to open in.
Hot off the heels of Leonardo DiCaprio's hyped Oscar win, The Revenant drops just 15.9% and brings its total to $175M in the U.S, which makes it the second highest grossing Western behind Dances With Wolves' $184M. However, worldwide it's now the highest grossing Western with $429M, crossing Wolves' $424M and Django Unchained's $425M, though the 1990 dollar is worth much more than the 2016 one. Most impressively is how The Revenant has spent 9 consecutive weeks in the top 10 now. One more week somehow and it'll match Star Wars' streak.
Eddie the Eagle drops 49.1% and just cracked $10M domestically. Not champagne worthy on a $23M budget, but maybe there will be some international appeal when the figures come in.
The Witch clings onto the top 10 and drops 50.5%. It's a real hit and miss film with audiences though with some packed houses just not embracing it whatsoever. It's made $20M though which is a win.
——————————————
In other news, Best Picture winner Spotlight adds 542 theaters to its roster even though it's currently available on DVD and made $1.8M boosting its total to $41M. It'll be able to push that to $42M or $43M which will be just behind 2014's winner Birdman's $44M. Worldwide it's up to nearly $72M.
There will be weekly Star Wars updates until it leaves theaters like we did for Jurassic World last year. It also made $1.8M, pushing its total to $928M and worldwide total to $2.052B. $20M more domestically to hit the top 10 adjusted moneymakers.
Stephen Chow's The Mermaid became the 7th film to gross $500M in a single territory, that being China. The other 6 films are of course, the U.S. top 6. It's only made $2.6M in the U.S. though. Remarkable.
Zoolander 2 is levelling off a pitiful $28M by the way. $52M worldwide. $100M less than Anchorman 2. Ouch.
Terrence Malick's Knight of Cups is finally released to 4 theaters grossing $56k with an average of $14k. You know Malick isn't in it for the money though. To The Wonder made just 10x that.
Sources: http://www.boxofficemojo.com/
What did you see this week? Shout out in the comments!