On the night of December 22, 2016, inside the intimate setting of the historical Clay Theater in San Francisco, Val Kilmer casually emerged from the dark void of the audience, seemingly appearing out of nowhere to take the stage and present his indelible masterpiece, "Cinema Twain," the film of his one-man play "Citizen Twain," which he also wrote, produced and directed. He addressed the packed crowd humbly, as if he was the student and the faces that occupied the theater seats his teachers, welcoming feedback after the screening. However, after 90 minutes, the audience would soon come to realize that he was in fact the maestro, and they, along everyone who has had the pleasure of viewing this show, mere instruments of his creative dominion.
Behind the Character
Kilmer is focusing his efforts on fundraising to adapt "Cinema Twain" into a feature length film, which, if it is half as good as its meta-stage predecessor, will be a sure-thing for above-the-line nods come awards season. On the cusp of five additional screenings of "Cinema Twain" in February, the mastermind behind this Mark Twain biopic was kind enough to find the time to chat with Awards Circuit this week about the 13-year-in-the-making project: past, present and future.
Waiting in line before "Cinema Twain," viewers had no idea what to expect. Where has Val Kilmer been the last 13 years, aside from the occasional small role? Why did he choose to write a play about Twain? The phrase "passion project" has become canon in the world of filmmaking, although, with every popular phrase, it is susceptible to becoming overused and losing its true meaning. The film seemingly epitomizes a passion project in the truest sense of the term.
"For years I've been looking for a film to direct as it's always been an interest. And I finally found one in the incredible diversity of world inhabited by one of my heroes Mary Baker Eddy, the genius who founded Christian Science, and her most famous detractor Mark Twain," Kilmer replied when asked what specifically drew him to the idea of portraying this relationship. At the heart of this story is Twain and Eddy's truly remarkable relationship. It captures the anguish, jealousy and fascination that Twain had with Eddy; he was equal parts impressed and angered by both her succinct definition of God and her influence as a writer.
The Process
The last point Kilmer made before the screening in December was that these stage productions were not only meant to smooth the surface of his script and production, but also to develop his character. Each night, he would evolve. This also allowed Kilmer to have more creative control by interacting with the audience in a productive way that would move his scripted plot forward. He wanted to keep this process close to him:
"I haven't tried to make my film through a studio…When the screenplay was done, I realized I wasn't able to raise the money because I knew what I wanted to do as a director but I wasn't ready to play the role- so I wrote the play to research the character."
One might think San Francisco would have received the highest demand, given that Mark Twain began his career in journalism here, which spawned several memorable quotes about this wonderful city. With Mark Twain being one of the most famous American authors, of course this was not the case.
In explaining the reception he has garnered since showing "Cinema Twain," Kilmer noted, "Everywhere we've gone, up and down the [California] coast and into Arizona where my mom lives, we've sold out with flattering ease." It comes as no surprise that Twain left his mark, pun intended, everywhere. His influence has only grown since his death, and that certainly offers a sliver of hope that the world has not lost its sense of humor and admiration for witty wordplay.
The Plot
The play begins in the present day (this particular performance was taped in Pasadena in 2013). Immediately, Kilmer's Twain establishes a recurring motif. He proclaims, "I recognize that I am dead, but I do not realize it," therein acknowledging where he is, when he is, and that he is in fact dead. Though he is aware he is dead, he does not want to accept it.
Throughout the play, Kilmer repeatedly breaks the fourth wall and engages the audience in character, taking notes rigorously on his hand with his imaginary pencil about which of his jokes are still relevant 100 years posthumously, and those that are either no longer relevant or clearly go over the audience's head. Kilmer cleverly incorporates the "trial and error" point he made before the screening into the actual production, responding to the audience's reactions, or, occasionally, lack-thereof; he endearingly pesters the audience to add social commentary about how shallow the world has become, whether it was telling them to explain to their children and grandchildren that newspapers are just thin iPads, or that they could not be bothered with anything that was not Kardashian-related. Audience interaction spurred creative interaction and fueled his performance. Kilmer's Twain makes a point, highlighting the drastic shift over the last 100 years since his death of the diminishing value of words and the increasing obsession with celebrity culture.
The Preparation
At times, Kilmer's rehearsal and preparation for the role endearingly annoyed his family. This was a humorous moment during the Q&A, but it also shed light on the importance of familial support and bonding. His son, Jack, is a rising talent in his own right, having appeared in Gia Coppola's (granddaughter of Francis Ford Coppola) successful directorial debut, "Palo Alto." His daughter, Mercedes, is studying acting, and already has a few credits on her resume. Kilmer explained that they absolutely embraced the process, and offered objective and humble insight on his influence on their pursing of the dramatic arts:
"I'm sure it's in spite of not because of my devotion- but my kids are remarkably accepting and tolerant of people and eccentrics. They love them as I do – and acting is a very self oriented occupation- one has to spend a good deal of time alone just sitting there figuring it all out, and writing is worse."
Kilmer also wrote the play. It is worth mentioning this again, because acting and directing alone is a daunting feat, but to act, direct and write is a nearly unattainable feat in the medium of film. During the play, cues would come in the form of a light from "God," sending down newspapers, giving Kilmer's Twain direction on where to take the play's plot.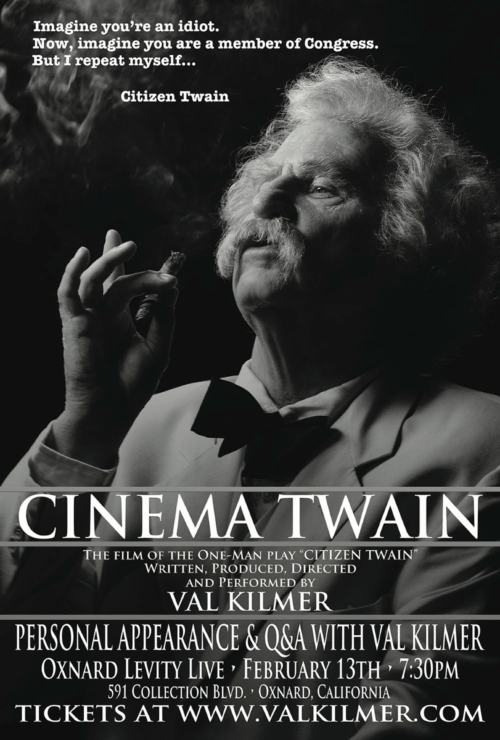 "God wants me to apologize to Mary Baker Eddy [founder of Christian Science] for accusing her of plagiarism! I will not!" Kilmer shouts. Throughout the play, he goes back and forth between telling his life story and going back to Eddy, eventually apologizing to her. Kilmer explained that although Twain publicly criticized Eddy, he greatly admired her, and spent the last 10 years of his life obsessed with her; he struggled with his own mortality, secretly believing Eddy might hold the only cure for his neurotic, existential crisis. "I love Twain's vanity and jealousy of her talent," Kilmer revealed admiringly.
This passion for capturing such an interesting dynamic between two people is what catapults "Cinema Twain" from great to superb. It creates an entrancingly absurd back and forth between Twain's higher and lower instincts.
"God also wants me to finish my autobiography. But I do not want to, because then I will be gone. I recognize that I am dead, but I do not realize it." This aforementioned motif personifies Twain's existential crisis. The rest of the play, he meanders throughout various pivotal points in his life, using them as a vehicle to make sharp social and political commentary in a fashion that only Twain could.
One may often forget that it is just Kilmer in extensive makeup and prosthesis, but rather actually believe that Mr. Twain is performing in the flesh. Topics ranged from God, whom he portrayed as a flawed human being, to mocking God, the inherent moral atrocity of colonialism, missionaries, and the spread of Christianity, the absurdity of the Christian justification of slavery, fundamentally deconstructing racism, the hypocrisy and daftness of politicians, and the blurred line between government and religion. Throughout the play, Kilmer's Twain cleverly uses the terms "God" and "government" interchangeably to underline the illogical overlapping of church and state. Kilmer covers these subjects deftly, with the wry wit (which he eerily, flawlessly conjures) and sharp satire that singularly characterized Twain.
Eddy's Influence
Eddy's influential voice on the subject of God irked Twain. She was so certain and influential in her views, and, as Kilmer mentioned, it made Twain covetous of her clarity. "She got one of her definitions of God into what's widely regarded as the best writers dictionary in the world, the Webster's International Dictionary: Second Edition. Much better than the OED [Oxford English Dictionary]!" Kilmer proclaimed, discussing Eddy's undeniable genius.
So, what is Webster's definition of God? "The incorporeal divine Principle ruling over all as eternal Spirit: infinite Mind," taken from Mary Baker Eddy's definition in her book, Science and Health: "The great I AM; the all-knowing, all-seeing, all-acting, all-wise, all-loving, and eternal; Principle; Mind; Soul; Spirit; Life; Truth; Love; all substance; intelligence." In layman's terms, Mary Baker Eddy's definition of God is essentially the intangible force that lies within human beings and guides them; it is infinite love. It is everything a person should aspire to be in character. This is, without a doubt, more comforting than the Oxford English Dictionary's definition of God: "The creator and ruler of the universe and source of all moral authority; the supreme being." This definition seems to take the power out of the person, almost implying that people do not inherently possess the proper moral compass to control their own destinies.
Kilmer's admiration for Mark Twain as a person and important literary voice is inferred, but his performance was so on point, his connection with Twain appeared almost existential. However, the connection only seemed this way, as it is simply an example of the thespian's fine-tuned rehearsal. The best performances convince you that the actor and the character they portray are one and the same.
"I've always had the highest regard for him [Mark Twain] and am proud of revealing his deep desire to know God. He's always characterized as an agnostic or an atheist. But he wasn't," Kilmer clarified when asked if he felt an existential connection to Twain's story. This raises an important point that both Twain and Kilmer make. Just because one is open enough to question the existence of a higher being, even mock and criticize the idea, does not mean that they do not believe and have faith.
This recurring, spoken motif, "I recognize that I am dead, but I do not realize it," reflects the reluctance of Twain to follow "God's" demand to finish his autobiography, and his fixation with Eddy's Christian Science healing stories reflect a clear refusal to come to terms with death. Samuel Clemens is dead, but Mark Twain is immortal. Although his words are finite on paper, they are everlasting in our collective memory. It became apparent that this tireless portrayal reflects humankind's own coming to terms with death; it puts every human being's inevitable encounter with death into a perspective that is easy to grasp.
Friendly (and Funny) Advice
As a whole, one can think of the production as a non-linear, surreal comedy show, sprinkled with moments of raw emotion. Another part of what drew Kilmer to the role of Mark Twain was his aptitude for humor. Kilmer affirmed that "he [Twain] was America's first stand-up comedian." It is difficult to find a sound argument against this sentiment, as Twain has been quoted more often than most modern-day stand-up comedians. It may come as a surprise to many people who associate Twain as more of a writer, but he was many things, and comedy was one of his strongest vehicles. Kilmer sought advice from heavyweight comedians Dave Chappelle and Will Forte to help him with his stand-up routine and delivery:
"I'm not friends with Chappelle, although I believe he's a genius- I just talked to him about it and he gave me some wonderful advice. Will Forte flew all the way to North Dakota where I first did the show and was incredible. Really valuable advice- you always can use another set of eyes on a play and with comedy."
Kilmer and Forte united for the film, "MacGruber," an SNL skit adaptation, which Forte also wrote. Kilmer plays the film's villain, and one can certainly see how Forte's comedic style rubs off on Kilmer in the film; their collaboration certainly spawned some memorable lines and natural, reactionary encounters between their character counterparts. Kilmer clearly understands the benefits of friendly advice from top comedy talents, and explained appreciation for Forte's feedback on the original "Citizen Twain" performance, "Unless a person can do what Will does, you can't trust someone's judgments."
It paid dividends, as Kilmer's Twain had the audience laughing in tears. But then, on a dime, he would break out in tears when discussing a sad memory, and the tone would change in such a powerful way, transforming the audience's tears into those of genuine empathy.
In fact, Kilmer displays such a wide range of emotions in the 90-minute taping of his performance, 95 percent of which contained the Pasadena performance in 2013, with exception of two added jokes, that it is virtually impossible to fathom his mental process of conjuring and controlling his conveyed feelings. He is no stranger to disappearing into rolls (a skill he no doubt developed during his studies at Juilliard and perfected throughout the evolution of his career), from performing his own guitar and singing as Jim Morrison in "The Doors" to portraying a junkie musician in "The Salton Sea," he continues to choose roles that allow him to further display his exponential range as an actor. Still, there is no margin for error in a play. There are no second takes, making it all the more impressive. Simply put, it is one of the most astonishing performances I have ever seen. It would be enough applause to give Kilmer credit for his performance alone, but, as aforementioned, he also produced, wrote and directed "Cinema Twain."
Along with consistent support from family, friends and industry professionals, Kilmer attributes at least part of the success of "Cinema Twain" to his peaceful work environments:
"Thank God I had a glorious ranch to do it at, and then my little surf shack in Malibu."
Artists in any medium can certainly relate to this. The importance of one's surrounding environment when they are trying to create and perpetuate their artistic endeavors is paramount.
Looking Forward
So, where has Val Kilmer been for the last 13 years? He's been developing this screenplay, then, opposing the typical Hollywood process, adapting it into a satirical, meta stage production. He's been perfecting his cappolavoro, his masterpiece. Looking forward, Kilmer is excited to finally turn "Cinema Twain" into a feature-length film titled "Mark Twain and Mary Baker Eddy," taking influence from his original stage adaptation, for which he has already begun fundraising. While he's fundraising, he's continuing to present "Cinema Twain" to meet the continued high demand. If you are in the area, I strongly recommend attending one of the upcoming screenings throughout California in February:
Thursday, February 9, 2017 at 7:30PM
Landmark Regent, Los Angeles, CA
Monday, February 13, 2017 at 7:30PM
Oxnard Levity Live, Oxnard, CA
Thursday, February 16, 2017 at 7:30PM
Laemmle Playhouse 7, Pasadena, CA
Friday, February 24, 2017 at 7:30PM
Long Beach City College / Liberal Arts Campus Auditorium (Bldg. J)
Saturday, February 25, 2017 at 7:30PM
Long Beach City College / Liberal Arts Campus Auditorium (Bldg. J)
The Awards Circuit staff and community thanks Val Kilmer for the wonderful insight into the making of "Cinema Twain."