There's nothing like spending Mother's Day in the movie theater with your mom. Opening this weekend, "Snatched" brings to life a new mother-daughter pairing in Amy Schumer and Goldie Hawn. The film marks Hawn's return to film after a 15-year hiatus. As mother and daughter find themselves kidnapped while on a South American vacation, "Snatched" is not your typical Mother's Day movie. If accompanying your Mom to an R-rated comedy is not your cup of tea, see here for 10 of the best mother-daughter relationships to watch over the weekend. Make sure to bring some Kleenex for many of them.
10. Helen (Dianne Wiest) and Julie (Martha Plimpton) – "Parenthood" (1989)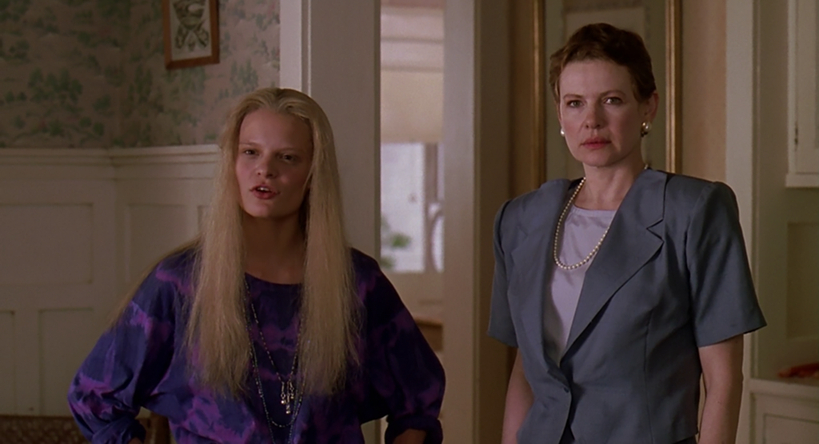 Helen and Julie have a complicated relationship. As a single mother, Helen so desperately wants to be involved in her teenage daughter's life. However, Juile is rebellious against her high-strung mother and just wants to spend time with her dolt of a boyfriend, Tod (Keanu Reeves). There is quite a bit of great comedy in their friction. A major highlight is Weist's line reading as Helen accidentally picks up sexy photos of Julie and Tod. "Here's something for my wallet," she coos with sarcasm. However, as Julie and Tod's relationship deepens, Helen steps up to the plate and becomes a matriarch Julie can look up to. A climactic scene at Tod's drag race cements Helen as a wonderful, complicated mother. Who wouldn't want her to be their off-kilter matriarch?
9. Cesira (Sophia Loren) and Rosetta (Eleonora Brown) – "Two Women" (1961)
A mother's love is stronger than the powers of war. At least that's what one takes from the classic Italian film "Two Women." Sophia Loren won an Oscar for her portrayal of Cesira, a single mother during WWII. She seeks to put distance between her daughter and the violence of war. This leads both women on a perilous journey to Cesira's hometown, where she feels they will be safe. Loren is a terrific force, radiating strength and love, even in moments of great duress and panic. It's easy to see how she became the first Italian actor in a foreign language film to win an Oscar. With so many WWII films already made, this one has a unique perspective that deserves to be revisited. While a war film might not be one's No. 1 Mother's Day choice, make sure you don't miss it.
8. Tess (Jamie Lee Curtis) and Anna (Lindsay Lohan) Coleman – "Freaky Friday" (2003)
For a movie about literally becoming your mother, "Freaky Friday" can't seem to stop having fun. Few performances radiate as much carefree joy as Jamie Lee Curtis portraying Anna inhabiting Tess' body. From the makeover scene to a rambunctious segment on a talk show, Curtis is having the time of her life. In fact, her performance, which ranges from buoyant silliness to earned drama, represents the best of her career. Lohan is no slouch either, pulling her weight as both an average teenager and a depiction of her mother. There is something so wonderfully poignant and earned about Tess and Anna's reconciliation. They are able to put aside their differences to recognize what is special about each other's priorities. The film blends wholesome fun with a great message about how mothers and daughters need to take the time to relate to one another.
7. Cynthia Purley (Brenda Blethyn) and Hortense Cumberbatch (Marianne Jean-Baptiste) – "Secrets & Lies" (1996)
There are few mother-daughter relationships as unexpected as Hortense and Cynthia. Hortense is a successful optometrist and African American woman who goes in search of her birth mother following her parents' deaths. Cynthia is a chain smoking white woman estranged from her family and working at a dead end job. Once the two women meet, Cynthia begins to take more initiative in her family's life. This culminates in integrating Hortense into it during a messy and emotional birthday celebration. "Secrets & Lies" is a profoundly emotional and moving film that never quits. Writer-director Mike Leigh is at his best capturing the nuances of familial relationships. Hortense's introduction into Cynthia's life and the Purley's family is messy. However, once the rubble settles, one sees how rewarding the rocky journey was.
6. Flor (Paz Vega) and Cristina (Shelbie Bruce) – "Spanglish" (2004)
Mothers seek to pass down their heritage to their daughters. As Flor leaves Mexico with her young daughter, Cristina, in tow, she finds work as a nanny to the Claskys, a wealthy, white family. Flor instinctually wants to distance Cristina from the Clasky family. However, when the family gets a Malibu house for the summer, Flor must have Cristina stay with her and the Clasky family. There's an unspeakable bond between Flor and Cristina, which is tested as Cristina is taken under the wing of Deborah, the Clasky matriarch, due to her intelligence. As Flor sees Cristina slip away, she becomes more protective, further driving a wedge between mother and daughter. The climactic argument between the both of them never fails to bring tears to my eyes. However, as the framing device of Cristina writing a college application asserts, there is no one she respects more than her mother.
5. Raimunda (Penelope Cruz) and Paula (Yohana Cobo) – "Volver" (2006)
Pedro Almodovar is the king of crafting strong mother roles. Penelope Cruz's Raimunda is the crown jewel of his filmography. She's a staple to her community, but a powerful presence in the life of her daughter, Paula. After she catches wind of her boyfriend making inappropriate advances at Paula, Raimunda snaps and kills him. The rest of the film follows Raimunda covering up her murderous actions. At the same time, the ghost of her mother follows her, trying to rectify their fraught relationship. While Raimunda doesn't have a good relationship with her mother, one can see how the failings of that relationship led to the strong bond she shares with Paula. Raimunda would do anything for Paula, even stuff a body in the freezer to keep the cops from discovering her actions.
4. Loretta (Cher) and Rose Castorini (Olympia Dukakis) – "Moonstruck" (1987)
While many parent-child relationships of sorts have won dual Oscars, Cher and Olympia Dukakis are one of only two mother-daughter pairs to have that honor. The other pair is Holly Hunter and Anna Paquin for "The Piano," albeit it's a much more frayed mother-daughter relationship. Loretta and Rose do more than just represent the typical Italian American family. They deepen these expected roles in interesting ways. Loretta is an aging woman worried about getting married the correct way, only to find herself in love with her fiance's brother. Rose, on the other hand, feels she is being cheated on by her longtime husband. The two women may talk constantly, but never what's on their mind. Yet, even with just a fleeting glance, they are able to convey a wealth of information and emotion.
3. M'Lynn (Sally Field) and Shelby Eatenton (Julia Roberts) – "Steel Magnolias" (1989)
"Steel Magnolias" is one of those movies guaranteed to make anyone's list of top tearjerkers. It has all the makings of a traditional weepie. The heart of the film on the surface may seem to be the mother-daughter central relationship between M'Lynn and Shelby. M'Lynn is constantly worried about Shelby, due to her diabetes. Meanwhile, Shelby continues to test the limits of what she can do with her disease. However, even more integral than this mother-daughter relationship is how all the women in this film fill the role of mother and confidant to Shelby. Whether it be social maven Truvy (Dolly Parton), curmudgeon Ouiser (Shirley MacLaine), spitfire Clairee (Olympia Dukakis) or newbie Annelle (Daryl Hannah), the cast beautifully illustrates how it takes a village to raise a child. There's a reason your Mom will always want to replay this film; it's just that good.
2. Cheryl (Reese Witherspoon) and Bobbi (Laura Dern) – "Wild" (2014)
One of the saddest truths is that we don't appreciate those we love enough until they are gone. Following Bobbi's sudden death at the hands of cancer, Cheryl finds her life thrown into a tailspin. She hikes the Pacific Crest Trail to walk herself back to the woman her mother wanted her to be. Flashbacks show Cheryl striving to be smarter, more successful and in better financial shape than her mother, Bobbi. Bobbi was a victim of domestic abuse who extricated her children from a terrible father, only to play the role of single mother and return to school late in life to pursue her dreams of earning an education. As Cheryl confronts her demons on the Pacific Crest Trail, she grows closer not only to her mother, but to the woman she wanted to be. It's a beautiful testament to the integral role mothers play in their children's lives.
Emma Horton (Debra Winger) and Aurora Greenway (Shirley MacLaine) – "Terms of Endearment" (1983)
"Terms of Endearment" covers every emotion on the spectrum. The decades-long chronicle of Emma and Aurora's tempestuous relationship brims with comedy, tragedy, hurt and triumph. Aurora is a type-A socialite who resents her only daughter, Emma, marrying a man she disapproves of. Emma moves far away from her mother's judgment, only to pop out a few kids and find herself lost in a life she no longer feels is her own. From here, mother and daughter constantly communicate the hard truths and joyous triumphs in each of their lives. Searching for an outlet and companionship, Aurora is driven into the arms of Garrett (Jack Nicholson), the alcoholic astronaut next door. This already beautiful film culminates in a third act that is a gut punch to the tear ducts. No mother scene is as visceral as Shirley MacLaine shrieking, "Give my daughter the shot!"
What are your favorite mother-daughter films? Do you and your mother have a go-to mother's day movie? Let us know in the comments.