Fashion and film go hand and hand, and no collaboration has embodied this marriage as well as Hubert de Givenchy and Audrey Hepburn. Through their friendship, Hepburn and Givenchy not only redefined cinema but paved the way for the modern woman. Some of the pair's films were staples such as "Sabrina", "Funny Face", "Breakfast at Tiffany's", and "Paris When it Sizzles."
"His are the only clothes in which I am myself. He is far more than a couturier, he is a creator of personality."
It is true that our clothes help to shape our personality. However, our personality influences the clothes we wear too. The right garments make you look and feel good, but the right person can sell an outfit to the masses. Always imitated but never duplicated, Audrey Hepburn influenced the style of women across the globe. She brought a more playful, youthful mood to fashion.
Honoring the friendship between two artists
While Hepburn had a style all her own, Givenchy's designs elevated her characters and her status as a fashion icon. Hepburn's devotion became the basis of the brand, her legacy synonymous with Givenchy for years to follow. Long before influencer culture took over, Givenchy and Hepburn created a partnership that dreams are made of.
Over the years, Givenchy and Hepburn united on seven films, the first being "Sabrina". During filming, Hepburn was still an unknown actress, and Givenchy was a rising designer. In need of suitable attire for Sabrina's transformation, Hepburn sought out a French couturier. Edith Head is billed (and awarded) as the designer for "Sabrina," but it's Givenchy's work that is the standout in the film. It is Givenchy's designs that Sabrina wears after she returns from Paris as a new woman.
Following "Sabrina," Givenchy became the exclusive designer for Hepburn's contemporary films.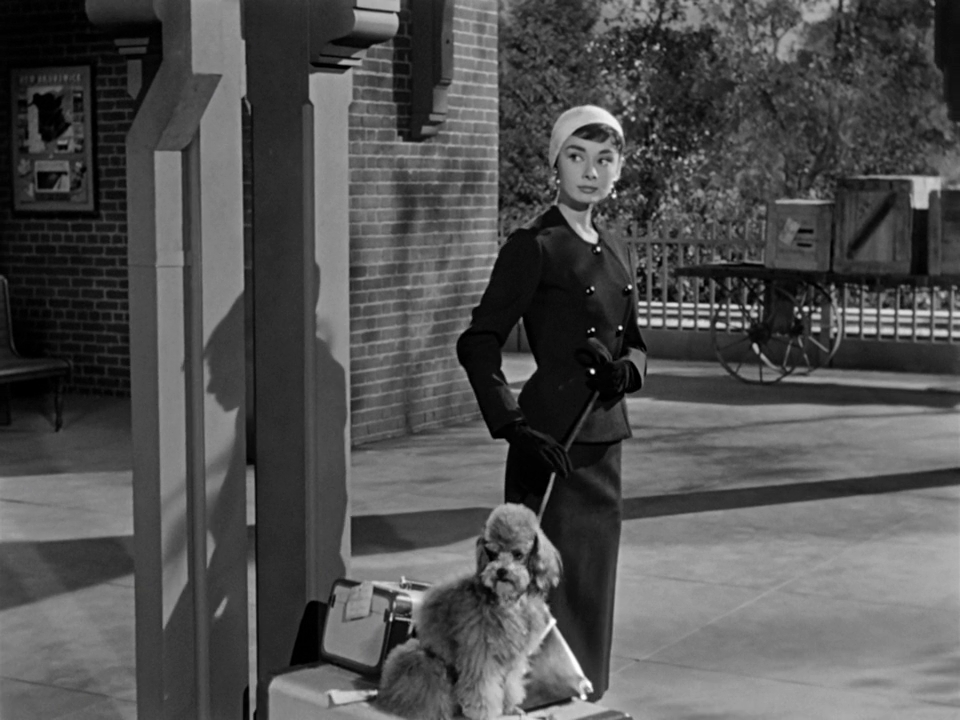 During the filming of "Sabrina," "Roman Holiday" had yet to debut. Following the release of "Roman Holiday", Hepburn became a household name. She was a fresh face on the scene, a contrast to bombshells like Marilyn Monroe and Jayne Mansfield. With her slender figure and elegant features, Hepburn would inspire many imitators.
Hepburn and Givenchy: A match for the screen
Of all the films Hepburn and Givenchy collaborated on, none had as much of an impact as "Breakfast at Tiffany's." Blake Edwards' adaptation of the Truman Capote novella was a careful adaptation of its source. Not the first choice for Holly Golightly, Hepburn proved to be the right choice in the long run. Hepburn's involvement was more palatable for viewers and was extremely beneficial- in the fashion sense. As Holly, Hepburn was able to shed the "princess" image of her past films. Despite Holly's profession, her image became one with grace, sophistication, and classic style.
In one of the most memorable opening sequences in film, Holly Golightly (Audrey Hepburn) glides across Fifth Avenue in a black sheath dress and pearls. She gazes wistfully into the Tiffany's storefront, a display of diamonds and robin egg blue. Standing in the deserted street, Holly quietly eats her breakfast in front of expensive jewels. What a way to wake up, isn't it? 
The early sixties was an interesting era, as it was the bridge between two different times and attitudes. Prior to the release of "Breakfast at Tiffany's," florals and bright colors were the norm. With Dior's New Look reigning, the fifties were a time of conformity and "family values." 
In 1957, Givenchy debuted his famous "Sack" dress. Unlike the other dresses of the time, the Sack dress would allow its wearers freedom from constricting garments. In Givenchy's clothes, women were able to express their personal style in ways they couldn't beforehand. He was also responsible for the creation of haute separates, in which women were given freedom to mix and match their ensembles. Through this innovation, women had more of a say in their appearances.
The impact of "Breakfast at Tiffany's"
In "Breakfast at Tiffany's," Holly expresses herself in the simplest way, in a little black dress. Although the little black dress is now a wardrobe essential, in the past it was a sign of change. Devoid of color, the little black dress is the epitome of chic. While Coco Chanel earns credit for the invention, Hubert de Givenchy brought it to the forefront of fashion. The dress represents a cosmopolitan lifestyle, a woman on the move. 
A woman with her own agency, Holly is free of domestic obligations. Her attitude radiates from the clothes she wears. Her dresses are simple, but they provide a blank canvas for her personality (and her jewelry). In her ensembles, Holly has an air of mystery and shows she doesn't belong to anyone. In the black dress, Holly has taken on a life of her own design and sheds the image of her past.
One of the few instance audiences see Holly in color, she is at her most vulnerable.
Following the release of "Breakfast at Tiffany's," Givenchy's simple dresses were immortalized. The friendship between Hepburn and Givenchy helped shape the way we dress. What do you do when you don't know what else to wear to an event? You often wear a little black dress, don't you? It's standard when you want to make a statement…without making a statement. Do you think back to Audrey Hepburn, Hubert de Givenchy, or "Breakfast at Tiffany's?"  As a testament to the film's impact, one of the original gown's was auctioned for over $900,000 at Christie's. To date, it is one of the priciest pieces of film memorabilia to exist. That's quite a bit for a simple dress, isn't it?
What are some of your favorite Givenchy looks on film? Discuss in the comments!
CHECK OUT ALL THE YEAR-IN-ADVANCE PREDICTIONS ON THE CIRCUIT HUB AND MAKE YOUR OWN!