Welcome to the 2019 Awards Profile series, where we talk about films coming to a theater near you in the coming year (at least at this time of writing). The series analyzes the films and their awards season potential, most notably for the Academy Awards, based on the talents attached, filmmakers involved, and story and source material.  Monday through Friday until mid-May, AwardsCircuit will bring you a new and exciting project and discuss its chances for success. If you have a suggestion for a movie we should cover, include it in the comments section below. If you miss a film covered, click on the tag or category for "Awards Profile."
FILM: "US"
DISTRIBUTOR: Universal Pictures
DIRECTOR: Jordan Peele
PRODUCERS: Jason Blum, Ian Cooper, Daneil Lupi, Sean McKittrick, Jordan Peele, Beatriz Sequeria
WRITER: Jordan Peele
CAST: Lupita Nyong'o, Winston Duke, Shahadi Wright Joseph, Evan Alex, Elisabeth Moss, Yahya Abdul-Mateen II, Anna Diop, Tim Heidecker
SYNOPSIS: A family's serenity turns to chaos when a group of doppelgängers begins to terrorize them. (IMDB)
SCHEDULED RELEASE: March 22nd, 2019
POTENTIAL HIGHLIGHTS
Jordan Peele is on fire, and he's shown no sign of slowing down after his feature debut, "Get Out." Following his first effort, Peele is now one of the most exciting directors in Hollywood. "Get Out" was an anomaly for horror, earning multiple Oscar, Golden Globe, SAG, and Directors Guild nominations. Peele took home the Oscar for Original Screenplay in 2017.
"Us" is one of the most highly anticipated films of 2019. Jordan Peele's team are marketing masters, instilling fear and delight in moviegoers. Like the teacup in "Get Out," the golden scissors, once commonplace, are now important iconography. Peele has proved he is great at building anticipation and creating conversation.
Additionally, "Us" has an A-list cast. The film reunites "Black Panther" co-stars Lupita Nyong'o and Winston Duke. They are joined by stars such as Elisabeth Moss, Tim Heidecker, and Yahya Abdul-Mateen II. An Oscar-winning actress, Nyong'o is well deserving of a leading role and can carry a film. Winston Duke is a star on the rise. "Us" will be the film that allows us to see the extent of his acting abilities.
POTENTIAL CHALLENGES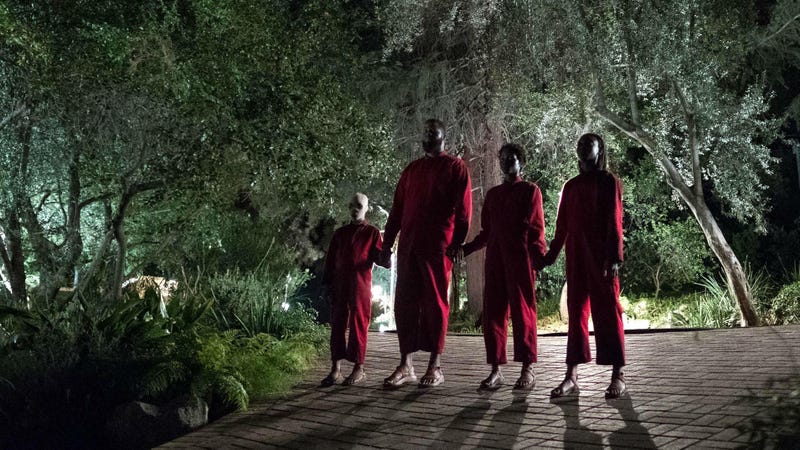 Despite Jordan Peele at the helm, and a buzz-worthy cast, horror films are rarely taken seriously in the awards conversation. For "Get Out," there was a significant amount of category manipulation for its inclusion at the Golden Globes. "Get Out" is certainly not a comedy, but somehow it was made out to be. "Us" on the surface, appears to be scarier in tone, so there is a low likelihood of its category is changed. If it manages to be nominated alongside other drama films, it's up against a stacked category.
Another hindrance for "Us" is its subject matter. "Get Out" is a clever social commentary that resonated with many viewers, but will lightning strike twice for Peele? In the past year awards, voters have often sidestepped films with genuine social messages for safe awards bait films. Peele's work is brimming with originality, but will it matter? With its March release date, the "Us" team will have to fight to keep it at the forefront of voters' minds for the remainder of the year.
POTENTIAL AWARDS CATEGORIES IN PLAY
Motion Picture (Jason Blum, Ian Cooper, Daniel Lupi, Sean McKittrick, Jordan Peele, Beatriz Sequeria)
Director (Jordan Peele)
Actor in a Leading Role (Winston Duke)
Actress in a Leading Role (Lupita Nyong'o)
Original Screenplay (Jordan Peele)
Production Design (Ruth De Jong)
Cinematography (Mike Gioulakis)
Costume Design (Kym Barrett)
Film Editing (Nicholas Monsour)
POTENTIAL KEY NOTICES FROM OTHER GROUPS
Best Performance by a Cast Ensemble (SAG Awards): The cast is full of favorites and award-winning actors and actresses. The guild will take notice.
Best Screenplay (Golden Globes): The Globes often awards films that are outside of the box, and lean towards work that provides social commentary.
Writers Guild of America (Original Screenplay): Jordan Peele won before in this category. He is a new favorite among writers.
ARE YOU EXCITED OR SKEPTICAL ABOUT JORDAN PEELE'S  "US?" PLEASE SHARE YOUR THOUGHTS IN THE COMMENTS SECTION BELOW!
CHECK OUT ALL THE YEAR-IN-ADVANCE PREDICTIONS ON THE CIRCUIT HUB AND MAKE YOUR OWN!