What does it take to find the perfect shade of red? For makeup artist Patricia Regan, she was faced with the task of finding just the right shade for her leading lady. Midge Maisel is a dynamic character, one you don't come across often. Originally a "proper" housewife, Midge comes into her own through her fledgling career as a comedian. For Midge's everyday life, she's a ray of color in a fifties New York City, but for the stage, she adapts the little black dress as her costume, and a bold red lip to match. For a character like Midge, you can't just use any kind of red. Not only do you need something bold, you need something that's reflective of the fifties, translates well on camera, and also matches your lead's skin tone.
The makeup of "The Marvelous Mrs. Maisel" is driven by character, and by the locations that surround them. In the second season of the former Emmy-winner, Paris and the Catskills shift the appearances of the characters. In Paris, Rose Weissman embraces her younger, creative self. In the Catskills, Midge reveals herself as a comedian to her family. Through Midge's personal evolution, it proves that the right shade of lipstick can tell you a lot about a woman's story. It can tell you who she is, who she used to be, and who she's trying to become.
Awards Circuit was able to speak with makeup artist Patricia Regan, and discuss Midge's evolution in season two, and her search for the right lipstick shade.
Adriana Gomez-Weston/Awards Circuit: In the beginning of the series Midge (Rachel Brosnahan) embodies the perfect 50's woman- on the surface. What were some of your inspirations for her classic look?
Patricia Regan: I looked through a tremendous amount of different publications like Life Magazine, Time Magazine, catologs. There were actually clothing catalogs from the fifties such as Sears Roebuck where you can look at what people were wearing. They had all these really nice sketches, and this really refined look that was really typical of the fifties. I would also look at some of the Hollywood movies from the fifties, but not that much because I always felt that that's an interpretation of what really happened in New York. I've had other jobs that took place in the fifties, so I already had a good background for colors that were being used at that time.
It all just grew together really nicely once the costumes go on. It turned out we really have a nice collaboration on the show and I think that's something that really comes across. It's not always like that on any sort of show, or any movie. Of course there's a wonderful script, and sets too.
AGW: What were some of the biggest challenges in recreating period-accurate makeup? During that time, makeup was really starting to take off. 
PR: You'll be surprised at how many colors were not to be found when we went to the store. Fashion takes different turns, and there's so much competition now between these many makeup lines. The colors are narrow, but they're all focused on trying to sell trends. When I was looking for different reds, true reds, they were sometimes really hard to find especially since we had to work with HD cameras that can tweak colors.
We did some camera tests for the colors. Any red that had too much blue wouldn't be good because it would be too dark, it could flare. It's really tricky to find lipsticks. I spent a lot of time just going through different brands, going through different lipsticks. They're matte, so they're not glossy or shiny. They're also not the kind of lipsticks that you can buy now. Everyone has these liquid matte lipsticks now that are silicone-based, and have a completely different finish than what was presented in the fifties. It's a continuous challenge for me. I spent my weekends just looking for little variations, like rose, true red, coral, especially for the Catskills.
It's not easy. In the past, I would go to Revlon. They have these beautiful colors that they've made that are original. It is amazing that they still exist, but the consistency of the lipstick is no longer the same. I would try to match up the shades in different brands to find a matte lipstick with a more true consistency. For Revlon lipsticks, even though the color is there, there is a little bit of sheen to them.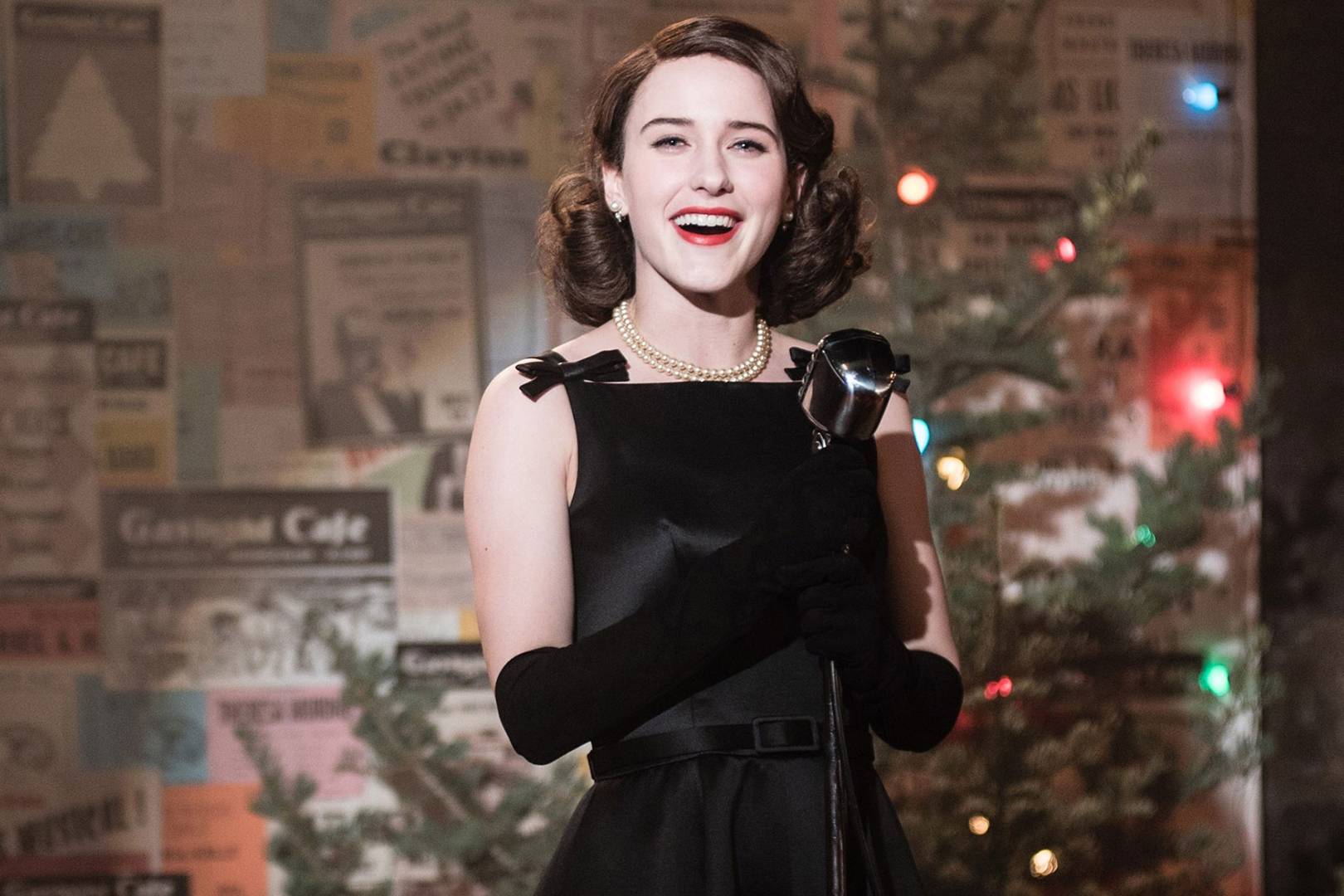 AGW: Going off of that, for season two, what subtle changes did you make in Midge's makeup to indicate her change in lifestyle and attitude?
PR: We had a really nice springboard there. We had established that Midge is the comedian Mrs. Maisel, but she still kept it from her family. They take a trip to the Catskills, so that gave me a wonderful opportunity to switch to summer. Back then, people would switch colors in the summer. Some people still do it, but it's not as much of a thing as it was in the fifties. In the winter, you have the deeper reds, and in summer you definitely switch to a coral. In the summer, there's a brighter environment. You have blue skies, a colorful, light floral dress, and a brighter lipstick. When Midge is wearing this beautiful, yellow floral dress, that's where I used my strongest coral lipstick.
AGW: I love the looks from that time. So elegant. 
PR: Yes, so elegant and rich in color. It's very nurturing.
AGW: For Susie (Alex Borstein), she's on the opposite end of the spectrum. What inspirations did you use for her? 
PR: Susie's made to look like she's not wearing makeup because she is supposed to completely, 180 degrees on the other side of Midge. It's also why Midge always looks so polished because you always have to put opposites right next to each other. One is completely taken down and natural. There's no visible makeup really.
AGW: Paris is a major part of the beginning of the season. How did that influence some of your makeup choices? For Midge's mother Rose (Marin Hinkle), it's a big change for her. 
PR: She left New York behind, and she decided to move back to Paris because she spent time there and loved her life. I took her to a much more dramatic lipstick. We went for a deep red which was used in Europe at that time. At the very end, when she finally agrees to return to New York, she has this darker lipstick on. When she gets back to New York, she holds on to the lipstick. However, she wears less makeup because she goes to the art studio to paint and continues to pursue her craft. I was able to have a little leeway with that. Her look is always very refined because she's the mother. I paired her look like Midge. I always think that there should be a similarity between the two of them. Like mother, like daughter. Like daughter, like mother! You can tell that they are family.
We did a bit less makeup in France. Women would do their eyebrows, eyeliner, and then some lipstick, but no foundation or blush. We dialed things back to make it more authentic for Paris. The scenes we shot were not high fashion Paris, it was really people living in the city.
AGW: For your lead Rachel Brosnahan, you picked a red lipstick specifically for her, the Yves St. Laurent 201. How did you find it?
PR: Cruising the counters, really. I would go to Saks and Sephora, and all the different makeup shops. I'm from Switzerland, so I tend to go for YSL, Givenchy- more French lipsticks because I know their consistency is better, and they're more high-pigmented. They still make the matte finish that I was looking for. YSL 201 is a beautiful, beautiful red and it reads very well without a camera. It's a true, very powerful, strong female red, which is what I wanted for the black dresses. At the end of season one, Midge says "I'm Mrs. Maisel!"
Before then she uses different names, and at that point she comes into her own. From then on, I've used that color with the black dresses. It's Midge's signature, power lipstick. Of course the Yves St. Laurent lipstick didn't exist in the fifties, but it works. We are in a fantasy after all, right? I think that's why it's such a nice show because you watch it and it takes you away from this life. You can just take a little journey into a time long gone.
Awards Circuit would like to thank Patricia Regan for taking the time to speak with us.
"The Marvelous Mrs. Maisel" is now streaming globally on Amazon Prime.
CHECK OUT ALL THE OFFICIAL PREDICTIONS ON THE CIRCUIT HUB AND MAKE YOUR OWN!