"The Marvelous Mrs. Maisel" cleverly uses color to advance the narrative of its leads, especially Midge (Rachel Brosnahan). As Midge's career progresses, the contrast of her daily life to her comedic career becomes a little more obvious. In the whimsical world of Mrs. Maisel, Midge exists as a burst of color during her day to day life. However, at night, Midge makes waves as the woman in black.
In the second season of the series, location plays a big role in costume changes. The beginning of "The Marvelous Mrs. Maisel" takes Midge all the way to Paris, while mid-season takes the heroine and her family to the Catskills. Set in the fifties, the series re-introduces shades and silhouettes of a time long gone. In season two, audiences are able to see a variety of costumes from the era, all representing different aspect's of Midge's life, and that of those around her.
Awards Circuit was able to speak with costume designer Donna Zakowska, and ask her about her influences for the new season, Midge's career journey, and more.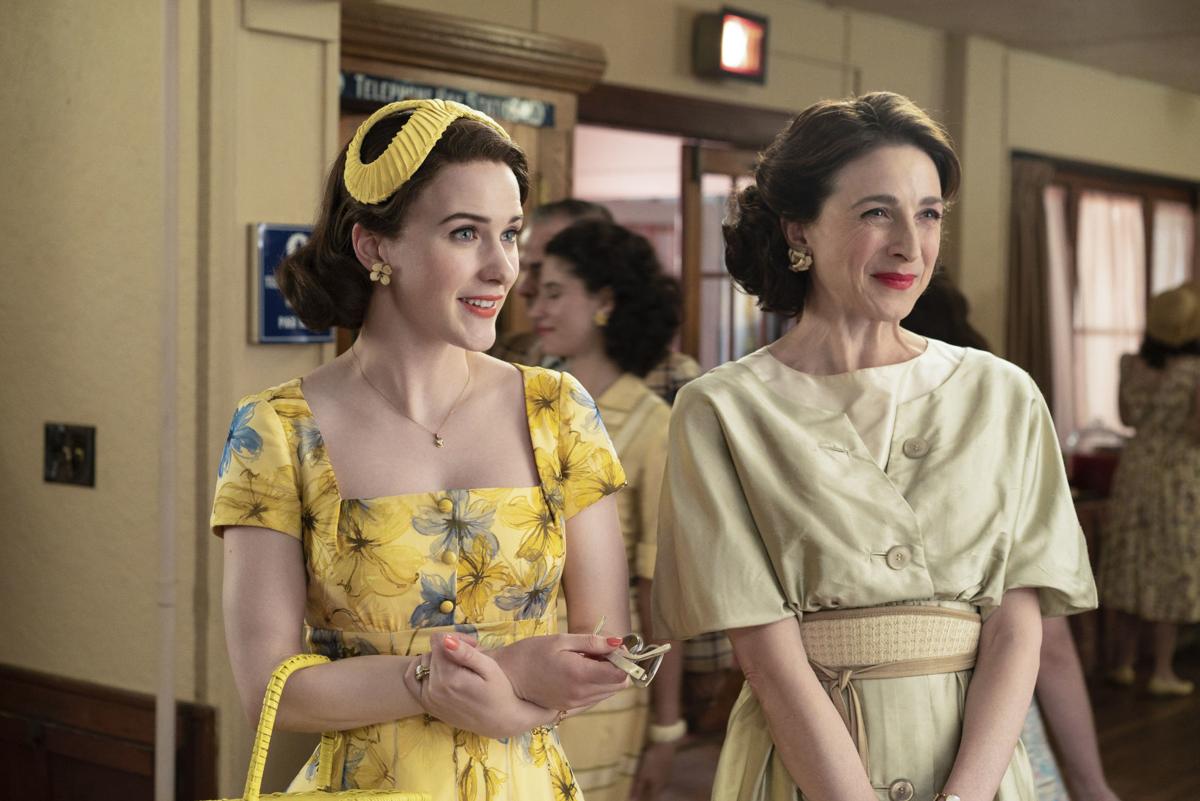 Adriana Gomez-Weston/Awards Circuit: Can you talk more about how Midge's change in attitude, and career evolution are reflected in her costumes in season two?
Donna Zakowska: The second season isn't such a clear-cut journey. We're beginning to see that Midge is starting to take her profession seriously. We will see to a degree the black dress, which I call her performance uniform. It's all so interspersed in season two with all the Catskills looks. It's sort of back and forth for her. She's moving forward in her career, but then she goes away and indulges in her old image, or her childhood image of herself. I really tried to make it very lively and colorful, and playful in a sense because it will probably be the last time that Midge has that ability. It also completely ties in to Midge questioning her future and what she's doing. It's a little bit like moving forward, backward then backward, forward. The second season is really about Midge's emotional journey and the choices she's making in her life.
AGW: How did the location changes influence the characters' style this season? There's the trip to Paris, then the Catskills later on. 
DZ: Paris is a more poetic beginning. I tried to capture a very romantic feeling, particularly in the costume Midge wears while walking in the streets of Paris. The colors are very French, Marie Antoinette pastels. The season begins on a very romantic note. In Paris, there's a flowing quality. When Midge goes back to her regular life, there's B. Altman, her life as a performer. In the middle of that, we find Midge in the Catskills. We're in quite a few sections in season two that all lead to the end.
AGW: Can you speak on the use of color in the series? Midge wears a lot of color in her day-to-day life, but for her stand-up performances, she wears black. What's the process behind that?
DZ: There's no question there's a little bit of Joan Rivers influence in there, with the use of the black dress and the pearls. It's a very strong choice. Since Midge's comedy comes from Downtown, the use of black and dark tones are something that I've always used. It's taking the colors of Downtown and making, and them into an evening look. It's part of Midge dressing properly. There is a sense of formality in choosing the black dress. There is a sense of really presenting herself to the audience. The black evening look is a little bit like housewife in a more formal context. There's a more upscale quality to it. What's interesting about Midge's clothes is that there's always a contrast to her earthiness and the way she dresses, and the way she creates her characters. It shows these opposites exist in the same person.
AGW: What were some of your design inspirations? I noticed a bit of Audrey Hepburn there! 
DZ: There is definitely Audrey Hepburn in there. We got into Grace Kelly quite a bit also, another really beautiful, elegant woman from that period. I would definitely say that Grace Kelly slipped in. We still used a bit of Audrey because her looks are so great. We always go back to original sources like magazines and photography. In Paris, I used a lot of French photographers for inspiration.
AGW: What were some of your favorite looks that you created this season?
DZ: I love a lot of the Catskills looks. In many ways, the Paris looks are wonderful to me. The second look with the beautiful pastels; I spent a lot of time in Paris myself, so I really enjoyed doing that costume. I went back to my own feelings of being a student and living in Paris.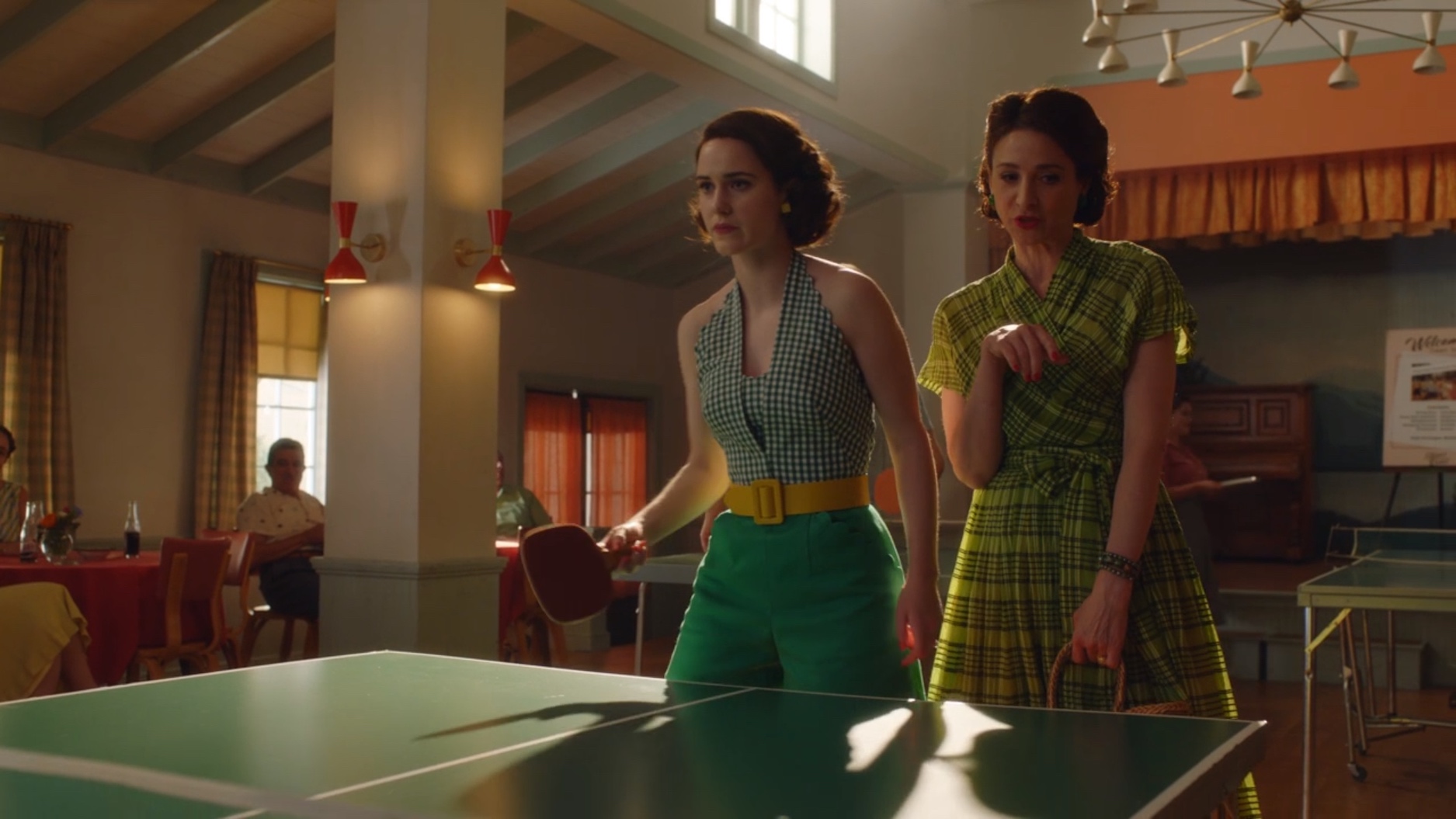 All of the Catskills looks, especially funny outfits like the green jumpsuit for ping pong. I loved doing different variations of casual fifties wear. A lot of the casual fifties wear I really enjoyed doing because I hadn't seen a lot of the silhouettes. A lot of the silhouettes are unique and have a period integrity.
Awards Circuit would like to thank Donna Zakowska for taking the time to speak with us.
"The Marvelous Mrs. Maisel" is now streaming globally on Amazon Prime.
CHECK OUT ALL THE OFFICIAL PREDICTIONS ON THE CIRCUIT HUB AND MAKE YOUR OWN!