The early 2000's were an interesting time in fashion and makeup. In all honesty, when you look back on the style of the time, do you ever think, "Wow! I love the fashion of the early 2000's!" 
Personally, I remember what I was wearing back then, and I'm not proud. The early 2000's are not a time that's romanticized like the nineties, or any of the preceding decades.
So far, the majority of media has shown us what the cool kids wear in the new millennium, but in 2019, Hulu's "PEN15" displays a time that can be roughly described as one I still think was 10 years ago. "PEN15" goes where few shows dare to go…inside the awkward, yet trivial middle school experience. It's that purgatory between elementary and high school you'd rather forget. Along with the cringe-inducing social scenarios, comes the looks to match. Costume designer Melissa Walker, makeup artist Michelle Miller, and hair department head Lara Cilento all had a hand in creating the comedic looks of "PEN15's" leads Anna Konkle and Maya Erskine. For this piece, Awards Circuit was able to speak with both Melissa Walker and Michelle Miller.
In "PEN15," the visual aspects are equally as important as the writing, as the looks of the characters are part of the show's humor. Bad haircuts, bedazzled hats, haphazardly applied makeup, hairy legs, and electric pink thongs are some of the many hilarious visual elements that tie into the middle school misadventures of Anna and Maya. Additionally, for the look of "PEN15," it was extremely important to stay true to the time period, and tap into nostalgia. According to Melissa Walker,
"It was really important for us to stay very true to the time period, to the feelings, the nostalgia. We did a lot of research because so often, things can be redone, especially things that are not so far from vintage- just from it being less than 20 years ago. It was a bit hard to find actual pieces that were true to the time period rather than going to Urban Outfitters."
With nineties fashion making a comeback, it brought forth a challenge in finding the perfect pieces for the show. More often than not, there were more replicas than authentic pieces available, which was a blessing in disguise. For a show that relies on nostalgia, using modern pieces would dilute "PEN15′s" message. Walker was able to find a lot of the show's pieces on Ebay and in vintage stores. In order to create a more authentic look, Walker aged, revived, and added screen printing to some of the articles.
Anna and Maya aren't trendsetters or "cool girls." They emulate the styles they see in the teen magazines and on the popular crowd. Walker's designs twist the perception of what was trendy during the period, and purposefully makes the leads look a little off:
"It was taking those trends and making them so off mark. The popular girls understood the trends, but they're a little off and a little mistranslated by Anna and Maya. It kind of keeps them out of that being in that popular girl realm. It's like, "This is a cool color, so I'm going to make my whole wardrobe this color!"…And it ends up being a flop."
In "PEN15," there is an entire range of characters that represents the different groups of teens that existed during the time. Walker was able to utilize pop culture references in clothing, and tie them into the characters.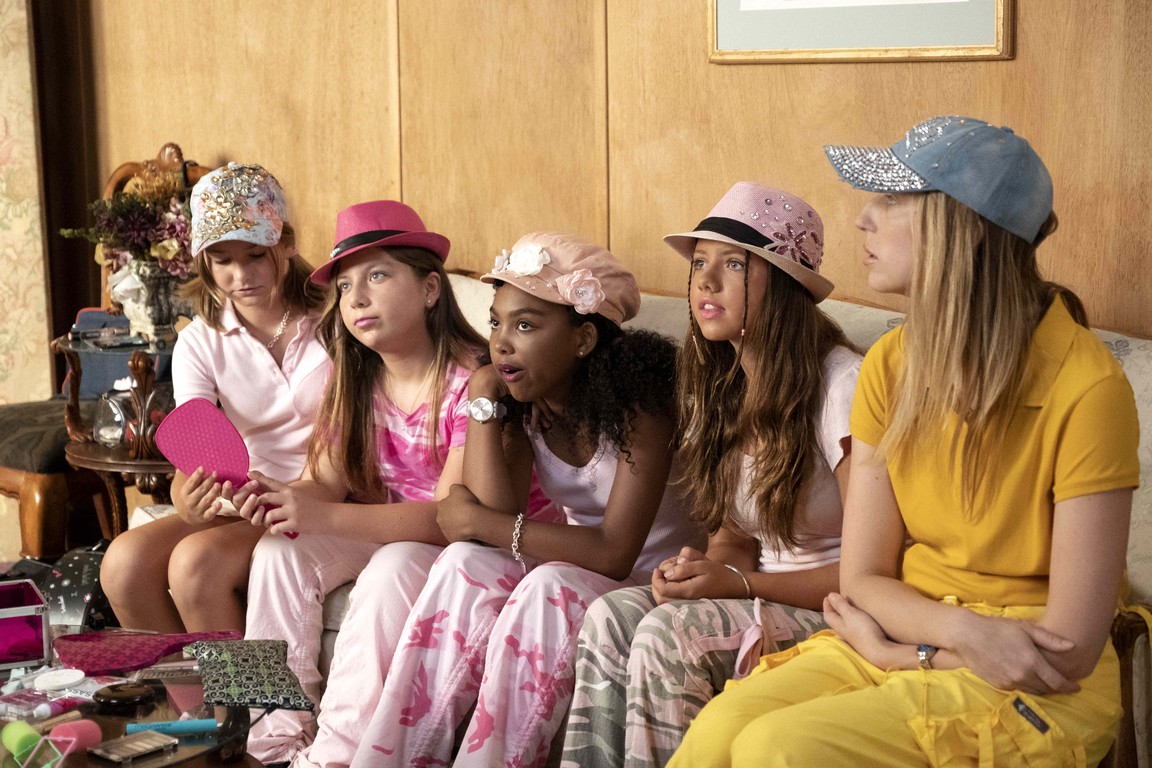 As for makeup artist Michelle Miller, she was able to find products that are still produced today. She used brands such as Wet 'n' Wild and Lip Smackers for the actors. In her approach, she allowed some of the characters to just do what they wanted with the makeup. One of the most exciting things about the show that there wasn't a pressure to look "perfect" for the camera. In most cases, the exact opposite was encouraged.
"We purchased wet and wild products which is what I would use in high school. Honestly, sometimes we would just hand it to them and they would go crazy with it. We'd say, "That looks good!"
The late nineties and early 2000's were an iconic time for teen films and shows, but the inspirations behind "PEN15" are a little closer to home. As for the inspiration behind Anna's and Maya's characters, Melissa Walker drew from childhood friends, then speaks on how it translates to Anna and Maya's wardrobes:
I think that with the references that Maya and Anna brought in and the ideas that they had for their specific characters. They reminded me so much of two of my best friends in high school. Some of the things they were saying, and some of the trends they were into were very similar of my two friends. It was nice to loosely base it off of that too. They were always a step away from the popular girls. The popular girls would wear the Abercrombie polos, but they had the American Eagle version. 
The polo shirts would be well-fitted to show the popular girls are developing, and Anna's are pretty over-sized. We chose to put her in baby blues, and banana yellow colors. Maya was a step less developed from that. She wears a bunch of Anna's hand-me-downs since she doesn't have an older sister. Maya is a bit more childish. Her clothes are a little more innocent, and dated. They don't understand the cool girls, or what drives them."

The clothing choices are also reflective of the girls' socio-economic status. Anna's parents are going through a divorce, which means her parents give her money to distract her. With that money, she's able to buy clothes to attempt to follow the popular crowd.
On the other hand, Michelle Miller looked to her own past in order to recreate the late nineties, early 2000's makeup of the characters.
"We wanted Maya and Anna to look like they were the outcasts of middle school. I have yearbooks at home from myself, and I would go through those photos and draw inspiration from that. We didn't want them to look too goofy, so we kept it in the middle. We did a no-makeup makeup look."
Since "PEN15" is set in middle school, the show is comprised of primarily young actors, which adds some shooting challenges. With child actors, there are more constraints on time, as well as other obstacles, but it all paid off in the end result:
Walker states, "I've worked with children a lot, but the main challenge is that they have limited hours. Especially on days that we were shooting in the middle school, it would be hard because we only have the children for 10 hour days. They pop in, and then they're gone. Any children that were doing fittings during the day, we were rushing through because we don't want to lose camera time. I was constantly trying to get them to pre-fit the day before so that we weren't wasting the time that we get. Every minute is so valuable and we wanted to make sure that we were getting to pre-fit the kids so that we could develop each one of their characters and their signature wardrobes. It's definitely a challenge to get through an entire day and you're always racing something, whether it's sunlight, or a child not being able to act anymore. You don't want to be the one holding that time."
Despite the restraints, young actors add an element of fun and authenticity to the production. It's also pretty hilarious to see them acting besides real-life adults Anna an Maya on-screen. Miller speaks about the amount of actors on set, and some of the shenanigans that would go on during prep:
"They were all about 12 or 13. Some of the people were 18 and over, but most of the cast, I think 80 percent were about 13 or younger. We would have four of them in a trailer at a time, doing the Spice Girls looks, or dance looks. They would be so excited to see our products in the morning. They would dance in the trailer and play loud music. There were actually a couple times I had to have them step out because it would get too crazy. They were all just so excited to be there. They were all very sweet as well."
Bother Walker and Miller speak on the speak on the excitement of working on a comedic project like "PEN15" as opposed to other shows. With a comedic production, they were allowed to push their talents to an extreme. Part of the charm of "PEN15" is its visual gags and exaggerated goofiness. The team wasn't afraid to push the envelope when it comes to that element of cringe. At points, "PEN15" can get downright uncomfortable as it forces us to relive those semi-traumatizing, yet relatable moments from our teenage years.
For Miller, there was a lot of fun on set. Working with comedians means that are a lot of laughs throughout the production.
"For the last episode, the dance episode, where they had to shave their legs, on a more serious show, you'd want the leg hairs to look way more realistic. With us, we made it the hair an inch and a half long. You know, more comical. Something that you wouldn't see on a more realistic show. A little bit more campy. There's a huge difference working in comedy versus realism. When the vibe is well, when you're working with comedians, there's a lot of laughs in the morning."
Melissa Walker mentioned the joy of working on a project like "PEN15." What the series gets right is that it shows a side of adolescence that isn't always portrayed on screen. While "PEN15" is primarily a comedy, it showcases aspects of our youth that aren't easy to talk about. It has an open dialogue with the viewers, and causes them to think too.
"I've worked in a lot of comedy and it was amazing to work on a project that has the right amount of comedy, the right amount of subtle tones. Still, every time I watch every episode, I get goosebumps, I laugh, I cry. It hits so many different levels. That was a real honest treat to the show."
Awards Circuit would like to thank Melissa Walker and Michelle Miller for speaking with us. 
"PEN15" is now streaming globally on HULU.
CHECK OUT ALL THE OFFICIAL PREDICTIONS ON THE CIRCUIT HUB AND MAKE YOUR OWN!