Love is love; it's a universal feeling we all have, regardless of whom we share it with.  Straight relationships are overwhelmingly shown throughout the history of cinema. But by contemporary standards, we've seen an encouraging shift towards telling same sex stories on the big screen. Though there is still plenty of work to be done for equal representation, it doesn't mean we shouldn't celebrate the films that have captured hearts thus far.
With that said, this top ten list is dedicated to the best same sex relationships we have already fallen in love with. Hopefully, future films will continue to show the world that loves comes in all forms, like the ones represented on this list.
10
Armand and Albert (Robin Williams and Nathan Lane), "The Birdcage" (1996)
dir. Mike Nichols
In "The Birdcage," Armand and Albert are a gay couple that change everything about themselves in order to please their son's future in-laws. Armand is the owner of a drag bar in South Florida and Albert is the star. Armand deals with all of Albert's quirks because he couldn't imagine living without him. They complete each other's lives and love their son more than anything in the world. It's rare to show this kind of sacrificial love while also seeing two same sex partners be such devoted parents.
9
Corky and Violet (Gina Gershon and Jennifer Tilly),
"Bound" (1996)
dir. The Wachowskis
From neighbors to seductive lovers to partners in crime, Corky and Violet's connection is the rock that makes "Bound" work. From the moment Violet moves in next door, they can't stay away from one another. The sexual tension is palpable and you can feel the sweat coming off the screen when they are together. Though their con to steal two million dollars from Violet's gangster boyfriend is dangerous, it works because they are in sync the whole time. For a relationship to form this quickly, it feels like they have been together for years. They understand each other's needs and how to make all the bad parts of the world disappear. While the plan is to get rich quick, Corky and Violet become each other's dependent and ride off in the sunset hand in hand.
8
Ben and George (John Lithgow and Alfred Molina),
"Love Is Strange" (2014)
dir. Ira Sachs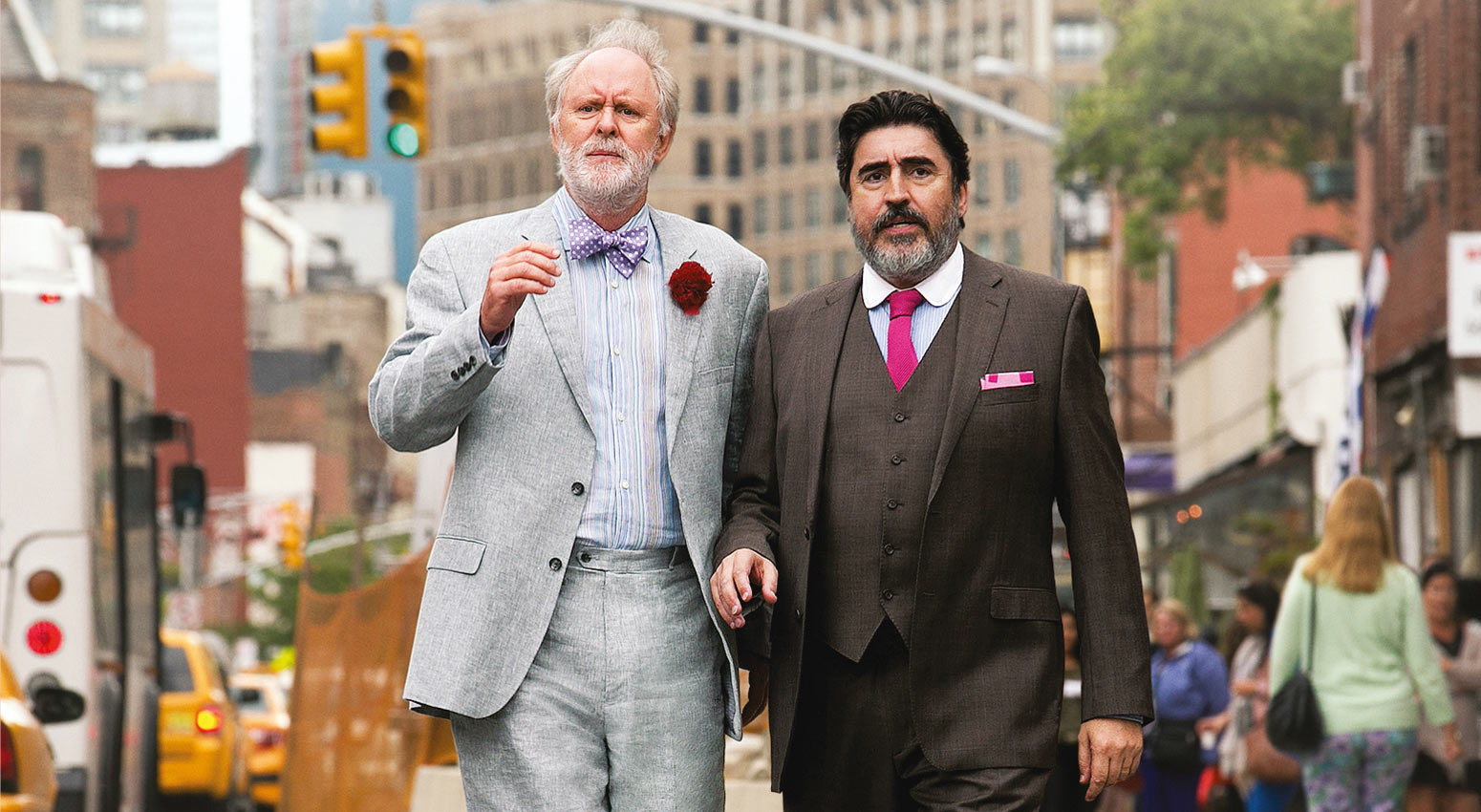 The love that Ben and George display in Ira Sachs's "Love is Strange" is something truely unique. Audiences tend to get the romantic elements of two people falling in love; the first date and the first couple of years together. In "Love is Strange," we get to see two men, who have been in a partnership for 40 years, struggle to stay together through forces uncontrolled by them. Love is hard to maintain and it's beautiful to see Ben and George fight to be with one another. They are a representation of what it is like to never give up even when life gets in the way.
7
Adèle and Emma (Adèle Exarchopoulos and Léa Seydoux), "Blue is the Warmest Color" (2013)
dir. Abdellatif Kechiche
In "Blue is the Warmest Color," we follow Adèle, an introverted young woman who falls in love Emma. With a near three-hour run time, we get to examine the relationship's full life span. Despite her friends and family judging her relationship, Adèle ignores them and embraces Emma as her romantic partner. Their connection is genuine and intimate but fades away with time. The film really tries to make the audience feel like they are watching a real couple. So when Emma breaks up with Adèle, we feel the impact of that decision and the trauma that follows. Their companionship doesn't have the happiest of endings but it's a necessary narrative to show, as it's fundamentally honest and realistic.
6
Sook- hee and Lady Hideko (Kim Tae-ri and Kim Min-hee), "The Handmaiden" (2015)
dir. Park Chan-wook
Based on the English novel "Fingersmiths," Park Chan-wook's thriller is about two lovers forging a plan to get even with the men who try to double cross them. Though Sook- hee starts off as Lady Hideko's handmaiden, their relationship is more than someone who works for the rich. Sook- hee tends to Hideko's every need, giving her everything she desires and more. Hideko yearns for her attention and it doesn't take long until they ultimately fall into one another's arms. Their love scenes are extremely graphic and over the top but they showcase the kinship the two women have when they are together. While the film is filled with twists and turns, Sook- hee and Hideko's passionate love is the thread that makes the movie work.
5
Elio and Oliver (
Timothée Chalamet and Armie Hammer)
, "Call Me by Your Name" (2017) dir. Luca Guadagnino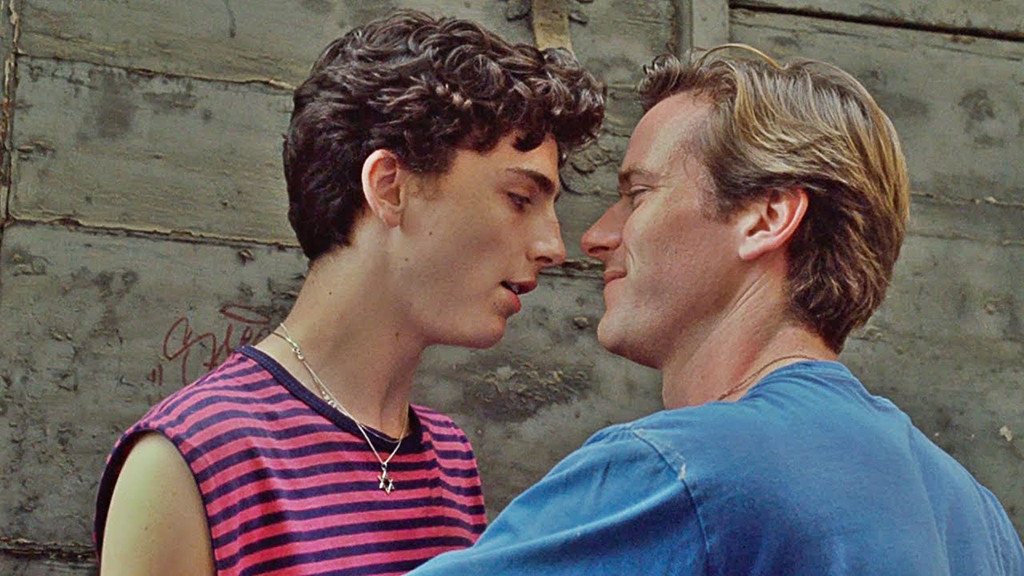 There is nothing like first love. It can be a beautiful thing and also tear you apart when it is all over. This happens to Elio, who falls in love with Oliver while he is spending the summer with Elio's family in northern Italy. The two don't like each other at first. But as the summer goes on, romantic inclinations manifest and, by the end, they can't keep their hands separated from one another. When Oliver goes back to America, Elio is crushed. He tries to move on from Oliver but is left in pieces when he learns that Oliver is getting married. Elio and Oliver's love is rare and something that most people never get in a lifetime. You never forget your first love and the pain of losing that person can linger. "Call Me By Your Name" understands this sentiment to near perfection.
4
Carol and Therese (Cate Blanchett and Rooney Mara) "Carol" (2015)
dir. Todd Haynes
All it can take is one glance to fall in love with someone. Such is the case for Therese when she sees Carol walk into the department store where she works in "Carol." The two women form an instant connection that turns into a forbidden love they must hide from Carol's husband, Harge. Their bond is so simplistic, as captured by director Todd Haynes. The audience feels their pain when they separate and, by the film's conclusion, Carol nearly sacrifices everything for Therese. While she isn't sure at first, Therese can't resist wanting to be with Carol. Once they lock eyes at the end of the film, their relationship, it's past and undetermined future, lingers.
3
Vivian and Cay (Helen Shaver and Patricia Charbonneau), "Desert Hearts" (1985)
dir. Donna Deitch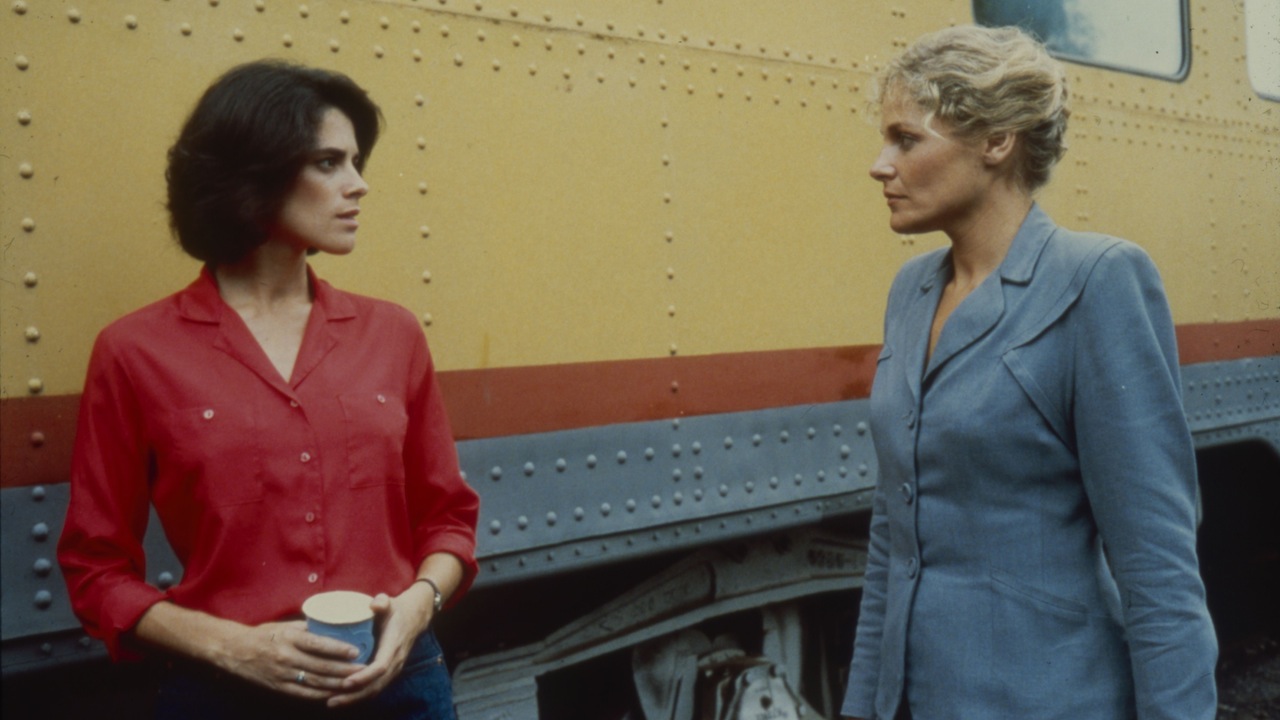 "Desert Hearts" was a landmark film in 1985 as one of the first films to truly explore a same sex relationship between two women. Vivian is a married woman that travels to Nevada hoping to get a divorce from her loveless husband. While settling in, she meets Cay, a young artist  known around town for her affairs with women. Cay is drawn to Vivian immediately, and while they begin as friends, it's not long before Vivian longs for Cay's companionship beyond their platonic relationship. Their heated romance provides comfort for two desperate people that want to escape their mundane lives. Everything becomes complicated when Vivian's divorce is finalized. While they agree to part ways, Cay gets on Vivian's departing train to be with her one last time. The film leaves audiences hoping that Cay never leaves the train and stays with Vivian long after the journey is over.
2
Chiron and Kevin (Trevante Rhodes and André Holland), "Moonlight" (2005)
dir. Barry Jenkins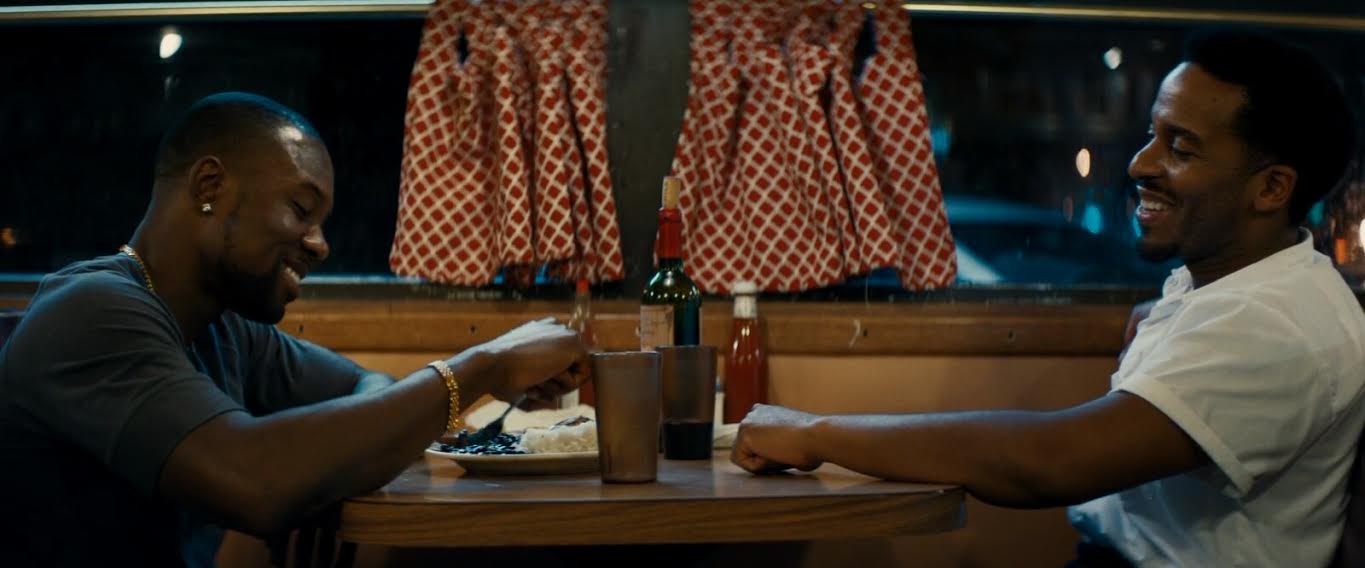 Throughout the course of Barry Jenkins' "Moonlight," we look at Chiron and Kevin's relationship blossom from childhood friends to a sexual encounter on the beach. But when Kevin is ordered by another student to beat up Chiron, we see a tender relationship crumble before our eyes. When they reconnect after years of being apart, there is a tension between the two young men. Neither one wants to make the wrong move. But when Chiron tells Kevin that he is still the only person he has ever been with, Kevin understands exactly gravity of Chiron's honesty. "Moonlight" is a tragic love story but it gives the audience a glimpse of hope in the end. As Chiron leans on Kevin's shoulder its a lasting image that says so much by doing so little.
1
Ennis and Jack (Heath Ledger and Jake Gyllenhaal), "Brokeback Mountain" (2005)
dir. Ang Lee
"I wish I knew how to quit you." One of the most famous lines from "Brokeback Mountain" but acts as the perfect description for this stunningly rendered conflicted love story that forever changed the way audiences saw romantic relationships on screen. The film follows Ennis and Jack, two cowboys hired to herd sheep one summer in Wyoming. What starts as a summer job turns into an affair that lasts. They keep their love a secret, seeing each other once or twice a year when their family lives don't intervene.
"Brokeback Mountain" is a rendering of soulmates audiences often didn't see in mainstream cinema. The longing and heartbreak woven throughout demonstrates an empathy and understanding of their relationship and what it can never be. Devastating and a wallop to the heart, "Brokeback Mountain" remains a game-changing film in the industry.
Who is your favorite on screen same-sex relationship? Let us know in the comments below!