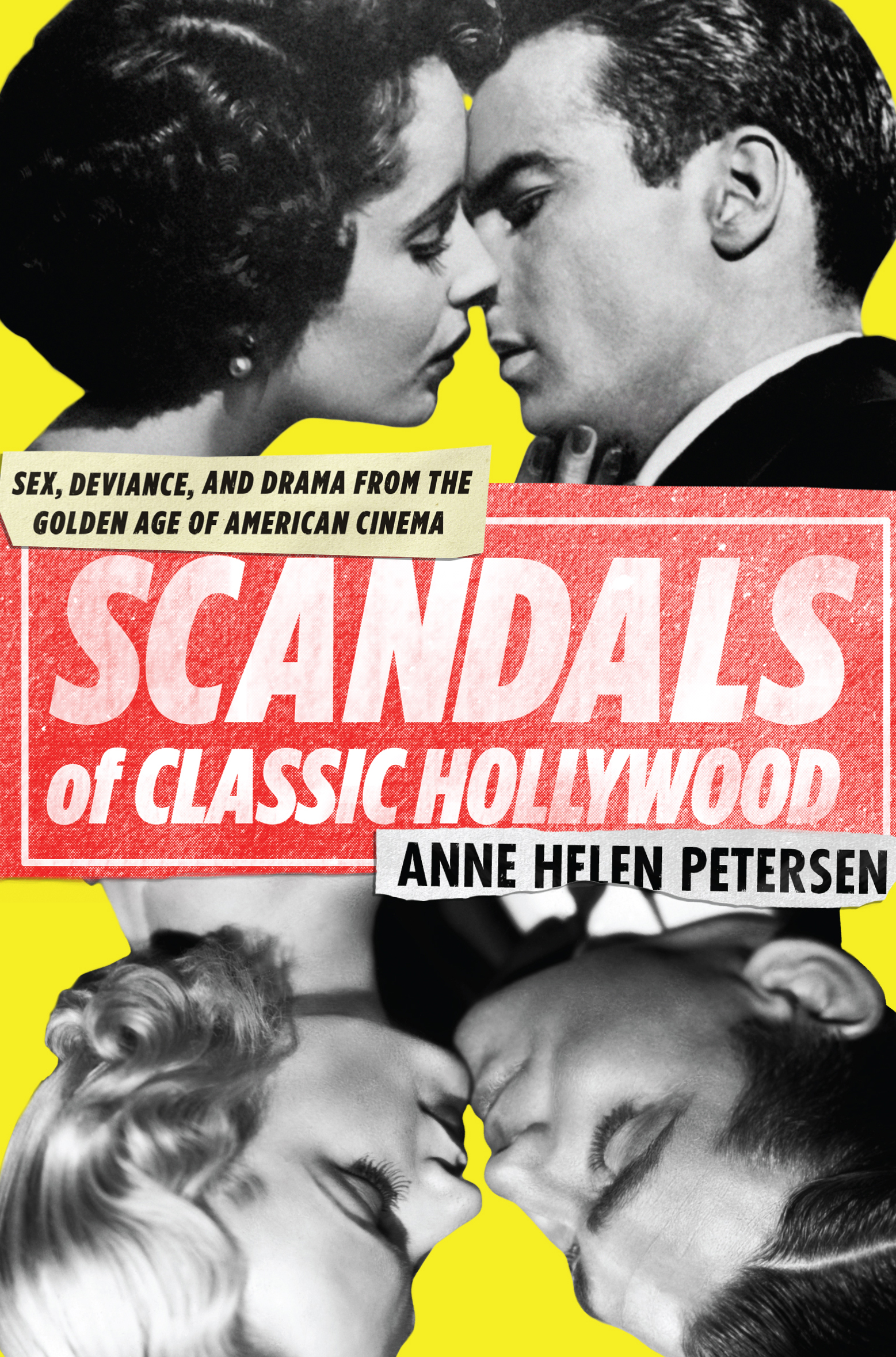 That chill in the air means fall is upon us – although you wouldn't know it in my sunny California home – and that means Kristen is reading big books for school. However, all is not lost as I still found time to give a few books a read, albeit I missed out on reading Men, Women, and Children for this month. Either way, be sure to check out what's worth purchasing on your Kindle or your local bookstore this month.
NOW AVAILABLE
Scandals of Classic Hollywood by Anne Helen Petersen
In our world of nude photo leaks and cheating hearts it's easy to see why the scandals of the classic era are so shocking. It's hard to imagine a world where some good publicity can turn a homewrecker into an angel or America's sweetheart into America's harlot. Wait, am I still talking about classic Hollywood? Okay, maybe most scandals of the 1930s, '40s, and beyond aren't far removed from today's but Anne Helen Petersen presents them within the context of media manipulation to show how the same stories get repeated over the generations. Peteren's book is a taste misleading in that she's discussing Hollywood scandals in terms of their media presentation, so she gives a brief summary of the event and then ties everything back towards whether Hollywood and the media portrayed it positively or negatively; in turn, she further elaborates on how this negative or positive press helped or hindered a career. In that sense, Scandals of Classic Hollywood comments on whether gender, sexuality, or our own need to consume another's happiness or sadness dictates the celebrities we have. In much the same way that we get the more of the movies we pay to see, Petersen says we get the celebrities we're willing to pay for and support through their darkest times. Her exploration of scandal includes the adulterous relationships of Mary Pickford and Douglas Fairbanks, and Clark Gable and Carole Lombard. She also explores the criminal trial of Roscoe Arbuckle, and the sexual misadventures of Clara Bow and Rudolph Valentino. None of these stories are unique to classic film fans, but Petersen paints a fascinating tapestry weaving sociology within the earliest of celebrity culture.
Worthy of an Adaptation?: There's been rumors of a movie – either television or theatrical – about the trial of Roscoe Arbuckle for the last twenty years and that's probably the most awards worthy story right there. We've seen the Gable/Lombard story told in a hammy movie already, as well as the Valentino story.
You Might Remember Me: The Life and Times of Phil Hartman by Mike Thomas
Phil Hartman's murder has stuck with me in the sixteen years since it happened and I can't truly explain why. Maybe it was the news coverage of
his children being brought out, or just the violent way it happened contrasted with his hammy comedic films. Either way, Mike Thomas creates a three-dimensional tribute to the man and the personality with You Might Remember Me. Thomas covers every facet of Hartman's life, from his small-town upbringing of poverty, to his time in the Groundlings, all the way up to his time on Saturday Night Live and NewsRadio. He also covers Hartman: the man, a guy who enjoyed nature and comedy, but struggled to understand why he wasn't a big star like Dana Carvey or Mike Meyers; his personal life also left something to be desired as Hartman wasn't always good with staying at home. Thomas interviews a wealth of people Hartman knew, including the late Jan Hooks who many called Hartman's on-screen wife. (I finished this book just three days before Hooks' death, knocking me for another loop after the emotional turmoil the book inspires.) Thomas also gives us a glimpse into the life of Brynn Hartman, Phil's wife and murderer. He never demonizes her, and neither does Hartman's family, instead presenting a woman who wanted more of a purpose in life than wife and mother. There's been some fantastic biographies released this year and You Might Remember Me is up there.
Worthy of an Adaptation?: I'm saying no, if only because there's nobody on this Earth who could pull off the everyman persona of Hartman. Hartman worked as a comedic presence because he looked normal and could be the man of a thousand voices. Is there really any Hollywood star who could boast that? A documentary interviewing people in Phil's life and showing clips of his work might be best.
Charlie Chaplin: A Brief Life by Peter Ackroyd
Sometimes less is more. With biographies in particular you often get certain classes of readers who wish to get to the important stuff first, childhood be damned, while others like an in-depth analysis of a person, right down to where they lived at age eight. Peter Ackroyd has written countless biographies on British icons, but in Charlie Chaplin: A Brief Life brevity is the name of the game. In a little over three-hundred pages Ackroyd gives the casual reader everything they'd want to know to whet their appetite about Chaplin. I'm not a huge fan of Chaplin's work, particularly because I haven't seen a lot, but Ackroyd's quick, almost conversational quality, keeps things brisk and interesting. He covers every facet of Chaplin's life, both personal and private, including his many failed relationships and giving details about his wives, women often overshadowed by the Little Tramp. (The segments on Joan Barry, the woman who accused Chaplin of fathering her child, are particularly revealing, especially if you've only got the film Chaplin to go off of.) I won't say this is the "definitive" autobiography, but even Ackroyd acknowledges Chaplin omitted and changed facts about himself in his own autobiography. Ackroyd's text works as a foundation, laying the groundwork for Chaplin's life and legacy, leaving the reader to explore deeper if they wish. Too often the biographer can become overwhelmed by the subject, but Ackroyd has a masterly control over his subject, presenting a story that's poignant, haunting, and fresh to read. There's nothing brief about Chaplin, despite the small page count, but Ackroyd gives us a complete life at the same time.
Worthy of an Adaptation?: We already have a worthy adaptation of a Chaplin text with Richard Attenborough's Chaplin starring Robert Downey, Jr. before he started playing Tony Stark all the time. It's worth watching if you want the version of Chaplin's life as he saw it.
Garden of Dreams: The Life of Simone Signoret by Patricia A. DeMaio
To film aficionados, Simone Signoret is one half of the villainous females that comprised Henri-Georges Clouzot's Diabolique. Author DeMaio goes beyond that one film, exploring Signoret as an actress, a political activist, and a wife and mother. The biography chronologically explores Signoret's early life, her absentee father, and continuing struggles obtaining a US visa due to her Communistic affiliations. The move into Signoret's personal life, particularly her relationship with actor Yves Montand, is where the book finds its juice. DeMaio presents a complete picture of this shadowy family, many members whom, DeMaio states in her introduction, refused to talk to her, including allegations of child molestation and parental neglect. DeMaio never presents Simone as an angel or a devil, merely a woman struggling to find her own place and maybe letting too many things fall through the cracks. I was unsure, but the book almost reads like a translation from another language, with indefinite articles missing several times. There's also a dryness to the text, probably because so much explanation is required in describing the political and governmental systems in the countries Signoret lived in. If you're interested in classic foreign film stars, step into the Garden of Dreams.
Worthy of an Adaptation?: With the rush of Hollywood biopics out there it's amazing how few focus on foreign film stars. There's certainly something that could be adapted from Signoret's life, possibly around her issues with being branded a Communist sympathizer. Do I think a straight Simone Signoret story could be told? Probably not by Hollywood.
As You Wish: Inconceivable Tales From the Making of The Princess Bride by Cary Elwes
I can't believe it's been 27 years since "as you wish" entered the lexicon as the most romantic thing a guy could tell a girl. Take that "love means never having to say you're sorry!" Cary Elwes personified Errol Flynn for 20th-century audiences as Westley, the beloved farm boy of Rob Reiner's The Princess Bride, and with almost thirty years passing he's decided to tell the story behind the "happily ever after." As You Wish explores every facet of Elwes' time on the project, from being cast with only a few films under his belt, to meeting the cast (falling in love instantly with his Buttercup, Robin Wright), and all the inanity that followed. Elwes might be a serious actor today, but he's aware of the sense of wonderment that keeps audiences, new and old, engaging in The Princess Bride time and again; he even acknowledges at several points how lucky he is to have been a part. Interspersed throughout the book are brief anecdotes from the rest of the cast and crew, giving quick spurts of outside perspectives but generally mimicking Elwes' sentiments. Elwes makes sure to give time to Andre the Giant, an actor who was aware that he both terrified and enchanted people. Elwes has some rather insane stories about the gentle giant, including a moment of fart humor you have to read to believe (and it'll really alter watching one scene in particular). Really, As You Wish will remind you of your own memories of Rob Reiner's classic, and although Elwes gets repetitive in his effusive praise, it's only because he's so damn happy to be able to talk about it all these years later. A must-read for all those who fail to believe in the "inconceivable!"
Worthy of an Adaptation?: As I mentioned with Chaplin's biography above, go watch the finished product instead!