Welcome to the 2018 Awards Profile series, where we talk about films coming to a theater near you at some point this year (at least at this time of writing). We will analyze the potential for these films to be players for the Academy Awards, and while many of these have the potential to be recognized, many will not, either by quality or being pushed back to the following year. For the next few weeks, we will bring you a film every Monday through Friday to talk about their awards hopes and analyze the film's chances for success. If you have a suggestion, please include it in the comments below. If you missed a film, click on the tag or category Awards Profile.
FILM: "Mary Queen of Scots"
PRODUCERS: Tim Bevan, Eric Fellner, Debra Hayward
DISTRIBUTOR: Focus Features
DIRECTOR: Josie Rourke
WRITERS: John Guy (based on the book by), Beau Willimon (screenplay)
CAST: Saoirse Ronan, Margot Robbie, David Tennant, Joe Alwyn, Guy Pearce, Brendan Coyle, Jack Lowden, Martin Compston
SYNOPSIS: Mary Stuart's (Ronan) attempt to overthrow her cousin Elizabeth I, Queen of England, (Robbie) finds her condemned to years of imprisonment before facing execution. (IMDB).
WHY IT MIGHT SUCCEED: While costume dramas may not light up the Best Picture winners circle, they certainly still show up to play, as evidenced by "Darkest Hour"'s somewhat surprising six nominations at last year's Oscars and "Victoria and Abdul's" two nods.  While tried and true 1500s-era films haven't tripped the light fantastic at the Oscars since the Year of Our Queen Elizabeth, 1998, there's good reason to have hope here.
Producers Eric Fellner and Tim Bevan are perhaps singularly the two individuals who have benefited most from Oscar's expanded Best Picture era.  Fellner and Bevan's three most recent nominations, "Darkest Hour", "The Theory of Everything", and "Les Misérables," hailed from films that arguably would have just missed the Top 5 cutoff of a standard Best Picture field.  Alas, both sit on six and five nominations, respectively, and without a win.
Plus, dismiss Focus Features with a period piece at your own risk.
The "Afterglow Nod" is a hit-and-miss phenomenon.  The "Afterglow Nod" typically refers to last year's winner returning for a nomination the following year, deserved or otherwise.  For every Jeff Bridges in "True Grit," there seems to be an Emma Stone in "Battle of the Sexes."  But the "Afterglow Nod" can also be applied to Oscar "losers" sometimes, if they came close to winning the year prior (Denzel Washington in "Roman J. Israel, Esq.") or were a newly-minted beloved star (Johnny Depp in "Finding Neverland").
The latter almost certainly applies to breakout A-listers Saoirse Ronan (nominated for the third time in 2017 with "Lady Bird") and Margot Robbie.  With the obvious exception of Timothee Chalamet, few Oscar-nominated performers this season amassed a fan base quite like Ronan and Robbie.  While a fan base does not ipso facto translate into an Oscar nod for the following year, perhaps playing Mary Queen of Scots and Queen Elizabeth I will help.
Queen Elizabeth I has been Oscar-nominated to fewer than three times: Cate Blanchett x2 ("Elizabeth", "Elizabeth: The Golden Age") and Judi Dench ("Shakespeare in Love").  Her royal family has been nominated countless times, by her father, Henry VIII to the current Queen of England, Queen Elizabeth II.  While Glenda Jackson was infamously snubbed for her portrayal of Queen Elizabeth I in the 1971 "Mary, Queen of Scots" (with a comma), the eponymous Vanessa Redgrave was nevertheless nominated.  Ronan certainly seems to be barreling towards her fourth nomination before her 25th birthday, because after all, Mary Queen of Scots…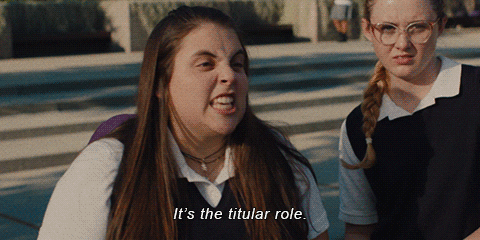 WHY IT MIGHT NOT SUCCEED: "Elizabeth: The Golden Age."  "The Duchess."  "Marie Antionette."  "Anna Karenina."  You need not look far to see recent Oscar history littered with period pieces that were mostly below-the-line contenders only.  Additionally, while director Josie Rourke may set the stage ablaze at the Donmar Warehouse, but her film bona fides remain uncertain.
While Beau Willimon may have done dutiful work adapting "House of Cards" for the Washington, D.C. crowd, the rest of his non-playwrighting writing career leaves much to be desired.  While an Oscar nominee for "The Ides of March," he, frankly, has not proven himself to be a surefire scriptwriter for the screen.
At a minimum, however, "Mary Queen of Scots" should follow in the footsteps of its costume period foremothers, and with Alexandra Byrne designing the Costumes, one can hardly doubt a nomination there.  While Cinematographer John Mathieson isn't exactly the internet's DP du jour, he has produced wonderful work for both his Oscar nominations, "Gladiator" and "The Phantom of the Opera," and created some criminally underrated work in last year's "Logan."  Could this be the time for Max Richter for finally land an Oscar nomination?  Your fingers are just as crossed as mine. Finally, a Makeup and Hairstyling bakeoff mention seems a given, taking into account "Elizabeth"'s win there and "Victoria and Abdul's" recent mention, plus, just LOOK:
POTENTIAL OSCAR CATEGORIES IN PLAY:
Best Picture – Tim Bevan, Eric Fellner, Debra Hayward
Directing – Josie Rourke
Actress in a Leading Role – Saoirse Ronan
Actress in a Supporting Role – Margot Robbie
Writing (Adapted Screenplay) – Beau Willimon
Cinematography – John Mathieson
Costume Design – Alexandra Byrne
Film Editing – Chris Dickens
Music (Original Score) – Max Richter
Production Design – James Merifield (production designer), Gina Cromwell (set decorator)
Makeup and Hairstyling
SHARE YOUR THOUGHTS IN THE COMMENTS!

CHECK OUT THE FIRST OFFICIAL SET OF
YEAR-IN-ADVANCE OSCAR PREDICTIONS
AND SEE WHERE "MARY QUEEN OF SCOTS" RANKS!