By now, I'm sure everyone is aware that the Academy has voted to change their rules again, notably regarding Best Picture.  Not that anyone has possibly forgotten, but 2 years ago, a change was made, expanding the slate of nominees for the top prize from 5 to 10.  Much was made of this decision, both in the affirmative and the negative (mostly in the negative, though I spoke out in favor of it, but more on that later), but once the nominees were announced, the passion dissipated a bit.  Both years of 10 have produced 5 clear "top choices", since now once can just look at the Best Director field and match those nominees up to their films.  This year, however…things are going to be different.  Now, we're at the point where we could anywhere from 5 to 10 nominees, and it'll all be a surprise right up until nomination morning.  Here's some highlights from the AMPAS in their press release: "The governors of the Academy of Motion Picture Arts and Sciences voted on Tuesday (6/14) to add a new twist to the 2011 Best Picture 
competition, and a new element of surprise to its annual nominations announcement. The Board voted to institute a system that will now produce anywhere between five and 10 nominees in the category. That number won't be 
announced until the Best Picture nominees themselves are revealed at the January nominations announcement…After much analysis by Academy officials, it was determined that 5% of first place votes should be the minimum in order to receive a nomination, resulting in a slate of anywhere from five to 10 movies…If this system had been in effect from 2001 to 2008 (before the expansion to a slate of 10), there would have been years that yielded 5, 6, 7, 8 and 9 nominees."  What this essentially means is that they're looking to eliminate the types of films that are seen as "weak links" in the field.  I understand what they're doing, but I don't agree with it one bit.

I know my opinion about this is an unpopular one, but hear me out.  My logic is simply this: more nominees don't dilute the "prestige" of the Oscars and this potential reduction will only hurt the types of films that most were pleased to see make the cut in the first place.  Let me explain: the Best Picture nominees are rarely remembered outside of hardcore film lovers and critics, so the winner is really the only one who's got a fighting chance to be recognized offhand as a recipient of the Academy's glory in the years to come.  Yes, I can recite almost every nominee in the past offhand, and many of the people like you who are reading this can, but the vast majority of people can not.  'Slumdog Millionaire' or 'No Country for Old Men' or 'Titanic' or any other winner from a year of 5 would be consider no less a winner had 5 other films been vying for the title.  Now, on the second statement…a quick look at the last 2 years will show my point.
Now, if we take the 5 Best Directors equaling to the 5 "real" Best Picture contenders as the gospel (and I think more or less you can), then 2 years ago the race would have been between 'Avatar', 'The Hurt Locker', 'Inglourious Basterds', 'Precious', and 'Up in the Air'.  That's nothing to scoff at (despite my issues with 'Precious'), but that means that the category would have excluded 3 excellent films in 'An Education', 'District 9' and 'Up', as well as 'A Serious Man' (beloved by seemingly all but myself), and the populist favorite 'The Blind Side'.  Keep in mind that 10 nominees still resulted in films like '(500) Days of Summer', 'Adventureland', 'Funny People', 'The Messenger', 'Moon', and 'Where the Wild Things Are' not making the cut, so there will always be films left out in the cold.  That being said, it's hard to argue that those 5 that would have been dismissed from the field somehow make the group better by their omission.  10 slots is the only way you'll ever again see 2 science fiction films in the race like that.  Still, we have last year to get into as well.  Taking the aforementioned equation into play, the nominees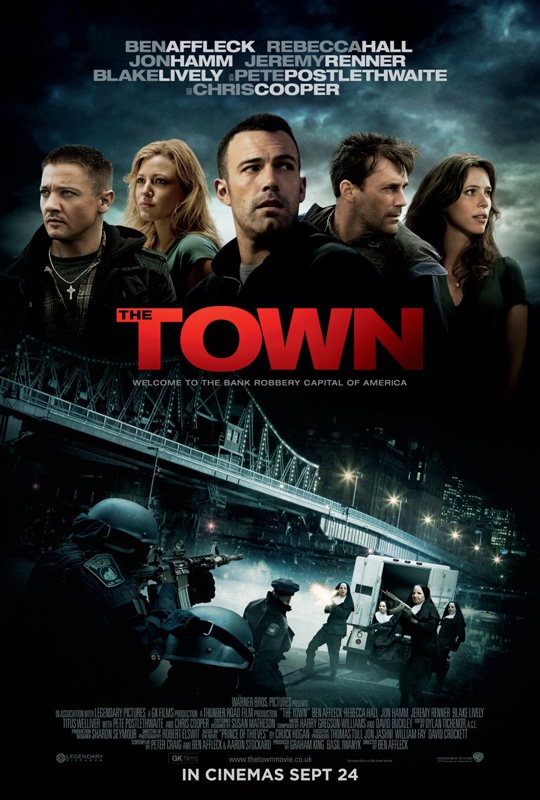 would have been 'Black Swan', 'The Fighter', 'The King's Speech', 'The Social Network', and 'True Grit'.  Another fine field, but one that would leave '127 Hours', 'Inception', 'The Kids Are All Right', 'Toy Story 3', and 'Winter's Bone' by the side of the road.  That also still leaves snubs for 'Blue Valentine', 'Easy A', 'The Town', and more.  I can't help but reject as false the notion that bulldozing those films and their chances (despite how little their chances might be, realistically speaking) somehow keeps the glimmer on the Oscar rose.
The other thing to keep in mind here is this rule change torpedoes the already slim chances of an animated film ever winning Best Picture and all but assures the road to a nomination just got bumpier for foreign films and all but closed off completely for documentaries.  Whereas last year we spoke of the vague chance of 'Toy Story 3' pulling an upset and taking home the top prize, now it'll be a nailbiter to even see if a cartoon can make the cut.  Foreign features have always had to contend with an added stigma, and this only limits them more (though oddly enough, none made it
with 10, while they would pop up here and there with 5…go figure).  As for documentaries, they were already the longest of shots, but 10 slots gave them that glimmer of hope they didn't have with 5 and likely won't with the new "more than 5 but potentially less than 10" rule going into effect.  Is it a major issue?  No, but
I'm always a fan of inclusion as opposed to exclusion.
What's the end result of all this?  Not much more than a lot of mystery about how many films will get nominated (along with prognosticators like myself tearing our hair out…for the record, I'm going to just predict 10 unless it seems clear there's a smaller amount under consideration), but the potential for more variety in terms of the nominees has been greatly diminished.  It's certainly not the end of the world, and I probably wouldn't mind if not for this change coming so soon after the last one, but I can't shake the feeling that this is a mistake.
Maybe I'm wrong, but that's how I feel.  In any event, it is what it is…
What do you think?