BFI LONDON FILM FESTIVAL: Part documentary, part music video, part amateur theatre… zero percent cinema. It doesn't intend to be the former three but it does hope to be the latter. Lev Kalman and Whitney Horn's L for Leisure is a rather bizarre experiment but not necessarily an outlandish one. It's formed of episodic vignettes set across the globe during particular American holidays in late 1992 and early 1993. They follow college kids relaxing and partying alone or together while they muse upon their studies.
However, it's a deliberately stilted film. If it were to be taken purely at face value – this would be abysmal. You have to assume that the performances are intentionally caricaturesque and it's operating on a desert-dry sense of irony. Taken on that level, the film is hilarious. While there are miniscule fragments of stories that don't lead or need to lead anywhere, the film's dialogue is comprised of pseudo-intellectual conversations and thought processes. It wants to be a study of the relationship between leisure and profession (in this case, potential profession) but it doesn't quite succeed.
Sometime it is relatable and thought provoking – particularly a brief poignant anxiety about not being good enough to execute your own artistic ideas – but other philosophies breach absurdist levels with how many straws they grasp. This is mostly due to how they're delivered unemotionally and insincerely. Frankly, non-actor cast or not, it's pornography grade acting. Not even a poor student film quality. It's actually kind of better for it, because the script would feel much more obnoxious taken more seriously, instead opting for this odd bewildering atmosphere. It results in quite a dreamy mood, perhaps reflecting the uncertainty of the ideas.
That wistful aspect is certainly bolstered by its astounding original electronic soundtrack composed by John Atkinson. Part contemporary, part 90s nostalgic, it's simply too good for the film and not just in its production value. It doesn't gel with the image nor reflect a character's perspective. While the creative choice to shoot on 16mm film does have its homemade charm, it sacrifices a lot of the cinematic atmosphere and it feels as cheap as the film itself was to make.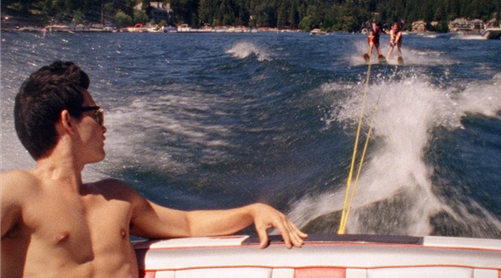 This is a melting pot of a lot of different things that just won't mix – but it's not necessarily an example of trying and failing, it's just an unusual direction that will click with very few. Even though I was initially repelled by the clumsiness, vagueness and blatant superficiality of its style and script, I couldn't help but be drawn in, even if just out of morbid curiosity. At the very least, if your sense of humour can fit in sync with its satirical nature, then it's entertaining enough on that level to pull you through. It's just really difficult to tell whether it's in on the joke or not.
L for Leisure is the type of film where you can't decide whether it's dumb or brilliant. This is a bit of both, and its genuine awfulness and ironic awfulness balance out to an interesting and average quality movie, with certain compliments and reservations. It's worth watching for its short length (just shy of 70 minutes) if you're a fan of college films such as Harmony Korine's Spring Breakers or Richard Linklater's Dazed and Confused and films of their thematic ilk. Though perhaps this is too light of a portion for what it could have served.