"Star Trek: Discovery" is the latest iteration of one of the world's most beloved sci-fi franchises. But the series manages to revamp its forerunners while simultaneously paying homage to them. A prequel set 10 years before the events of "The Original Series," "Star Trek: Discovery" is a fine display in achievement in costume design for sci-fi. With a more expansive budget, and the technology to aid in the creation of the intricate costumes, designer Gersha Phillips was able to bring a new set of characters (and creatures) to life.
The second season of "Star Trek: Discovery" re-introduces the Enterprise uniforms with the primary color palette, however they are reworked to be reflective of our version of the future, as opposed to the sixties version of the future. Additionally, "Discovery" connects with what made "The Original Series" so great. It pushes design boundaries, and imagines what the future may have in store for us.
Awards Circuit was able to speak with Gersha Phillips and discuss the technical achievements of the show, the design process, and creating "Star Trek" for a new generation.
Adriana Gomez-Weston/Awards Circuit: How did you get involved with this project?
Gersha Phillips: I was called in to help out Suttirat (Anne Lelarb), who was designing for Bryan Fuller on "American Gods," and was also going to transition to "Star Trek: Discovery." She wasn't able to do the two jobs at the same time, so I was asked to facilitate helping her getting it up and running, hire crew, and more. In the beginning, I didn't know if I was interested. I said "I'm a designer, I'd prefer to do something where I can design."
The network dangled the fact that there would be some designing involved. I thought that this would be an interesting opportunity because I hadn't done sci-fi before. My brothers said, "You have to do it!" because they're both huge "Star Trek" fans. It was the final push. So, I started working with Suttirat. When Bryan Fuller left, Suttirat left as well. I ended up taking over. I wasn't sure I was going to stay, but I promised I'd do the first season, the first episode, and get it to camera. Of course, I've been there now for three years. It's been quite a journey, but that's basically the story of how it all started. It is all thanks to Kevin Lafferty. He texted me while I was on holiday in Italy.
AGW: How do you feel about being a part of something as timeless and culturally impactful as "Star Trek?" Also, how do you feel about seeing your work recreated at conventions? 
GP: It's all very surreal, and daunting. The recreations of the costumes are something that's huge. I'm amazed that that actually happens. You're awestruck. It's an unbelievable feeling. Being part of the "Star Trek" world is like a dream because I always wanted to do sci-fi. I didn't ever really know how it was going to manifest itself. It's just really, really cool and it's an awesome opportunity to be able to design at this level, to be able to do this amount of design work and world-building.
AGW: How did you go about creating the looks for the Starfleet uniforms? How did you keep in mind paying homage to "The Original Series", as well as making your own mark for "Discovery?"
GP: I have to say that really falls on the shoulders of the producers at the time. Their mandate was to do something a little different than what had been done before, and just to ground it in a little more reality. I think that was really the goal. I know that was Suttirat's goal. When I took over, it was my goal as well to make a uniform that felt like something that people will actually wear. The thing about QF is that it was designed in the sixties, when a whole different world, and a different aesthetic was en vogue. The idea of the t-shirt, using the velour fabric, all of those things are very iconic sixties signatures and silhouettes. I felt like that was their world and it worked. That was the sixties version of 230 years in the future, and then we had to do our version.
It was a little bit tricky because I know we got a bit of backlash for the idea of stepping out into something more original and trying to be something separate from what had been done before. I think it was a good thing. I've actually said this at the conventions because I feel like what was so amazing, and so great about "Star Trek" was the fact that it was doing all these revolutionary and innovative things. There were inventions like the Communicator, which is what the Motorola Razr flip phone is based on. They had the first pads that look very similar to our iPads today.
I think those things happened because they had the freedom to create. I think that is something that this new iteration of "Star Trek" needs to be able to do. We need to have the freedom to create so that we're not rehashing something from the past, but also get to do something new. It's something that can be inspirational for the future generations. To me, it's important because that's also what "Star Trek" stands for, which is going boldly. That's one of the things that I wanted to lean into, was the idea of creating new things, new technologies, and something that says "this is what may actually happen."
It probably won't because we'll probably be so far advanced in the future. It would be nice that in 10 to 20 years, people will look back and see that we accomplished something on our show that happens in real life.
AGW: Going off of that, were there any challenges you faced while trying to create such advanced designs? 
GP: Oh, definitely because you are building uniforms and creating things like that. Most of it is logistical. It's a 12 week process to choose your fabric color, have it custom dyed, and then have the actual fabric shipped. There's a really good company called Schoeller that works with companies like Google, Nike, and Arc'Teryx. They do really cool, technologically-advanced work.
I remember we made the decision on the color at the end of October, and they rushed it through for us so that we got our fabric over the Christmas holiday. My supervisor and a couple of our crew had to be on site to collect the fabric on Boxing Day, and put into in a warehouse. There were shipments from another company that did some bonding for us so that we'd be ready to cut our uniforms. I think it was the first week of January that we got back. We had to put them into production so that we would have them ready for shooting three weeks later.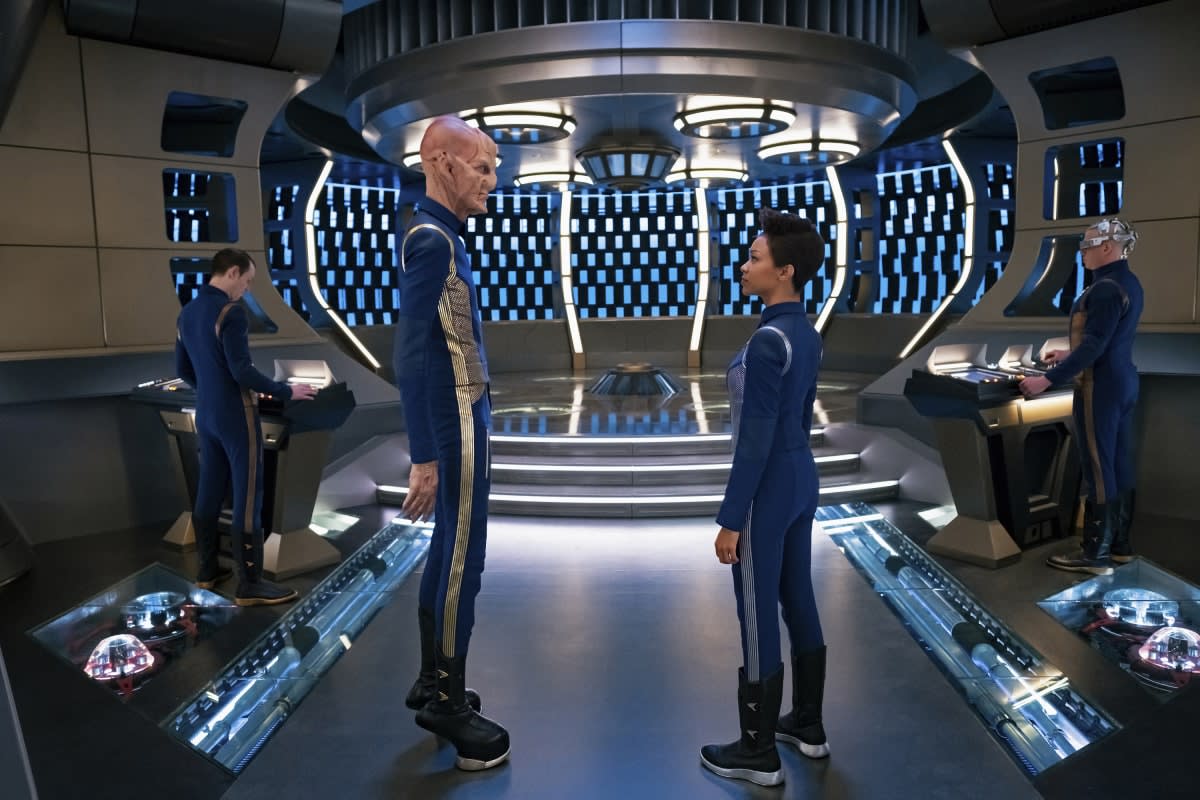 Coordinating all those things plus elements of pieces that we got 3-D texture printed in LA, getting the right zippers ordered in. All of those things, and the boots. The boots were custom-made as well. In the beginning, we were running on about 60 pairs of boots in the first scene, then we got our full shipment about a month or so later. Since they were coming from China, we were dealing with Chinese New Year.
I have to say, it was a logistical nightmare that made you want to pull your hair out. Somehow, we managed to get it all done. I remember looking back and thinking, "How did we ever pull that off?"
Luckily, our budgets were kind of OK. They didn't really tighten the reigns on us until later. I think they knew if anybody had done anything like that, we probably wouldn't have been able to accomplish what he had to do.
AGW: For the fictional creatures in "Discovery," did you have to take a different design approach? 
GP: Saru (Doug Jones) for sure, because the idea that he was going to be this flight creature. He had a slightly different prosthetic when we first started working with him. Anybody that has a prosthetic adds another element of consideration for us. We also have to have the prosthetics and determine how they're going to effect our costumes. With Saru, we also built the hoof boots for him. That went into a big part of developing how he moves. I remember the very first time Doug came in. He was wearing a nude bodysuit and a pair of prototype shoes on. He was practicing what he was going to do with his arms.
We also had the Klingons, which in the beginning, the first three designs were Suttirat's. With the Klingons, she was the concept illustrator. We worked with a 3-D modelling company to figure out how we were going to build them. T'Kuvma (Chris Obi) was the first, and we were trying to figure out how to do his costume. Different things worked and failed. What we came up with in the end was a combination of 3-D printing and sculpting a thermofoam product that turned out to be the base of him instead. It was better anyway, because it made him much lighter. When we had to do the stunt copy, we had to remold that in a thermoplastic, a soft plastic.
That's another element you have to consider, the stunt team. There's a costume for the stunt double that allows him to fight and fall, as opposed to our hero ones that are not necessarily that comfortable or agile.
For Kol (Kenneth Mitchell) and L'Rell (Mary Chieffo), their costumes were more of the soldier kind. T'Kuvma is the leader. For the Klingons, we used a lot of leather. We knew we had to make quite a few of those. We made about 30 of those costumes and each one took over 100 hours to make. There was quite a lot of work that went into them. We had to build them in stages because you do so much. You have to get a certain type of painting done, then there's molding and gluing. They went around that shop to the different groups of people we had. There was a lot of different layers, and intricacies involved in putting them together.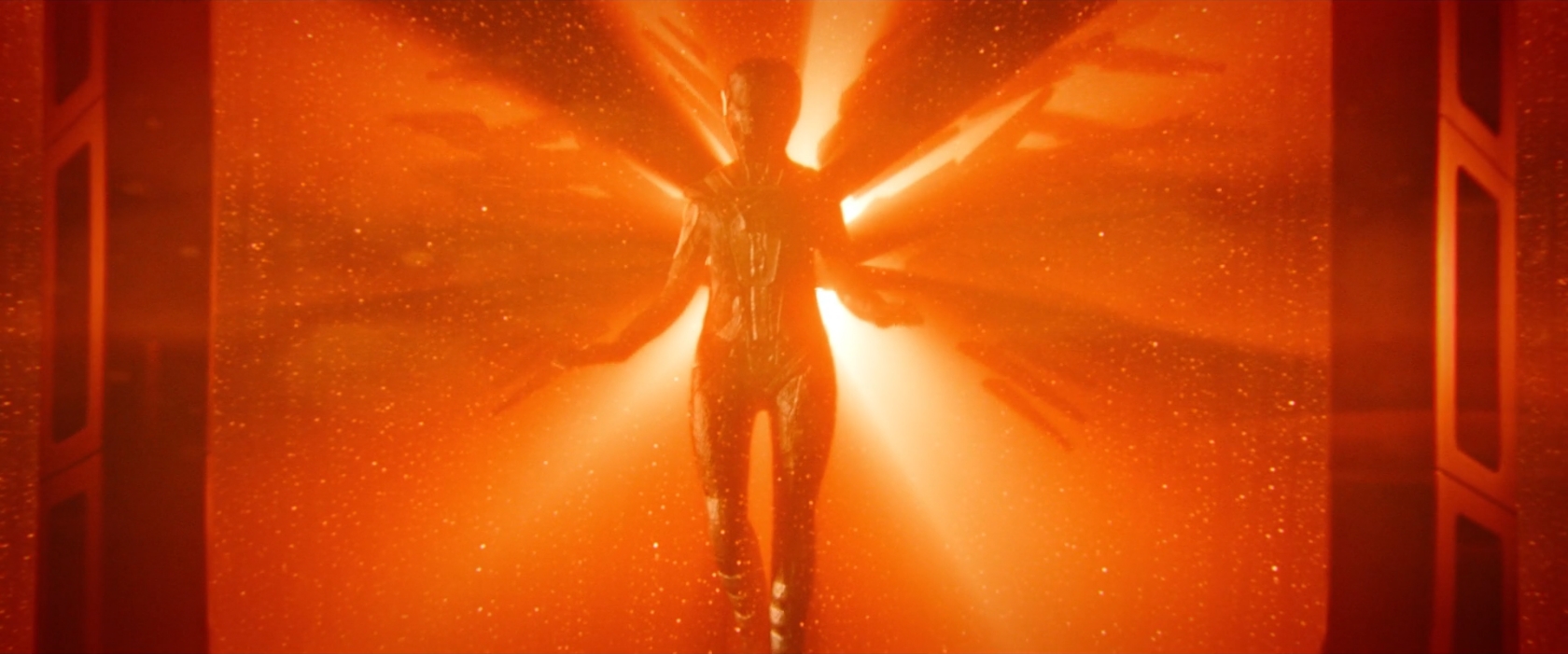 AGW: What is your favorite aspect of working on "Discovery?"
GP: I had a time where I call the honeymoon period, which is the time when you get the script, and you don't have to talk about budget, and you just get to be creative without any limitations. That's my favorite time, then all the reality starts to crash in and then you. It's still a lot of fun, but not as much as the beginning process. However, at the very end when we've accomplished the final costumes, that's always a really great feeling- especially if the costumes were really labor intensive. I think one of those times was when we finished the Red Angel on Sonequa (Martin Green). We were all giddy with happiness at the way it turned out.
Awards Circuit would like to thank Gersha Phillips for taking the time to speak with us.
"Star Trek: Discovery" is now streaming on CBS All Access.
CHECK OUT ALL THE OFFICIAL PREDICTIONS ON THE CIRCUIT HUB AND MAKE YOUR OWN!