Welcome back to Good Reads, where I look into what makes the screenplay winners Oscar worthy. Last week I analysed Birdman and The Imitation Game, this week we flash back to 2013 with one of the Academy's best pair of choices not only recently but ever. Next week it's Django Unchained and Argo's turn.
"Her"
written by Spike Jonze
If it takes four years for Spike Jonze to create a film like Her from the ground up then it's well worth the wait. Taking a refreshingly optimistic perspective of the not-too-distant future, Jonze recognises how people these days are connecting and blossoming through their devices. You can be cynical about it, but Jonze knows it means something to all of us.
With the simple concept, it has an innocent naivety through Samantha to have a platform to explore love through a truly outside perspective. While often profound, Her is really all about their chemistry. The script is just as breezy as the film, never bogged down by structure, just relishing in the moment whether it's joyful or melancholic. There may be familiar beats, but these are just the inevitable stages of a relationship.
The surrogate scene features the most interesting dynamics. It's a scene that simply couldn't exist in any other film. It really demonstrates Jonze's creativity in organic world building, but also how he can write sensually. He connects the emotions with a physicality, while operating on a dramatic irony that's both amusing and sad. It's a fascinating spot for a turning point in Theodore and Samantha's relationship, and one where the complexities really shine. Lets take a look at how Jonze lets it play out (page 73):
In true Kaufman-esque form, it's a script that's very sensitive to the emotions of everyone (and everything) in its world. Every character is living their own stories to the degrees that Theodore and Samantha experience. Cue sigh of relief that Spike Jonze beat David O. Russell.
"12 Years A Slave"
written by John Ridley
Despite a now infamous debacle between writer John Ridley and uncredited writer Steve McQueen, the 12 Years A Slave script deserves the acclaim in any of its incarnations. Yes, there's a fatal flaw, it doesn't feel like 12 years. But it feels like it takes 12 years to read. The script actually took me 12 days or so, it's that brutal on paper too.
That aforementioned flaw is mostly a fault in the editing, especially the butchering of the first act. The boat is originally a lot more eventful, not reaching land until page forty, followed by bouts of the plague and so forth. However, including all of this would only delay us further to Edwin Epps and Patsey.
The unforgettable hanging scene, an early talking point when the film was making the festival run, is written with much greater detail than you'd expect and is a fine example of its dense poetry in capturing the physicality of the cruelty. McQueen consequently stripped the scene to its essence in the final film, but the feelings of dread it conjures remain, and it's exquisitely written, a factor that notably remains in the dialogue. Lets look at the description of this scene (page 72):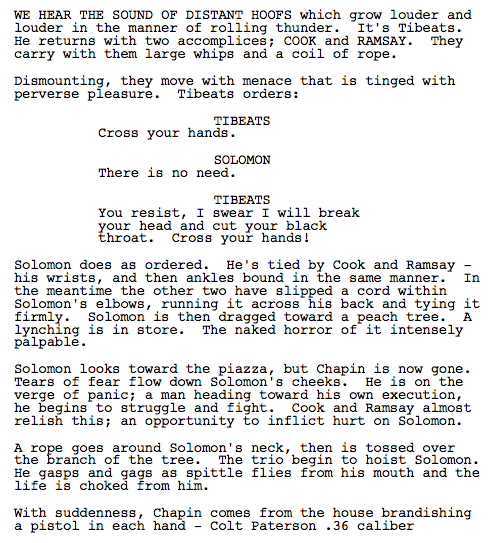 It's very laboured, you might say it's overwritten if anything though the language is consistent. However, the actors have soaked up every emotive word of this script in order to boil it down to their individual moments. Exquisitely executed film in many of its facets.
2013's highlight reel consists of: Dallas Buyers Club, Nebraska, Before Midnight, The Wolf of Wall Street, Short Term 12, Gravity, Inside Llewyn Davis and Blue Jasmine. My favourite screenplay outside of Her is definitely Before Midnight, which is my personal best of the Before trilogy. It spoke all the existential hopes and fears I had on my mind that I could never articulate as eloquently.
Your thoughts on the screenplays of Her and 12 Years A Slave?
What were your favourite scripts, scenes, or characters of 2013? Post in the comments below!