Re-launching a series that I started in November. I only did two years, 2004 and 1975, but I want to try this again making it more digestible. I'll work my way back one year at a time. Lets begin with 2014! Next week, Her and 12 Years A Slave.
"Birdman, or: (The Unexpected Virtue of Ignorance)"
written by Alejandro Gonzalez Inarritu, Nicolas Giacobone, Alexander Dinelaris & Armando Bo
With the help of three of his most trusted writers, Alejandro Gonzalez Inarritu broke his bleak mold with a self-reflective comedy about actors to earn his first of three Oscars in his big night. Ostensibly, too many cooks didn't spoil this broth. It's a dense script, one that matches the ambition of its one-shot concept.
That is what makes Birdman so special, it doesn't waste a moment because it can't. Among the rich character work – all condensed in three days or so in their lives – it has sharp insights into artistic legacy, truth in fiction and problems with contemporary film criticism. In a way, the film is more an essay than a story.
But it all provides the foundation for pure cinema, highlighted in the empowering fantasy moments, none more liberating than when Riggan flies over Manhattan before the finale. Why does it smell like balls? Because this script has balls. The balls to have the scale, humour and imagination like this scene, breaking the fourth wall in a captivating way. Lets see how it was written in considering the visual style (from page 97):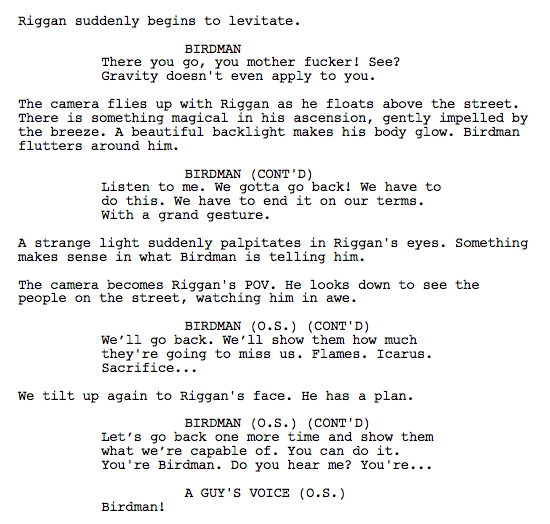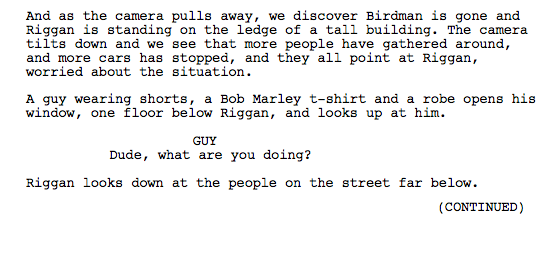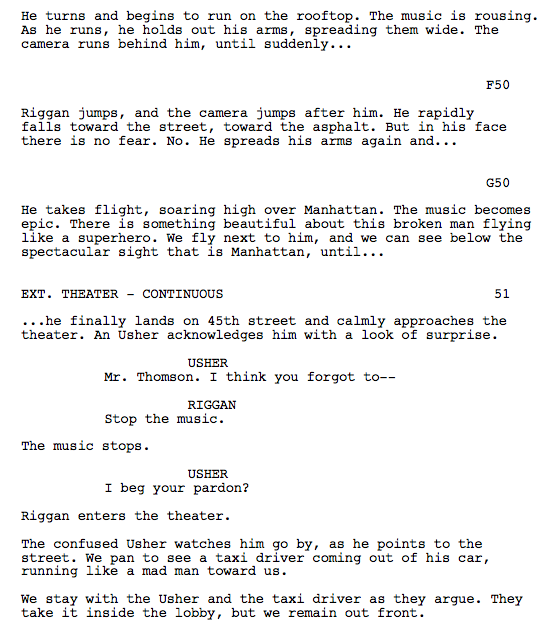 You could also pick any of the early or ending scenes for their brilliant use of foreshadowing and symbolism. A lot of its tricks were lost on me on first viewing (such as the bandages in the final scene looking like Birdman's mask as well the the new nose looking like a beak).
"The Imitation Game"
written by Graham Moore
When I first saw The Imitation Game, I guaranteed it would be a winner for Best Adapted Screenplay. I also said it was a shoo-in for Best Score, but right guy wrong movie. While many criticise the film's script for being formulaic, not featuring any of Turing's homosexuality and taking liberties with fiction – how many biopics don't have to make stuff up?
Graham Moore's diligent use of structure is one of the most recent examples of a traditional script done well. It pummels the characters with adversity and shapes them with heart-wrenching dilemmas – particularly with Keira Knightley's Joan. Plus there's plenty of accessible bite in its wit that matches the heightened tone Morten Tyldum brings to the table.
The script goes the extra mile after the initial goal of 85 pages is achieved to bring one of the film's most compelling moments, an ultimate and personal moral dilemma that paints the characters in shades of grey. Above all, the script makes the most out of moments like these to give that sensation of watching a single man change the world forever. Lets take a look at how Moore writes the drama of that scene (page 88):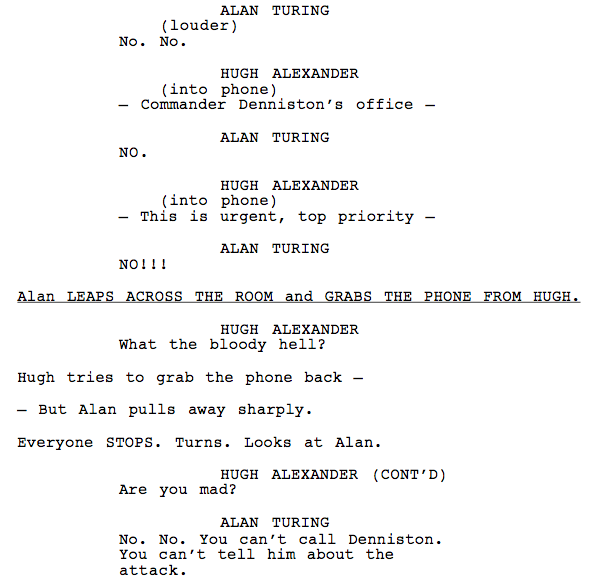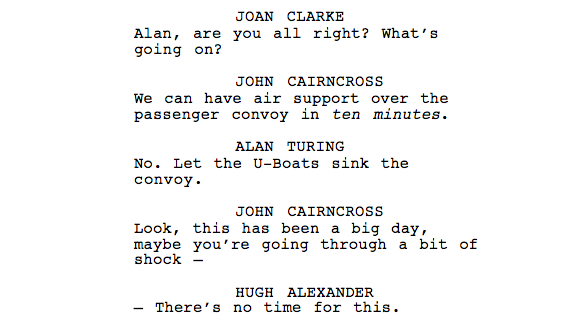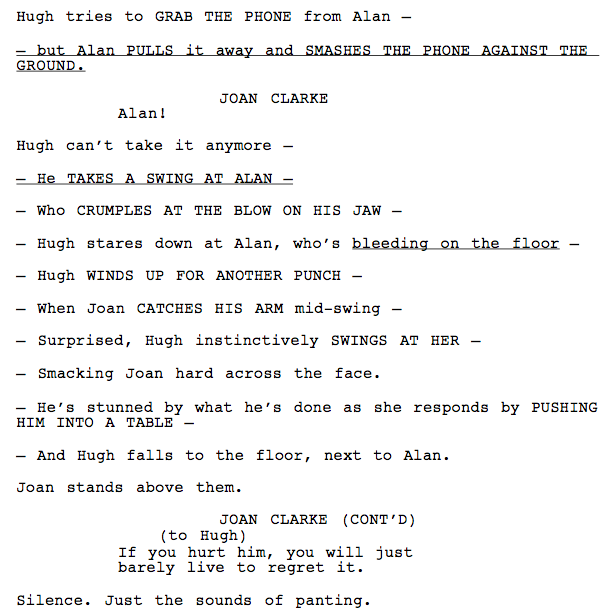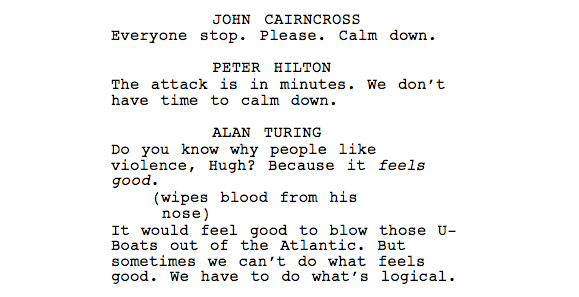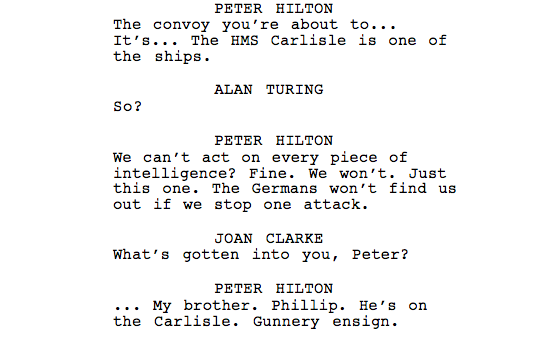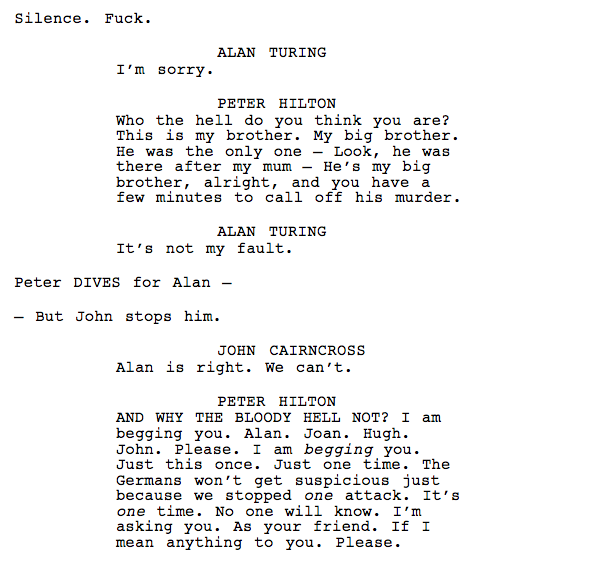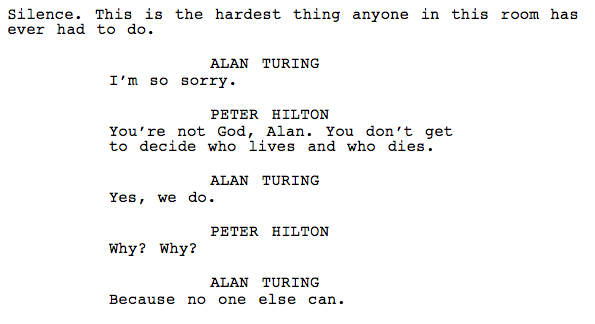 And then Moore smashed that Oscar speech.
2014 also had brilliant scripts such as: The Grand Budapest Hotel, Whiplash, Boyhood, Gone Girl, Nightcrawler, Foxcatcher, Winter Sleep, A Most Violent Year, Locke, Frank and Inherent Vice. My personal favourite outside of Birdman is Whiplash, which is my favourite film of the decade so far. It's a perfect study of the psyche of ambition.
Your thoughts on the screenplays of Birdman and The Imitation Game?
What were your standout scripts, scenes, and characters of 2014? Post in the comments below!