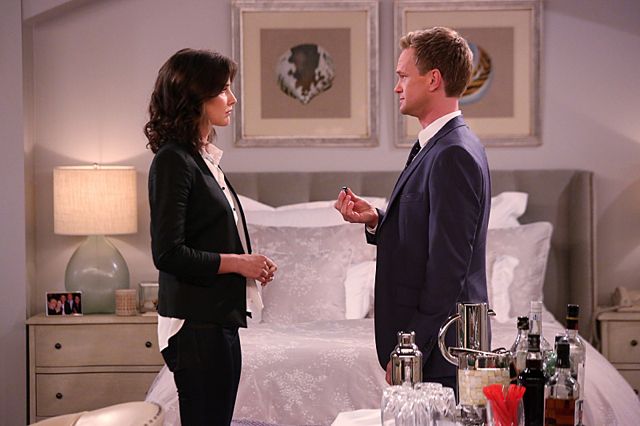 48 hours before the wedding: Barney's bachelor poker game is winding down and getting intense.  Robin is irked by James poo-pooing marriage and raises the stakes for the next hand of poker by betting her wedding ring against his.  She wins the hand and he's forced to removed the ring he still wears.  Barney's mothers intervenes and insists that Barney make Robin give James his ring back.
Barney is torn between pleasing his brother and mother at the expense of his future wife's happiness.  His mother tries to win the ring back, but Robin keeps winning and refuses to give back the ring, making a statement to Barney about backing her up against his family when the need arises.  Barney finally makes a stand (albeit, a very drastic one) against his family and in favor of his bride.
Marshall (still on his road trip to Farhampton) and Lily are reminded of how Ted never got them a wedding gift, when he keeps reiterating that he's getting Barney and Robin three gifts.  Ted clears up the misunderstanding by reminding Marshall that he sent him and Lily a coffee machine and that he never received a thank you note.  Marshall promises to make things right.  Lily corrects Ted by telling him who really got them the gift.  All kinds of confusion ensues as to who actually was the gift-giver, so Ted ends up getting them more gifts and Marshall eventually sends him a thank you note.
Barney's mother and Robin are now engaged in a full-on war because of Barney's stance favoring his soon-to-be wife.