"The Romanoffs" is a show unlike any other due to the fact that it manages to connect a group of (seemingly) unrelated people. What these characters all have in common is a lineage whose branches stem from Russia's most infamous royal family, the Romanovs. Why is the spelling different? According to Weiner, the F's "adapted a phony flavor- an opportunity for people to pretend to be related to them."
The series follows an anthology format, each episode focusing on a fresh batch of characters scattered across the globe. One element that creator Matthew Weiner is good at is depicting emotion on-screen, whether it be the beautiful or the ugly side of human nature. With a careful understanding of the human condition, Weiner always chooses his collaborators wisely.
For his latest series, Weiner recruited two previous collaborators to bring his vision of "The Romanoffs" to life. Costume designers Wendy Chuck and Janie Bryant re-teamed with Weiner to create the looks of the everyday people that he showcases. The stories of "The Romanoffs" transports viewers to locations such as New York City, Paris, Mexico City, London, and all the way to Vladivostok, Russia (filmed in Constanta, Romania).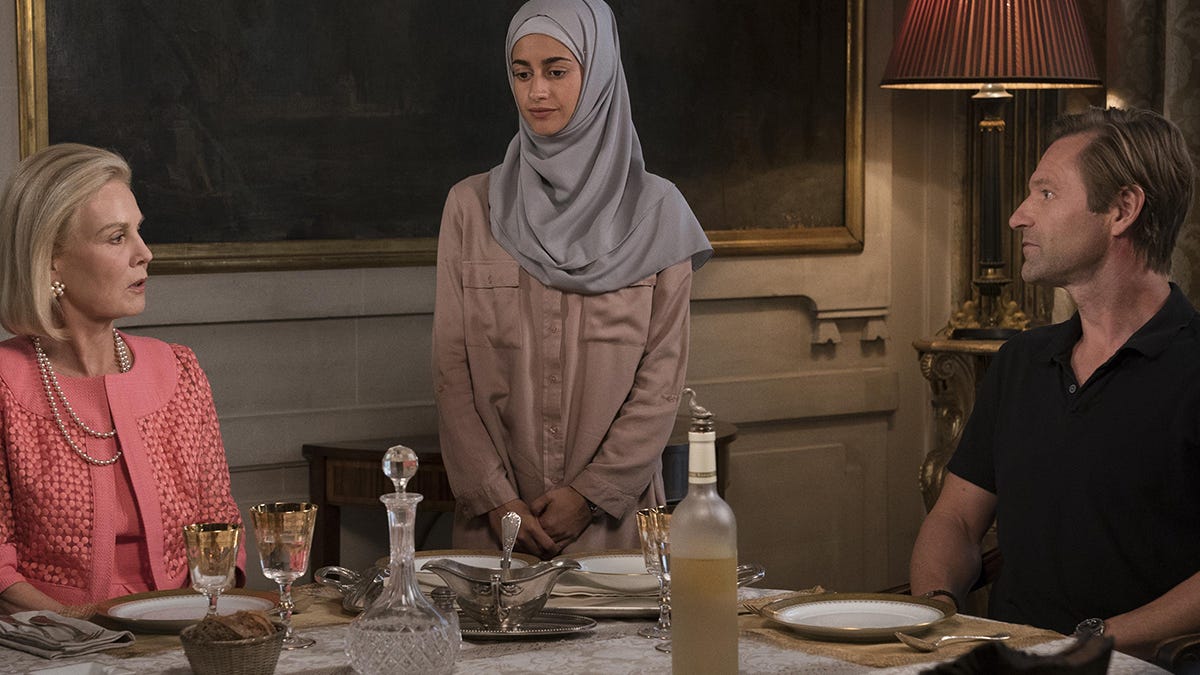 In each episode, Weiner introduces a new set of Romanov descendants, all with their own set of trials and tribulations. Chuck and Bryant each designed the costumes for four episodes. Chuck's episodes included "The House of Special Purpose", "Expectation", "Panorama", and "The One That Holds Everything". While Bryant is behind "The Violet Hour", "The Royal We", "Bright and High Circle", and "End of the Line".
According to Chuck, "Every episode had to be approached like a different meal. However, there's a string of constants. Same crew, same producers, etc. It was a very different format for me, a different concept. I had to treat it like four features back to back. Every day was different, the whole setup was unusual, and it had never been done before."
Anthology series are now more common than they used to be, but none can come close to the  grandeur of "The Romanoffs." For a more authentic experience, Matthew Weiner opted for filming on location as opposed to sets. With a multitude of international locales and a new crew for each one, the series brought forth a new set of challenges for its design team. However, Weiner is a great collaborator, which eases the difficulties of an ambitious project.
For both Chuck and Bryant, each had to work remotely, as well as travel for fittings prior to shooting for their respective episodes. Chuck states,
"I had to rely on production designers to feed me information about the sets and locations, and the colors. There's no question that operating remotely has its challenges because you don't get to work with the crew as you normally do when you're setting up. We did what we could. Matthew is a fantastic collaborator, and very clear with his vision. Because Janie and I have worked with Matthew before, he got our language. The beauty of him, now that I worked with him more, is that he trusts me. We trust each other. Once you have that, you can reach into your toolbox, and bring more to the table."
For Chuck, the project was challenging enough creatively, even without the many location changes. The shift in scenery only contributed to the complexity of "The Romanoffs" production. When you're working on such an international scope, there is the issue of language barriers, and the task of hiring crew members in other countries while simultaneously filming other episodes.
Bryant's approach to design was getting familiar with the locations:
"The research was very different because we were going to a lot of new places. The process is still a bit similar because I'll read the script and be inspired by it. When my assistant designer and I would go to a new location, we would go through the process of immersing ourselves within the different cities to get a real feel for the characters and how people dressed."
To Bryant, the costume design of "The Romanoffs" is still about telling the story of the characters. Their locales influence the outfits they wear, so it was important to take in each new environment to accurately create the characters. The writing is there to tell the story, but costume design helps to visually convey that story.
While each episode is meticulously crafted, Chuck and Bryant both have amazing standout episodes worth discussion and praise. Each episode displays fine acting from its leads, all enhanced by their memorable clothing ensembles.
For Wendy Chuck, "The House of Special Purpose" was a production within a production. In this particular episode, actress Olivia Rodgers (Christina Hendricks) joins a tumultuous production lead by an eccentric director named Jacqueline (Isabelle Huppert). Eager to make a film about her family's legacy, Jacqueline fights to be as authentic as possible in her portrayal of the Romanov family. Right off the bat, Olivia notices that something is off.
"The House of Special Purpose" refers to the Ipatiev House, the execution site of the Romanov family in 1918. Olivia replaces another actress as the doomed Tsarina Alexandra. Chuck's designs are a clash between the past and the present, Jacqueline's minions dressed in Bolshevik uniforms, while she appears as a futuristic vampire, bloodthirsty for a shocking performance.
Behind the scenes, Chuck had a lot of preparation to do for the episode, nine weeks in fact. Chuck had to rely on production images in addition to remote work to prepare. Hendricks' outfits were custom-made, as well as all the men's suits.
"We had to go into production guessing, not fully knowing people's sizes. I knew the Romanov daughters were in their teens, so I had to make things in that range of sizes. When I took them to Prague, and I started doing the fittings, I asked "Where can I do the design line so I can take them in without affecting the period look of the garments?""
My assistant and I were flown to Paris to fit Isabelle Huppert. We did a little bit of shopping in Paris, and then we bought everything with us. About two and a half weeks prior, we shipped everything to Prague. We rented all the Bolshevik uniforms from Angels in London because the uniforms weren't available in LA."
Chuck's designs are also those featured in "The Romanoffs'" title sequence. The opening credits serve as an eerie foreshadowing of the episode's bitter ending. Weiner wanted to show the Romanov daughters in dainty, white clothing to create a contrast to the bloodshed. Chuck created the outfits from contemporary lace, and fashioned the lace to appear as if it was from the 1900's. 
In Janie Bryant's "The Royal We," the Romanov history is incorporated in a less abrasive way, and used in a more darkly comedic tone. The episode follows the crumbling marriage of Michael (Corey Stoll) and Shelly Romanoff (Kerry Bishé). Bored with his life and his wife, Michael becomes smitten with a woman he meets at jury duty, Michelle (Janet Montgomery). Eager to spend time with Michelle, Michael urges Shelly to attend their planned cruise without him. The cruise is one that is for Romanov descendants, where attendees learn about their family history, and dress as members of the Romanov family.
While Shelly is on the cruise, the couple takes time to revel in their lives without each other. What the "Royal We" highlights is the link between costume and seduction. While Bishé is classically beautiful, she's played down for the sake of "The Romanoffs." In Weiner's world, she exists as a plain Jane, at least in the eyes of her on-screen husband. While creating Shelly's costumes (and others in the series), Bryant scouted second-hand shops for lived-in clothing, and also put articles through an aging process. For characters like Shelly, authenticity is important. 
Meanwhile, Michelle is allowed to be the object of desire in Michael's eyes. Michelle's look is sensual, with the small details in mind. At a particular point, Michael zeros in on her nude shoe, admiring the form as he sketches it in his notebook.
"When you're creating these two female characters, it's really about making them complete opposites. Shelly's costumes are the ultimate man-hater wardrobe. The fit of her clothes was very boyish, very athletic. However, it was important for her to have her Cinderella moment. Having a love interest on the ship really allowed her to embrace her femininity again."
"The Royal We" also utilizes Romanov history in its own way. Bryant incorporated looks from over 200 years of the family history during the ball on the cruise ship. The most familiar members of the family are Alexander and Anastasia, but Janie uses many other lesser-known figures in the backdrop.
Thinking back to her experience working, Bryant states:
"It was wonderful being able to work with crews around the world. I got to see so many different and inspiring things. It was such a blessing to be able to go out and do all that."
"The Romanoffs" is a series that explores how humans connect to one another, and the belief in being a part of something greater. On the production of the series, each aspect was cleverly created to let audiences peer into the lives of people who are trying to tap into their past, and secure their future.
When Chuck speaks about the experience, she recalls it fondly despite the chaos:
"I can look back now, and see that the production was one of the best times of my life. I didn't have a whole lot of time to think about what was happening. You're just in it, solving problems and making decisions. It's a train that just keeps moving forward."
Awards Circuit would like to thank Wendy Chuck and Janie Bryant for taking the time to speak with us.
"The Romanoffs" is now streaming globally on Amazon Prime.
CHECK OUT ALL THE OFFICIAL PREDICTIONS ON THE CIRCUIT HUB AND MAKE YOUR OWN!