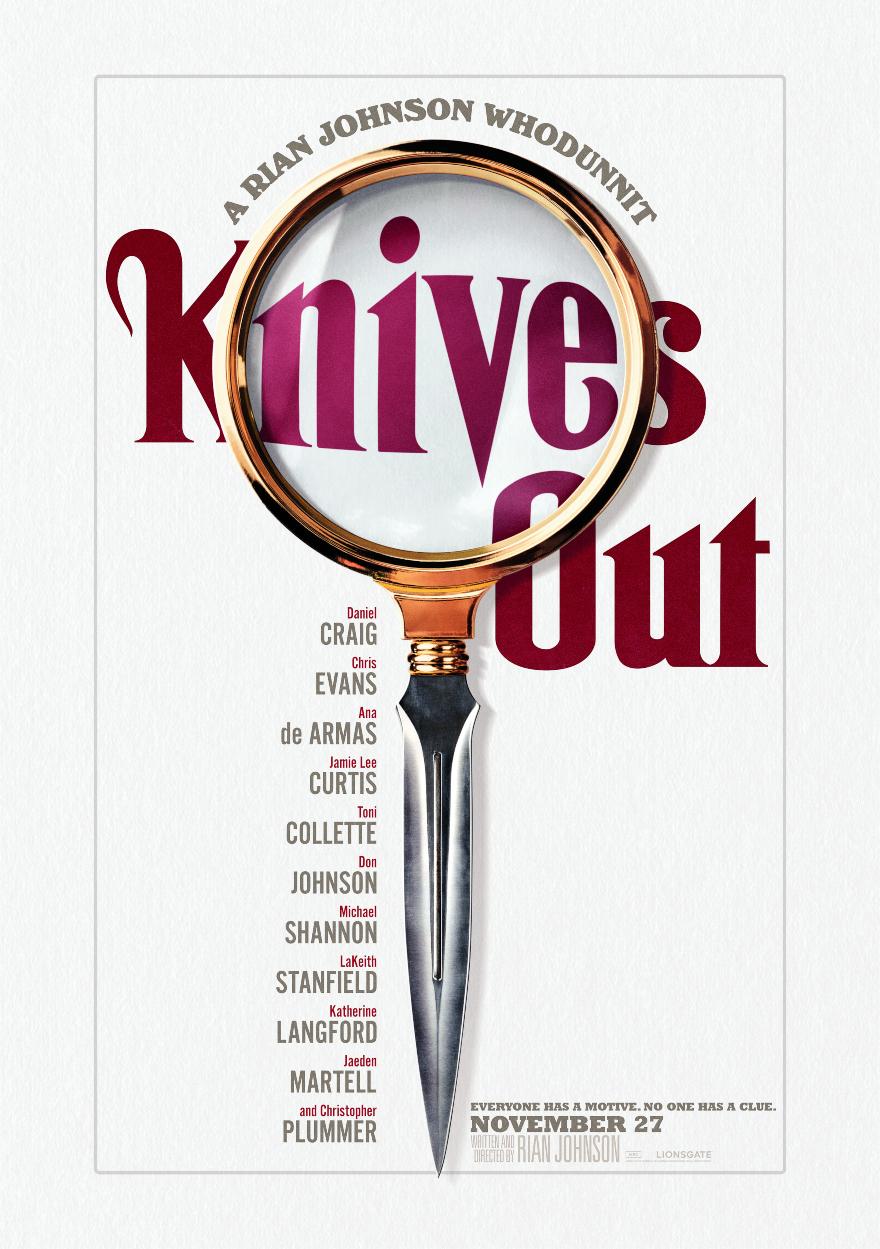 2019 TORONTO INTERNATIONAL FILM FESTIVAL: If there's a case for a film that should be experienced purely with an audience, Rian Johnson's "Knives Out" would be a spectacular example. His latest feature is a deliciously entertaining, hysterical whodunit from start to finish. Self-aware and witty, "Knives Out" is one of the most exciting movies in years. It's the type of story you desperately want to talk about, but for the sake of being a good person, you have to allow others to experience it the right way. Don't worry; there are no spoilers here. All that can be said is that the film is cleverly deceptive in the best way.
Director/writer Johnson declares "Knives Out" a tribute to the classic mysteries of the past, citing Agatha Christie as a primary inspiration, peppering it with odes to "Sherlock Holmes," "Clue," and even a little "Murder She Wrote." A family that schemes after the passing of the wealthy patriarch is an old trope, but Johnson crafts it in such a way that it feels fresh. The payout is entirely unexpected but worth it. Even though the runtime is over two hours, "Knives Out" never lulls, and is engaging every step of the way. Johnson's script is sharp and rich, keeping the audience on its toes. It's chock full of suspense, one-liners, and hilarious gags.
This mystery is a powerhouse ensemble of A-list talents, allowing each actor to flex their strengths, and try new roles at the same time. At the core of "Knives Out" is the repugnant and obnoxiously wealthy Thrombey family. Headed by Harlan Thrombey, (Christopher Plummer) they are selfish individuals with a massive sense of entitlement. Harlan's eldest daughter, Linda Drysdale (Jamie Lee Curtis) is a "self-made" real estate agent. Her leech of a son, Ransom (Chris Evans) has never lifted a finger in his life. On the other side, Walt Thrombey (Michael Shannon) is Harlan's son who inherits the family business. Joni (Toni Collette) is the daughter-in-law who clings to the family to maintain her lifestyle.
As the mystery unfolds, private investigator Benoit Blanc (Daniel Craig) enters the scene. Hired under suspicious circumstances, he is determined to solve the case. At the center of the madness is Harlan's kind-hearted nurse Marta (Ana de Armas). An innocent bystander in the mystery, Marta watches as the family implodes. She is a harsh contrast to the Thrombeys, humble, selfless, and hardworking.
With the chaos surrounding the Thrombeys, it's not clear who the culprit is, or their motive. "Knives Out" keeps you guessing until the final act. As the film opens, Johnson wants us to believe that it could be anyone in the room, and the person it happens to be could be the one you least expect.
With such a loaded cast, "Knives Out" is packed with well-acted, delightful performances. It's nearly impossible to determine a favorite. With stars such as Collette, Craig, Curtis, Evans, de Armas, and Plummer, you're in for a treat. Michael Shannon, Don Johnson, Katherine Langford, Riki Lindhome, and Lakeith Stanfield all round out this stellar cast.
Certainly a crowd-pleaser, "Knives Out" is a welcome breath of fresh air this coming awards season. Original, and armed with a message about greed and entitlement, the film is sure to cause some discussion this winter. If you're looking for a fun experience, this is worth your while, and something you can enjoy with both friends and family. "Knives Out" brings back the old mystery experience, and it's perhaps one of the best things that can happen this holiday season.
"Knives Out" is distributed by Lionsgate and opens nationwide Nov. 27.
GRADE: (★★★★)
CHECK OUT ALL THE OFFICIAL PREDICTIONS ON THE CIRCUIT HUB AND MAKE YOUR OWN!