Oh, the COVID19 quarantine stretching on, streaming films, and VOD releases have become more important to the movie-watching public than ever. The most widely used platform for these films is Netflix, which has been producing original feature films since 2015. There are hundreds of Netflix original films that have been released thus far, and many more to come. With that in mind, here are 10 of the best ones:
"Always Be My Maybe" (2019)
dir. Nahnatchka Khan
A fun, breezy rom-com used to be a typical summer movie in a theatrical release. But with general box office trends skewing more towards blockbusters and away from original mid-budget films,  the genre has moved on to become a staple of Netflix. "Always Be My Maybe" is one of the premier examples of the new era rom-com. With a smart, culturally conscious script co-written by stars Randall Park and Ali Wong and an incredibly memorable Keanu Reeves cameo, the film has already become a staple of Netflix-and-chill dates.
"Beasts of No Nation" (2015)
dir. Cary Joji Fukanaga
The first Netflix original film to be released onto the service, "Beasts of No Nation," is a violent, raw, and brutal portrait of life as a child soldier in West Africa. With stunning performances by breakout star Abraham Attah and SAG Winner Idris Elba, the film was able to gain Netflix recognition from many film awards bodies right away. Additional elements that can be singled out are Cary Joji Fukanaga's brutally raw direction, further elevated by his own cinematography, as well as Dan Romer's haunting score.
"Private Life" (2018)
dir. Tamara Jenkins
Every so often, there is a film that gives a new perspective to an experience that has not been portrayed often enough. This occurs in Tamara Jenkins' "Private Life," a film that depicts the difficulties of a middle-aged couple (portrayed brilliantly by Kathryn Hahn and Paul Giamatti) trying to conceive a child. Throughout the film, you see them exhaust every option, frequently to relatable comedic or heartbreaking outcomes. The honesty and realism of the script and performances make the film truly unique.
"The Two Popes" (2019)
dir. Fernando Meirelles
One of the more surprisingly funny and moving films in recent years was released on Netflix just a few months ago. "The Two Popes" mainly depicts an imagined encounter between Pope Benedict XVI (Academy Award nominee Anthony Hopkins) and the future Pope Francis, Cardinal Jorge Mario Bergoglio (Academy Award nominee Jonathan Pryce). The two differ considerably on their political and theological views, with Pope Benedict being much more traditionalist in comparison to Cardinal Bergoglio's open-minded and modernist viewpoints. As the film goes on, you learn more and more about the reasons for each of their perspectives and come to understand the magnitude of the transition between the two Popes. Consistently well-paced and well-written by Academy Award nominee Anthony McCarten, "The Two Popes" will leave you wanting to set aside your differences and enjoy the company of those with differing viewpoints over some pizza and soccer.
"Dolemite is My Name" (2019)
dir. Craig Brewer
For years, many people longed for a proper comeback to film for legendary comedian/actor Eddie Murphy after he spent much of the 2010s in obscurity. Almost everyone was satisfied once it happened in the form of "Dolemite is My Name," a loving and hilarious tribute to legendary comedian and blaxploitation film star Rudy Ray Moore (as brilliantly portrayed by Murphy). With a joke-a-minute script from the Academy Award nominated team of Scott Alexander and Larry Karaszewski, standout supporting performances from Wesley Snipes and breakout star Da'Vine Joy Randolph, and stunning costumes, the film is a rousing success and never fails to entertain.
"The Ballad of Buster Scruggs" (2018)
dir. Joel and Ethan Coen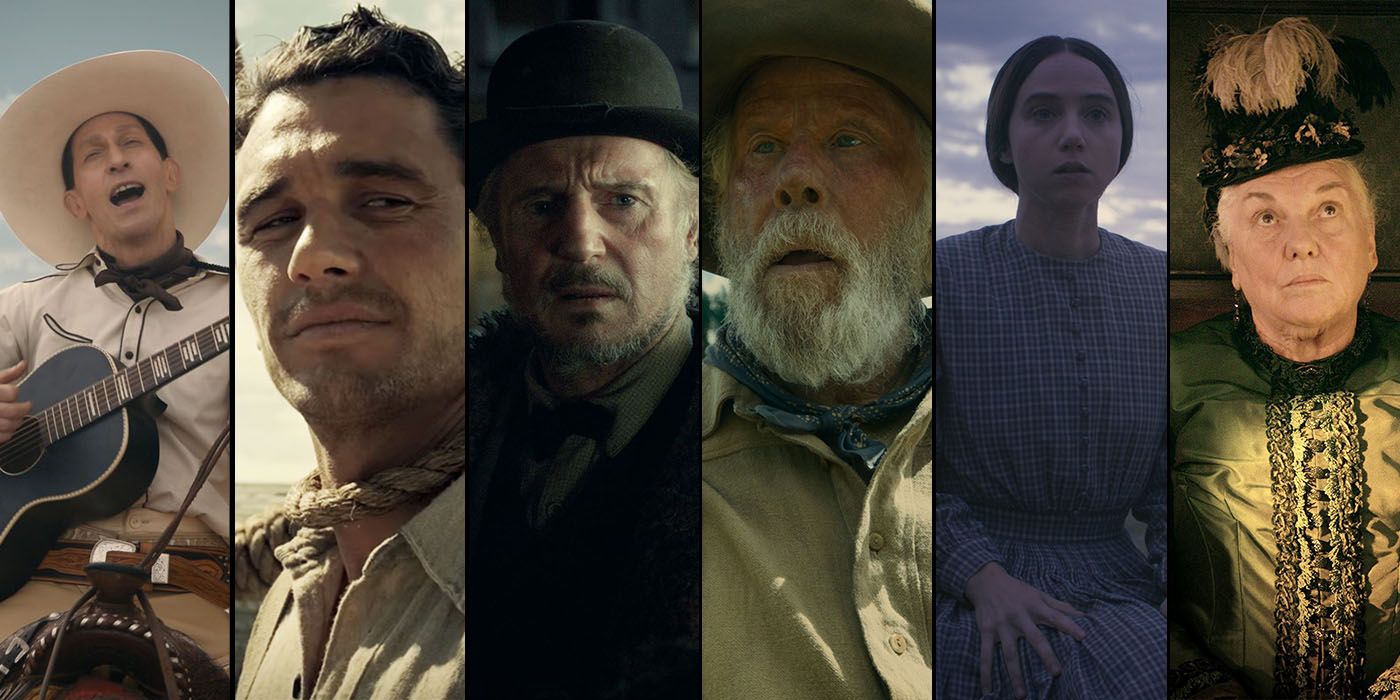 Once conceived as a miniseries, this compelling picture became a unique six-part Western anthology film from the Coen Brothers. With segments ranging from cartoonish gallows humor ("The Ballad of Buster Scruggs" and "Near Algodones") to profound irony ("All Gold Canyon") to just plain tragic morbidity ("Meal Ticket," "The Gal Who Got Rattled, and "The Mortal Remains"), it could be considered a Greatest Hits-esque collection of modern Twilight Zone-tinged Westerns. If it were just that, it would be interesting enough, but the performances and production values raise it to must-watch status.
"The Irishman" (2019)
dir. Martin Scorsese
The three-plus hour-long gangster epic is a staple in the filmography of legendary director Martin Scorsese. But, with films of this category not being supported or made by most studios anymore, he took "The Irishman" to Netflix with full creative control and a massive budget. Marty assembled an all-star cast with regulars like Robert De Niro, Joe Pesci, and Harvey Keitel, as well as surprising first time-collaborator Al Pacino. He brought back acclaimed collaborators like screenwriter Steven Zaillian and editor Thelma Schoonmaker. With all of these tools at his disposal, Scorsese was able to translate the epic story of Frank Sheeran and the disappearance of Jimmy Hoffa into an essential film that examines the passage of time and the brutal life of a gangster.
"Marriage Story" (2019)
dir. Noah Baumbach
Depictions of divorce are often difficult to make, as one's real-life experience can cloud the judgment and portrayal of the parties involved. However, in the case of Noah Baumbach's "Marriage Story," a more even-handed portrait is given to the two sides of a divorce. On the one hand, you have Charlie (Academy Award nominee Adam Driver), a New York theater director who wants to continue his career with his company and bring his shows to Broadway.
On the other hand, you have Nicole (Academy Award nominee Scarlett Johansson), an actress in Charlie's company who would like to return to her home of Los Angeles to pursue a television career. With clear differences in their personal and career goals, Charlie and Nicole's path to divorce is portrayed, with many ups, downs, clashes, and comedic moments along the way. With a relatable screenplay, strong performances (notably with an Academy Award winning turn from Laura Dern as Nicole's lawyer Nora), and tight technical elements, "Marriage Story" is a substantial addition to the pantheon of domestic dramas.
"Mudbound" (2017)
dir. Dee Rees
An American epic adapted from what was considered to be an unadaptable novel, "Mudbound," was a film that Netflix acquired for distribution at the 2017 Sundance Film Festival. It was a successful gamble, as it brought Netflix its first four Academy Award nominations, all of which made history. The attention was warranted, as the film is completely enveloping in its intricate portrayal of the lives of two families (one the white landowners, the other the black sharecroppers/tenants) in mid-20th century Mississippi Delta farmland. The film touches on issues of race relations, the brutality of war, poverty, and forbidden romance, weaving them all together cohesively. Additionally, the imagery of Rachel Morrison's Academy Award-nominated cinematography makes this film beautiful to experience in all aspects.
"Roma" (2018)
dir. Alfonso Cuarón
While "Roma" is currently remembered for failing to be the Netflix film that brought them ultimate Oscar glory, it remains an unparalleled achievement in filmmaking. Produced, directed, written, shot, and edited by its auteur, Alfonso Cuarón, the film is a beautiful memoir of life in 1970s Mexico through the eyes of a domestic maid. Through Cleo (Academy Award nominee Yalitza Aparicio), the viewer can experience the life of the family she is employed by, which consists of Sofía (Academy Award nominee Marina de Tavira), her mother, her estranged husband, and her four children.
Additionally, we can experience Cleo's struggles over time. The film's stunning black-and-white cinematography, countless long takes, and uniquely prevalent sound design make it a completely immersive watch and make it a masterpiece of filmmaking. On top of the technical precision, the film is contemplative and harrowing in its storytelling and remains compelling throughout. "Roma" should stand the test of time not only as a significant peak and milestone of Netflix's filmography but as a classic of all forms of cinema.
What are your favorite Netflix films? Leave thoughts in the comments section below!