There are not many actors in this world you can say are universally loved. They are individuals who can do no wrong, who consistently entertaining us with each project they deliver. If you were putting a list together of those likable people, Tom Hanks would it on the top of many lists. The two time Oscar winner and five-time nominee has given some the most memorable performances of any actor's career.
But with all the praise and love we give him, it's puzzling as to why he hasn't been nominated for Oscar since "Cast Away" back in 2001. And when you do research, there were roles he was snub for before his now eighteen-year nomination drought. So in honor of his new potentially curse-breaking role in "A Beautiful Day in the Neighborhood," we decided to take a look at some of Tom Hanks's biggest Oscar snubs.
Jimmy Dugan in "A League of Their Own" (1992)
dir. Penny Marshall

Penny Marshall's sports comedy about the history of female professional baseball players showcases much memorable performance including Hank's Jimmy Dugan. Dugan is a washed-up, former baseball player hired to coach the Rockford Peaches. Profane and angry, Hanks finds a perfect balance as this drunken fool who ends up caring for the girls as a coach and friend. He evolves a lot as a person and finds a love for the game again. "A League of Their Own" didn't crack into the awards race but it had, it should have included Hanks for Best Supporting Actor.
Michael Sullivan in "Road to Perdition" (2002)
dir. Sam Mendes
Following his last Oscar nomination, Hanks transformed into one of the angriest roles he's ever done in "Road to Perdition." Based on a popular graphic novel, Michael Sullivan is a hit man seeking revenge for the murder of his wife and younger son. With his eldest son (Tyler Hoechlin) by his side, Michael will look to bring his form of justice, one bullet at a time. Hanks brings raw emotion to this role, mixing rage and pain together to make of the most layered performances in a comic book adaptation. While Paul Newman was the focal point for the awards campaign, Hanks should have received attention for this brutal enforcer.
Ben Bradlee in "The Post" (2017)
dir. Steven Spielberg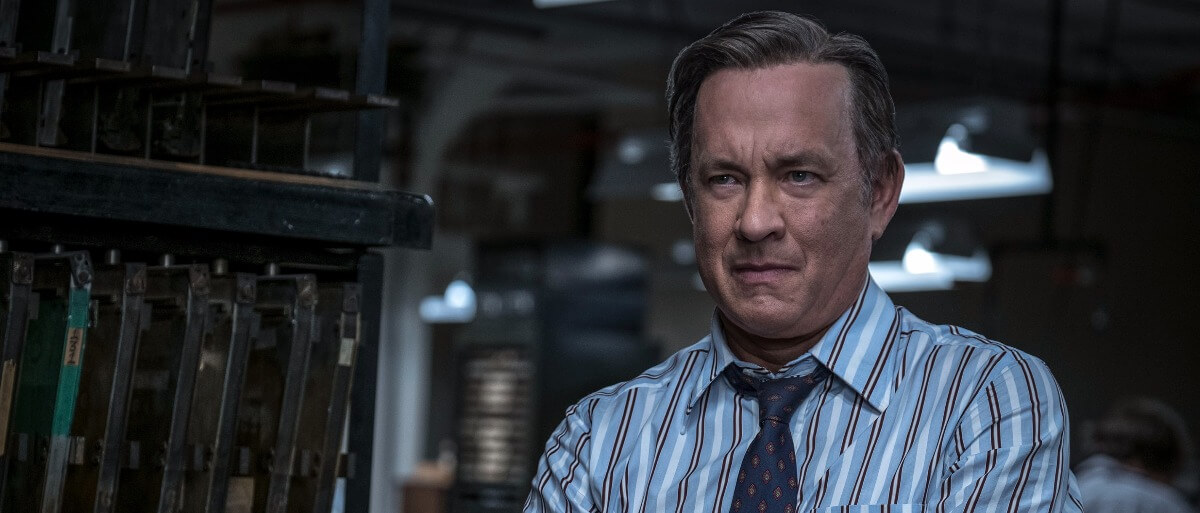 His most recent role on this list, Hanks brings his version of Ben Bradlee to life in Steven Spielberg's "The Post." As the editor for The Washington Post, Bradlee and his team must convince their owner Katharine Graham (Meryl Streep) to allow the paper to release the Pentagon Papers. Honest and truthful to the historic events, Hanks's Bradlee does a lot of the heavy lifting in persuading Streep's Graham. With this, it leads to many conversations about the soul of the country and what they will be remembered for. Leading to tense drama, these scenes are where both veteran actors shine. For being a two-hander, Streep landed a much deserved Best Actress nomination and Hanks sadly didn't.
Chesley "Sully" Sullenberger in "Sully" (2016)
dir. Clint Eastwood
In Clint Eastwood's "Sully," he is the infamous U.S airway captain under investigation for landing his airplane in the Hudson River. While he saved everyone's lives, simulations showed he didn't have to land the way he did. Unflinched by his decision, he fights back to secure what's left of his professional career. "Sully" revolves around Hanks being able to deal with the trauma of the accident as well as struggle of getting through the investigation. While there are is a small supporting cast, "Sully" feels like a one-man show. Every scene Hanks adds layers to the captain and the crash, which we see played out multiple times. Hanks gives the kind of deeply retrospective performance worth of a nomination in the weak 2016 Best Actor field.
Paul Edgecomb in "The Green Mile" (1999)
dir. Frank Darabont
Anytime you have to follow-up a great film, it's a big challenge. So when Frank Darabont decided to make his next film after "The Shawshank Redemption," he decided to adapted another Stephen King story. When developing "The Green Mile," it was clear only one man could play Paul Edgecomb and it was Tom Hanks. As Paul, he becomes a death row officer who witnesses prisoner John Coffey (Michael Clarke Duncan) perform miracles. The more Paul gets to know John Coffey, the more he realizes how special he is. Hanks and Duncan's chemistry is strong and personal, like they have played these characters for years. He gives Paul a lovely sense of right and wrong, with a moral code to help John get the justice he deserves. While Duncan got a well-earned Supporting Actor nomination, Hanks should have joined him with one of his own.
Charlie Wilson in "Charlie Wilson's War" (2007)
dir. Mike Nichols
In Mike Nichols' final film, Hanks is given a meaty role as a troublesome congressman in "Charlie Wilson's War." Known for being loose and lazy politician, Wilson is given a task by his friend (Julia Roberts) to help the people of Afghanistan fight against the Soviet Union. After doing some research, and connecting with a CIA agent (Philip Seymour Hoffman), Wilson vows to get the Afghan people whatever they need. With a script written by Aaron Sorkin, Hanks is able to chew dialogue for days. But while he is doing all the talking, he is getting results and finds his work is meaningful. Hanks does what all good actors do with a Sorkin script, deliver a meaningful, articulate character.
Walt Disney in "Saving Mr. Banks" (2013)
dir. John Lee Hancock

Sometimes a role just makes sense. Leaning into his loveable persona, Hanks stepped into the biggest shoes he's ever stepped into to by becoming Walt Disney. "Saving Mr. Banks" follows Disney's quest to sway P.L Travers (Emma Thompson) into giving him the rights to turn her Mary Poppins novels into a movie. Bringing out all of the charms, Disney stops at nothing to please Travers so he can make his daughter's wishes come true and get the picture made. But he learns these books mean more to her than just the story they tell, they are deeply personal. Beyond looking a lot like Disney, Hanks finds the humanity we hope to see when we think of him. Though Hanks and Thompson didn't land nominations, their chemistry is what makes "Saving Mr. Banks" work, leaving you in tears as you walk out the theater.
Jim Lovell in "Apollo 13" (1995)
dir. Ron Howard

Following his back to back wins for Best Actor, Hanks turned to Ron Howard's "Apollo 13" as his next big project. Following the accounts of the rescue mission to bring the astronauts of the Apollo 13 mission, Hanks portrayed Commander Jim Lovell. As we are watching the events switch from space to Earth, Hanks's Lovell keeps everything hopeful and steady as they try to make their way home. "Apollo 13" is a technical marvel with relatable performances led by an engaged Hanks. Unfortunately, the leader didn't land a Oscar nomination like Ed Harris and Kathleen Quinlan did. May have been a stretch to land three straight Best Actor nomination but given he was the lead, it's puzzling why he didn't get in.
Carl Hanratty in "Catch Me If You Can" (2002)
dir. Steven Spielberg

In Steven Spielberg's cat and mouse game, Hanks plays Carl Hanratty, an FBI bank fraud agent tasked with hunting down charming scammer (Leonardo DiCaprio). While "Catch Me If You Can" primarily focuses on Dicaprio's Frank Abagnale Jr and his elaborate cons, it's Hanratty the grounds the story. He's obsessively determined to catch Frank but grows to respect and admire the kid while he is chasing him. While not a good father to his own kids, he sees Frank as a second chance for the both of them, thus a friendship is born. Hanks was ignored by many award shows, with the focus going towards DiCaprio and Christopher Walken. And while Walken played DiCaprio's father, Hanks was the real father figure for Frank who deserved to be rewarded.
Captain Richard Phillips in "Captain Phillips" (2013)
dir. Paul Greengrass

The saying goes, a picture is worth a thousand words. In this case, the picture above is worth an Oscar nomination. What Hanks did as Richard Phillips, the kidnapped merchant mariner captain fighting to survive, was thrilling and devastating. When we meet him, he is a confident, easy-going guy who runs his ship like clockwork. Everyone loves working for him and he's someone you want leading you to get the job done. So when the boat is taken over by Somali Pirates, he makes the ultimate sacrifice to be their lone hostage. He then turns into a conversationalist, trying to steady the situation with every word he says.
When he is finally rescued, Hanks drops the calm demeanor and breaks down while medics attend to him. It's one of the best scenes in Hanks' career, showing what a completely broken man looks like. This snub is a madding one since he landed a Golden Globe, Critics Choice and Screen Actors Guild nomination for portraying Phillips. But Hanks didn't land the Oscar nomination, therefore the Academy didn't honor one of the best roles of his extensive career.
What do you think is Tom Hanks' biggest Oscar Snub? Let us know in the comments below!