Having emerged as somewhat of the frontrunner in the awards race in recent weeks, Zero Dark Thirty opens to special limited engagements this week before nationwide release in January.  It's a pretty strong week in terms of variety, with Judd Apatow's latest, This Is 40, foreign drama powerhouse, Amour,and Walter Salles' adaptation of On the Road.  Add a natural disaster survival drama, a case of double-dipping with a popular animated feature, and Tom Cruise reaching for justice for a well-stocked long weekend of cinematic entertainment.
Zero Dark Thirty
Language: English
Rating: R
Genre: Action/Drama/History
Director: Kathryn Bigelow
Starring: Jessica Chastain, Joel Edgerton, Jason Clarke
"The greatest manhunt in history" follows the decade-long efforts to find Osama bin Laden, spanning from the September 11 attacks to his death at the hands of Navy S.E.A.L. Team 6 in May 2011.  See Clayton and Joey's early reviews.
Amour

Language: French
Rating: PG-13
Genre: Drama/Romance
Director: Michael Haneke
Starring: Jean-Louis Trintignant, Emmanuelle Riva, Isabelle Huppert
Elderly couple Georges and Anne have their comfortable, retired life and love tested after Anne suffers a debilitating attack.  Clayton and John H. Foote both spoke highly of the film, while Joseph was a bit underwhelmed.
Monster's, Inc. 3D
Language: English
Rating: G
Genre: Animation/Adventure/Comedy
Director: Peter Docter, Lee Unkrich, David Silverman
Starring: Billy Crystal, John Goodman, Steve Buscemi
Top scaring duo Sulley and Mike return to the big screen, amplified in 3D, as they scramble across Monstropolis trying to conceal Boo, the stowaway child to whom they've developed an attachment.
The Guilt Trip

Language: English
Rating: PG-13
Genre: Comedy
Director: Anne Fletcher
Starring: Seth Rogen, Barbra Streisand, Kathy Najimy
As inventor Andy sets off for a road trip, he ends up with an unexpected companion–his mother.
This Is 40

Language: English
Rating: R
Genre: Comedy
Director: Judd Appatow
Starring: Paul Rudd, Leslie Mann, Jason Segel
This "sort-of sequel to Knocked-Up" follows Pete and Debbie's family through the process of growing up.  Clayton calls it Apatow's most mature film to date.
On the Road

Language: English
Rating: R
Genre: Adventure/Drama
Director: Walter Salles
Starring: Garrett Hedlund, Kristen Stewart, Sam Riley
Jack Kerouac's beat generation literary staple comes to life as Sal Paradise falls under the spell of compellingly volatile Dean Moriarty in their cross-country escapades.  See Joey's take on the adaptation.
The Impossible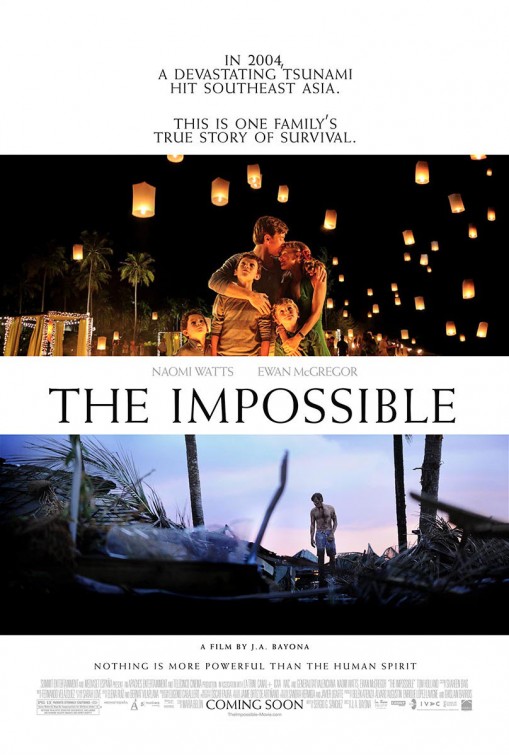 Language: English
Rating: PG-13
Genre: Action/Drama/Thriller
Director: Juan Antonio Bayona
Starring: Naomi Watts, Ewan McGregor, Tom Holland
One family's account of their horrifying and miraculous experiences in one of the worst natural disasters in modern history tests their fortitude and humanity.  Clayton is among those who was overwhelmed by the gutting torrent of emotion.
Jack Reacher
Language: English
Rating: PG-13
Genre: Action/Crime/Drama
Director: Christopher McQuarrie
Starring: Tom Cruise, Rosamund Pike, Richard Jenkins
Tom Cruise is Jack Reacher, a homicide investigator tracking the military sniper who's taken down five random victims.
Barbara

Language: German
Rating: PG-13
Genre: Drama
Director: Christian Petzold
Starring: Nina Hoss, Ronald Zehrfeld, Rainer Bock
Barbara, a reserved doctor who's been banished to a small clinic in rural East Germany for her desire to relocate to the West, forms unexpected attachments to a colleague and patient.  It screened at AFI Fest last month, where I got an early look.
What will you be seeing this weekend?