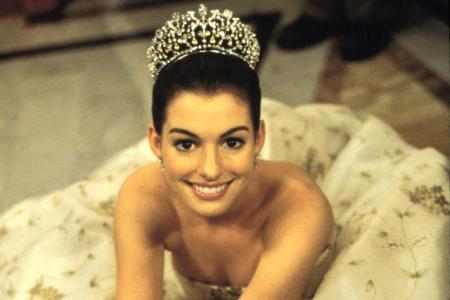 Anne Hathaway is this generations "America's Sweetheart". In every film, including Rachel Getting Married, she manages to shine and win the audiences heart. Audiences love her because they love to watch her. She has an amazing sense of comedy, an outstanding dramatic side, a wonderful singing voice and is incredibly attractive. This makes her the full package.
Anne Jacqueline Hathaway was born November 12th, 1982 in Brooklyn, New York. Her father was a lawyer and her mother was actress/singer, Kate McCauley Hathaway. At a young age, Hathaway was inspired to follow in her mother's footsteps and become an actress. She then went to star in many school productions and was a part of The Barrow Group, a New York theater company.  All of this was preparation for her first job in the industry where she appeared in the TV series Get Real.
Soon after, Hathaway auditioned for Garry Marshall's Disney movie, The Princess Diaries (2001). Hathaway won the role of Mia Thermopolis when she fell off her chair accidentally during the auditions, resembling the characters clumsy, accident prone ways. The movie played well with all audience's adults, children and critics alike. Overall it was a commercial success.  The Princess Diaries was another type of Cinderella story for kids to love. Trust me, I was one of those young kids and I could not get enough of it. The movies success spawned a sequel, The Princess Diaries 2: Royal Engagement in 2004.
In 2001, Hathaway appeared in The Other Side of Heaven. Unfortunately, the movie did nothing to help her career and received generally poor reviews. Again in 2002, a supporting performance in Nicholas Nickleby left little room to shine, as it was a box office disappointment. Finally in 2004, a lead performance in the fantasy themed romantic comedy Ella Enchanted reminded audiences why we loved Hathaway in the first place. This 2nd Cinderella type story she starred in, gave audiences a chance to see another talent of Hathaway's; a wonderful singing voice.
Trying to avoid getting type casted as the "good girl", Hathaway took a very different turn with her choice in roles. In 2005, she starred in Havoc, a straight to DVD release about a two naïve suburban girls who want to absorb all the experiences of the "gangsta" lifestyle. In Havoc, she not only showed a darker side to her acting but what was underneath the clothes, a style of acting she would be seen doing in many future roles; Emulating such stars as, Kate Winslet and Julianne Moore.
In her next role she left her teenage years behind and focused on being considered an adult actor. In 2005s Brokeback Mountain, Hathaway portrayed an irrepressible rodeo-girl whose spirit is broken over the course of a sham marriage. I was more than surprised to see her play this role given her previous films. Since seeing the film I have continued to feel that she didn't belong in the movie, especially during the later parts when she's grown up, has a family and is wearing that hideous wig. Her placement in the movie never sat well with me, but she was the only person left off the Oscar ballots when nominations came around, so that must say something.
Hathaway starred alongside the great Meryl Streep in the sleeper hit of 2006, The Devil Wears Prada. Like The Princess Diaries, I will forever love this film. Hathaway's smart, kind, desperate, hyper and "fat" Andy Sacks played brilliantly off cold stone Streep's, Miranda. It's most definitely a fun film with all the elements of drama and comedy to make it enjoyable to anyone who watches.
2008 was Hathaway's breakthrough year. She scored a box office hit opposite Steve Carell in the movie adaptation of Get Smart, and received the best reviews of her career for her role as a recovering addict dealing with grief in Rachel Getting Married. The role earned her numerous Best Actress nominations from every critic's society, Screen Actors Guild and The Academy Awards. Early in the Oscar race, Hathaway seemed a shoe in to win until Kate Winslet's category misplacement for The Reader at the Oscars ruined her chances. Hathaway's character was gritty, dark and depressing but she managed to pull it all together to give one hell of a performance. As I have stated before in Oscarettes, Hathaway was my personal choice to win in 2008.
After receiving her first Academy Award Nomination, Hathaway followed with a few fun performances in Bride Wars (2009), Valentine's Day (2010) and Alice in Wonderland (2010). Bride Wars and Valentine's Day didn't do well with critics, but I absolutely loved them. Sometimes it's nice to sit back and enjoy a dumb movie. I admit, both movies were sorta, kinda, dumb, but they were fun. What I love about Anne Hathaway is, even in the dumbest of movies, she gives her all. She is an actress that, despite the silliness of a script, gives a memorable and enjoyable performance. She never fails to impress and that talent has shined so much since she starred in The Princess Diaries.
Hathaway's recent role in Love and Other Drugs (2010) earned her a second nomination for Best Actress at the Golden Globes. While the movie may not have been Oscar material, her performance sure was. Playing Maggie Murdock, a victim to Parkinson's disease, she captures the devastating accuracy of what it is to have a sickness you can't cure and to be filled with a desire to live without becoming a burden on other people. Her performance made me cry and on some level relate to her, and that was all because of Hathaway.
Anne Hathaway is a brilliant actress. She throws herself into every role and becomes that character. I love Anne Hathaway and I have since I was 11 years old watching The Princess Diaries. You wouldn't believe this, but at 11 years old I predicted she would get nominated for an Academy Award someday. She is destined for greatness and is a truly remarkable actress because she's not afraid to show every side of herself; dark, bright, sad, happy, humorous, cheerful, depressing. Shirley MacLaine said it best at the 2009 Academy Awards "This is your first nomination, I have a feeling there will be many more after this."
Hathaway will be seen in One Day, opening August 19th and The Dark Knight Rises, playing Selina Kyle/Catwoman opening summer 2012.